Lloyd Banks Reflects On Vicious Mid-2000s Rap Beef With The LOX: 'It Was A Beautiful Time'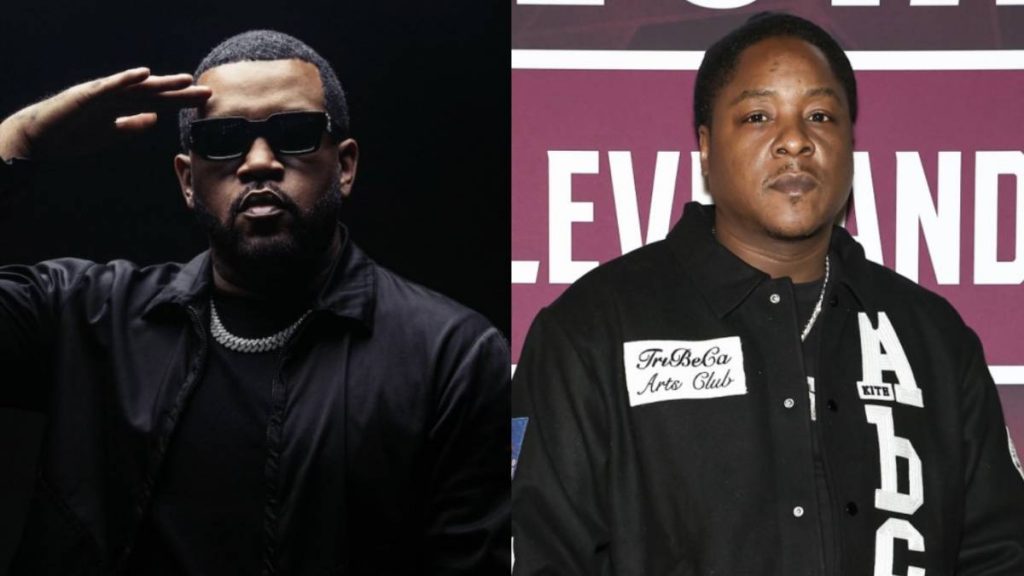 Lloyd Banks linked up with Jadakiss on "Power Steering" off his latest album, The Course of the Inevitable 2, and it was business as usual for the two lyricists.
It's not their first time trading bars, as they collaborated several times in the past on tracks such as "Respect It" off Jadakiss' 2012 mixtape Consignment, "Chosen Few" off Banks' project V6: The Gift released that same year and more. However, Kiss and the PLK weren't always on good terms due to the quarrel between G-Unit and The LOX in the mid-2000s.
Jadakiss was in the middle of a nasty beef with 50 Cent after the G-Unit boss made him an enemy for being featured on his archnemesis Ja Rule's 2004 track "New York" alongside Fat Joe. Their respective crews would jump into a rap battle laced with several scathing diss tracks such as "Checkmate," "Problem Child," "Death Wish" and "It Ain't A Secret."
Fast forward almost 20 years later, and what seemed to be a fierce interaction between the two camps was just deeply rooted in competition, as opposed to the pure hatred fans thought each group had for one another.
As Lloyd Banks told HipHopDX, he was going toe-to-toe with people he was fans of growing up in Queens, New York. However, due to the ultra-competitive nature the G-Unit team exuded, Jadakiss, Styles P and Sheek Louch weren't receiving any flowers from their younger counterparts.
"I view that time from two different aspects because I was fans of these guys before I even came into the game," Banks told HipHopDX. "And that's not just for them, that's for anybody who was in the game before us. I think the momentum that G-Unit had coming into the game, you wouldn't know that unless we spoke on it. It takes a certain level of confidence and just blatant ignorance and audacity to just feel like we the hottest n-ggas in the game."
He continued: "So you ain't going around giving props and saying who was the inspiration and who wasn't at that early of a stage because it was way more competitive. This whole ball-heavy shit that we're talking about, that was a crazy time so it was no room to show love. It was like, 'Yo, that's such and such. Oh, okay, cool. Anyway,' You know what I mean? We right into it, being aggressive and ready to compete. So from that side of it, it was one thing. And then from the other side of it was like, acceptance, man."
One of the first times Banks met Jada in the early 2000s, the Yonkers native was reciting one of his rhymes off the 134 AllStars: The Mixtape project, which was G-Unit's very first mixtape. Banks was taken aback by a legend like Kiss rapping lyrics he wrote as a teenager, and that partly fueled him to become a force with the bars, especially when it came to rap beef.
That moment with Jadakiss was one of many for Banks to realize he had to keep his foot on the pedal because not only were fans listening, but the legends he bumped before breaking out in the Hip Hop game were tuning in as well.
"I remember that vividly," Banks said. "Things about to bubble like crushed grapes.' This is some shit I wrote when I was 17, so things like that were humbling in itself. So I always put a higher standard on myself to always come with it.
"One of the first times I spoke to JAY-Z on the Roc The Mic Tour, he asked me how I felt. I was like, 'Yo, I think I'm almost there. I feel like I'm almost ready.' And he was like, 'Man, if you ain't ready by now, then I don't know what the fuck being ready is.' Little moments like that was like, I feel like you exceed other people's expectations before your own. You just always have to be on point."
The new generation of Hip Hop artists aren't handling beef or competition the way rappers did back in the day. There are no lyrical bombs that leave fans in awe as today's artists rather directly say they aren't fond of their foe instead of being creative with it. In addition, long gone are the days when a rapper would link up with a DJ to deliver a selection of songs that had fans running to their local barbershops or corner stores to cop a new mixtape.
In Lloyd Banks' eyes, the new generation has much to learn from its elders regarding their competition. Their form of competing is battling through the charts or figuring out who could make a better album when Banks and his peers were fighting to be the greatest to grab a microphone.
"That was a hell of a time because, like I said, the new artists now, they don't necessarily challenge themselves lyrically," Banks said. "Back then, it was like competitive nature was on a whole different level. You had mixtapes, whether it be DJ Envy, DJ Clue, or whoever it was, and you had to really get out there and say some shit and be prepared for that competitive nature, and whatever was coming."
He added: "It was a beautiful time. Sometimes somebody didn't even have an issue with you, and they just respected what you did. The only way to really show that appreciation for us is through the clash. Today's artists, I think they do compete. It's just not that cut-throat swordsman, we ball out shit. It's not the same."
Catch up on our conversation with Lloyd Banks here, and stay tuned for more coming soon. In the meantime, stream The Course of the Inevitable 2 below.