Logan Paul, B-Real, Boi-1da, Akademiks & More React After Conor McGregor Snaps Ankle At Dustin Poirier UFC Fight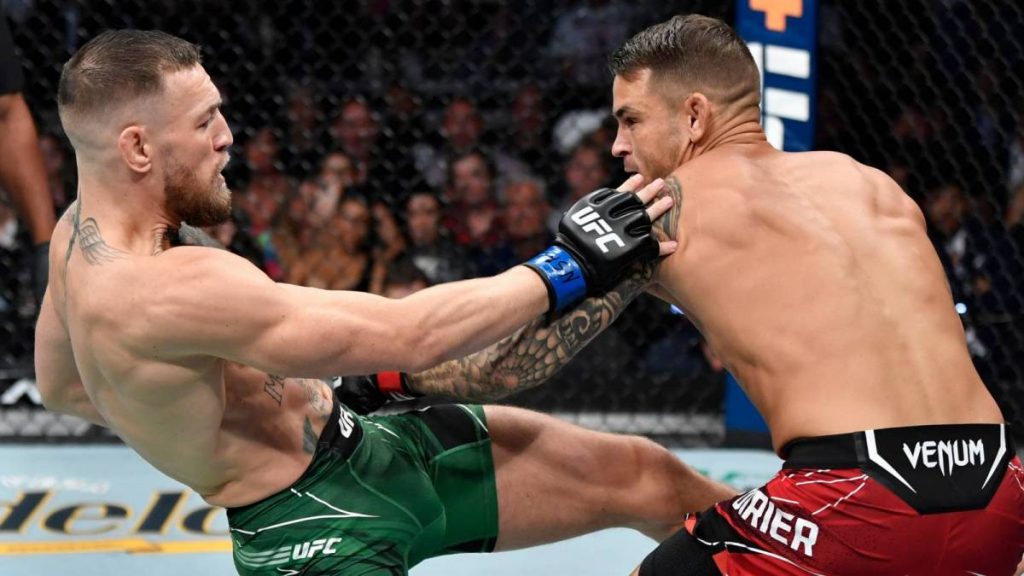 UFC 264 took place at the T-Mobile Arena in Las Vegas on Saturday night (July 10) between bitter rivals Conor McGregor and Dustin Poirier. The first in the pay-per-view trilogy came to an unceremonious end when the Irishman broke his ankle and needed to be carried out on a stretcher.
During a pre-fight conference, McGregor confidently told Poirier he'd be leaving on a stretcher, but it looks like the universe handled that one.
WARNING: GRAPHIC VIDEO
#Ufc246 broken ankle Conor McGregor pic.twitter.com/91ETxYU0JY

— IsraelM687 (@IsraelM687) July 11, 2021
McGregor was visibly frustrated after Poirier was declared the winner by first round TKO due to a doctor's stoppage and spewed some venomous words toward Poirier during a post-fight interview with Joe Rogan.
"I was boxing the bleeding head off him, kicking the bleeding legs off him, the usual shit, tried to go the distance," he said. "This is not over, if I have to take this outside it's all outside … 'Your wife is in my DMs, I'll chat to you later on. Hit me back up I'll chat to you later on, I'll be at the after party at the Wynn nightclub. You look in bits you little hoe."
Poirier's wife Jolie had a response for that and was photographed flipping McGregor the bird shortly after that remark.
Conor McGregor with a broken ankle/leg, says it's not over. And that Dustin's wife is in his DMs pic.twitter.com/mzEJmfkZG6

— Jordan Dajani (@JordanDajani) July 11, 2021
Poirier wasn't exactly surprised McGregor's ankle snapped, explaining, "I felt something, for sure. He fractured it on one of the kicks at the beginning of the fight, and then he broke it. I'm more than sure of it. He got what he had coming to him. Karma is a mirror. You never want to get a win that way, but what happened was the result of checking a kick."
UFC 264 became a trending topic following the event with plenty of celebrities and Hip Hop artists commenting on the fight via social media — from Pharoahe Monch and Cypress Hill's B-Real to Public Enemy's DJ Lord and Evidence.
Check out a few of the reactions below.
damn. crazy to see a star with such a meteoric rise literally plummet into the ground just a few years later. It's sad tbh. RIP Conor McGregor's career

— Logan Paul (@LoganPaul) July 11, 2021
Did McGregor just say – "your baby's mother be in my DM's" in a thick Irish accent?

— PHAROAHE MONCH (@pharoahemonch) July 11, 2021
McGregor Leg ?

— Ev-Ah-Din-Sss (@Evidence) July 11, 2021
YA WOIF IN ME DMS ???

— Boi-1da (@Boi1da) July 11, 2021
View this post on Instagram
Homie its over. You got washed. No one wants to see it again. Your run is way over, enjoy the stretcher you bozo

— Dante Ross (@DanteRoss) July 11, 2021
OOOOOUCH! ? pic.twitter.com/SrFHtf2FCt

— PHAROAHE MONCH (@pharoahemonch) July 11, 2021
Finally Connor McGregor is done for good. Piece of shit clown ?. He should thank his ankle because it saved him from getting humiliated even worse.

— BEN BALLER™ (@BENBALLER) July 11, 2021
View this post on Instagram
"This guy's a dirtbag, man…" – Dustin Poirier

??

— BLUEPRINT (@printmatic) July 11, 2021
A clinic by @SugaSeanMMA but moutinho got a iron chin and much heart !! #UFC264

— B Real ™ (@B_Real) July 11, 2021
his LEG

— 3.0 (@LuckyovLegends) July 11, 2021