Machine Gun Kelly Describes UFO Encounters & Says Earth Is 'The Best Reality Show Of All Time' For Aliens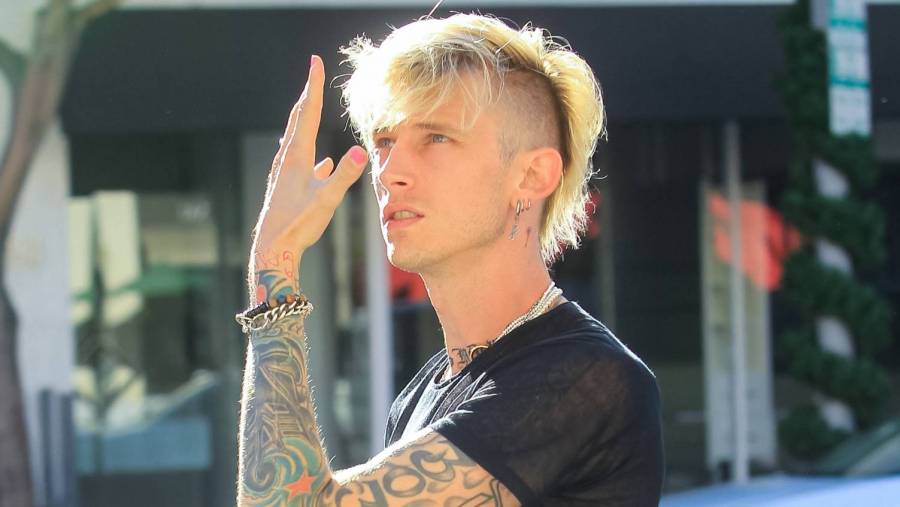 Machine Gun Kelly made a virtual appearance on The Late Late Show with James Corden on Tuesday (January 19) to promote his Downfalls High movie. On the topic of his song "Seeing Aliens," he revealed he'd actually encountered UFOs twice since the turn of the year.
"Homie, I saw life on this planet that was from another planet two nights ago over a lake in Thousand Oaks," he said. "A red orb came out of nowhere, went, disappeared again. I was in Bora Bora a week before that whole Hawaiian blue orb over the Pacific. So Bora Bora is also in the Pacific, saw the same exact orb that they were talking about in Hawaii. Saw that same thing where we were at fly-by, disappear over a mountain. They're out here."
He added, "Also, by the way… they're all looking at Earth like, 'You guys are so dumb!' Everything we're doing the past year is so dumb. This is the best reality show of all time for anyone not living on this Earth having to deal with it."
MGK isn't the only person in his household open to the idea of aliens. In 2014, his superstar actress partner Megan Fox revealed she thought aliens would contact her if they returned to this planet.
"[There was always] a feeling I don't belong to anything – even to the world," she told Cosmopolitan at the time. "Feeling apart, for me, has been exacerbated by fame. I think that's a lesson I've had to learn. I'm one of those people who thinks, if aliens are real, when they come back to Earth I'm one of the humans they'll contact. It's me – I know it's gonna be me, I've always had that feeling."
Machine Gun Kelly's new movie Downfalls High follows the release of his Tickets to My Downfall album in September, which debuted at No. 1 on the Billboard 200 chart. According to an Instagram post, Downfalls High earned a whopping 16 million views on his website during its opening weekend following its Friday (January 15) release.
The film — a musical drama about high school love — was later released on YouTube on Tuesday (January 19) and has racked up almost four million views on the platform alone.
View this post on Instagram