Macklemore Crashes Albuquerque Wedding Amid Imagine Dragons Tour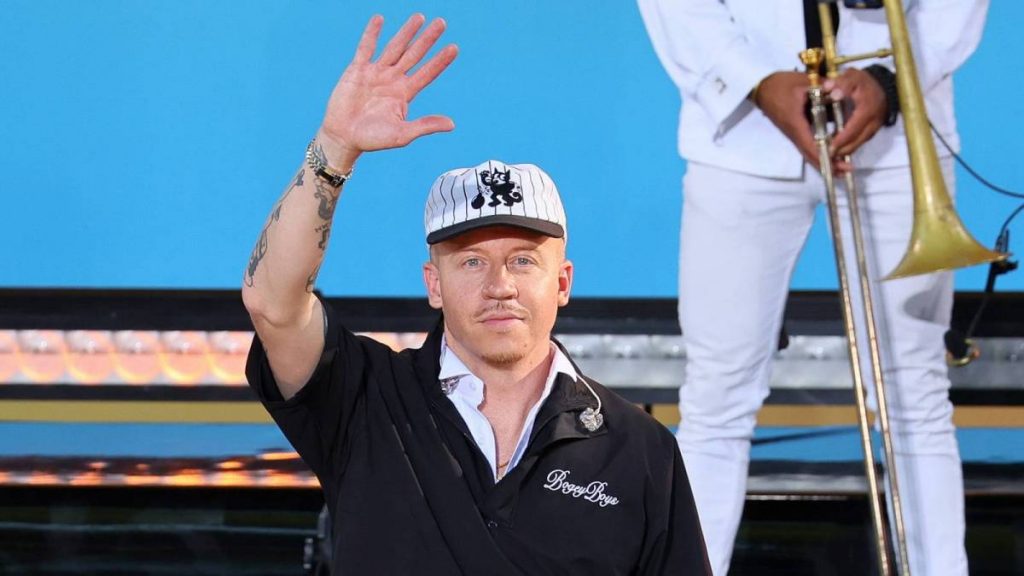 Albuquerque, NM – A newly married couple got the surprise of their lives when Macklemore crashed their Albuquerque, New Mexico wedding reception. Rocking a backward Bogey Boys hat, Macklemore performed a couple of songs and even gave a speech. His longtime collaborator, XP, shared a pair of videos to his Facebook account on Sunday (August 7) following the weekend nuptials.
"Bruh a lot happened last night," he explained in the caption, "First off, I'm watching the fights. I called 4/4 outcomes. Picked the way they would win, and the round, all 4 fights! Yes I bet on all 4 fights. Then they drop our new song during one of the fights, I'm going crazy. Then we get a text like, 'Yo Mack is crashing these people's wedding right now with the new track,' so we all crash it, they were hella happy. I did not think Burque was gonna be that lit! But God did."
Mack says in the clip, "Real talk, real talk, real talk. Can I be an honorary member of your guys family?" to which he gets a resounding group, "YEAH!" XP turns the camera toward him and says, "We really just crashed these people's wedding, man."
XP provided a few more details to HipHopDX, saying, "When we arrived at the hotel, you could see a wedding was happening. But none of us in the band knew that much about it. Next thing you know, I'm watching the fight and we all get a text saying Mack is performing the new song at the wedding."
Macklemore returned to the spotlight in July with a video for his latest single "Chant" featuring Australian singer Tones and I. The Seattle-bred rapper shared a clip of the video to his Instagram account as the single arrived that highlighted a verse about his near-fatal drug overdose.
"I'm from the underground, anything above ground is a mountain," he raps. "I'm done tryna impress anybody but the heavens where I'm headed/You don't get to hold on me your flowers/I am in my zonе, eyes on the thronе.
"20k deep, better pull out your phones/Turnin' the arena to believers every time I hit the ceiling/Ain't nobody ever touchin' my show/Look at where we started, look at where we got to/Almost OD'd that night in the hospital/Wasn't gonna die, more life in the arsenal/Got another shot to pull off the impossible."
"Chant" likely precedes another album from Macklemore, although no official details have been announced. In the meantime, Mack is currently on tour with Imagine Dragons. The run continues on Friday (August 12) in Pennsylvania before hopping down to Virginia on Sunday (August 14). Find more details here and watch the "Chant" video below.