Meek Mill Reflects On His Lucrative Love/Hate Relationship With Wale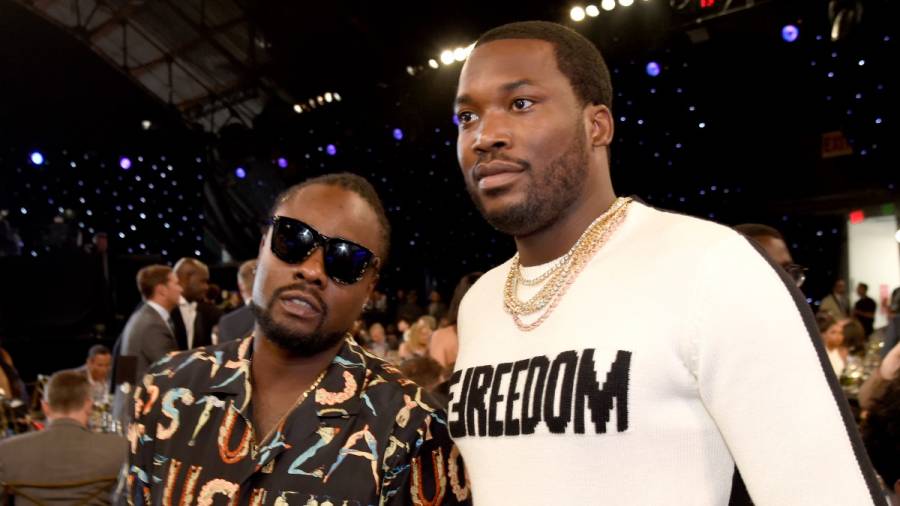 Maybach Music Group labelmates Meek Mill and Wale haven't always seen eye to eye, but they eventually always find common ground.
Meek shared a new photo with the D.C. native – with masks on, of course – in a post on Tuesday night (October 6) and reflected on their ups and downs in the caption.
"Me and @wale argued a thousand times & made millions together #MMGVIBES," he wrote with the hug emoji.
View this post on Instagram

Me and @wale argued a thousand times & made millions together 🤗 #MMGVIBES
The pair have gone at it on social media a few times over the years. In 2014, Meek accused Wale of being a hater on the low because he didn't make a post in support of his album. Things seemingly calmed shortly after, but the feud was reignited the following year after Meek didn't appreciate Wale's commentary on his Drake beef.
Denouncing Wale's status in MMG, the Dreamchasers CEO called him broke and urged him to jump off of a roof.
"Niggas b doing all this to drop a new record gossiping about they hoe ass feelings and they personal life because they miserable and nobody don't rock wit them!" he wrote. "Really stay away from me Fam! U not MMG NOMORE! This why u can't get my number you a hoe! ???? and u dead cracked right now @wale foh nuttttt! I wasn't even mad at you Fam u got some real issues with yaself and you jealous! Broke rapper! This my last time I think addressing shit on the Internet …. But if I don't talk about it one of you dudes gone get hurt speaking my name like it's sweet! Y'all niggas gone stop mentioning my name like it ain't no consequences…. I'm off this internet! I don't speak on Mmg in interviews unless it's good! U a clown … We don't wanna hear you nomore Fam! Go jump off a roof like u been tryna do chump! He not MMG IM MAKING THAT CALL … He been tryna call me saying Rozay owe us money… He don't owe me shit and if he do I'll get it later …. Go that away!"
Weeks later, Rick Ross spoke on the beef and said the two are "brothers forever" and predicted that in a decade, they'd teach younger generations of rappers how to get through their differences.
"You know, those brothers forever," Rick Ross said. "That's my family. As you can see it's already done came and went. It's all about making dope music. And like I said, I feel like me being in a position I am. Me being a boss. Me being as experienced as I am, I feel like them going through that, or whatever you call it, in 10 years when they're executives they're gonna be able to give that same game to youngstas. Like 'Yo, I did that before, but this how we do it.' I look at things different."
Looks like his prediction arrived five years early.