Megan Thee Stallion Tricks Friends Into Eating Dog Food As Alleged Sister Drops Neglect Claims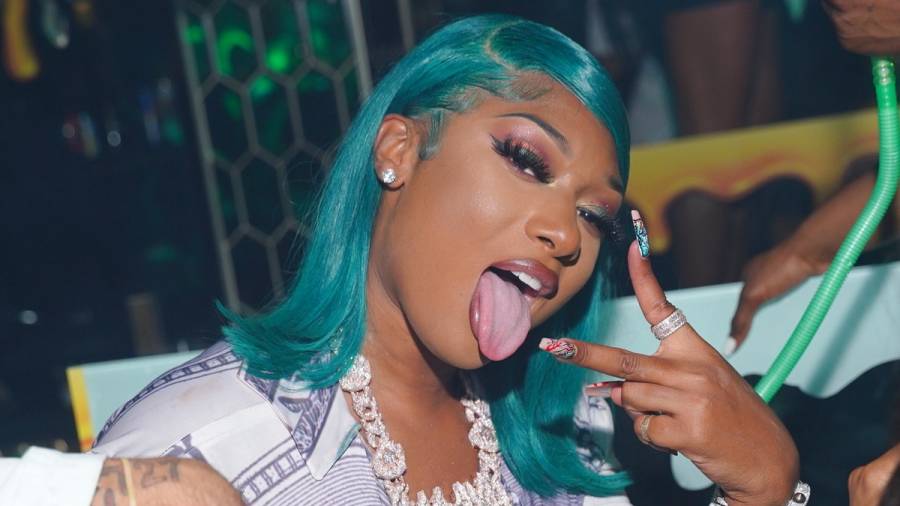 Megan Thee Stallion decided to prank her friends this weekend by tricking them into eating dog biscuits. A video of the Roc Nation artist was uploaded to Twitter on Sunday morning (December 12) and it didn't take long for it to start making the rounds.
In the clip, Megan begins by explaining the dog treats look just like "regular cookies" and then says she's going to see if she can get her friend Jayla to eat them. Jayla, who was "randomly in the shower," grabs a cookie from Megan, eats it and says, "Mmmm, this is good" to Meg's surprise. The Billboard chart-topping rapper then asks, "Is it good? Jayla, shut the fuck up!"
But the second friend she tried to fool wasn't so convinced. As she trepidatiously puts the cookie in her mouth, she looks disgusted. When asked if she likes it, she replies, "No, it's like no sugar." Megan couldn't contain her laughter nor understand how they just kept eating them.
Megan Thee Stallion tricked her friends into eating dog treats that looked like Oreos 😭 pic.twitter.com/Qm7JaiWD7c

— Rap All-Stars 🏆 (@RapAllStars) December 12, 2020
But the prank is a far cry from the seriousness of some recent allegations Megan has faced. Last week, a woman who says she's Megan's sister made some egregious claims suggesting the "WAP" co-creator neglects her blood family.
"It's funny you only Held ya niece one time and never saw ya nephew once," she penned in the caption to the photo while tagging Megan. "It's crazy how you can do more for someone's else's kids that's rich already but can't keep it real with ya on blood."
Most likely, the woman is referring to Megan's gesture of goodwill earlier this month when she gifted a young boy, YouTube sensation Riley, a brand new PlayStation 5.
View this post on Instagram
While there are plenty of people who are questioning the woman's story — pointing to the lyrics for "Ain't Equal" to prove she's an only child — it's not really surprising Megan finds herself in these types of situations. Megan's meteoric rise to fame over the past couple of years has undoubtedly made her more of a target.
But even with the Tory Lanez shooting incident that dominated headlines over the summer, the Houston native is focused on her debut album Good News, a partnership with Revlon and apparently fitting some fun in wherever she can — even if that means tricking her friends into eating dog food.