New Music Friday — New Albums From DDG & OG Parker, Benny The Butcher & Harry Fraud, Tokyo Jetz + More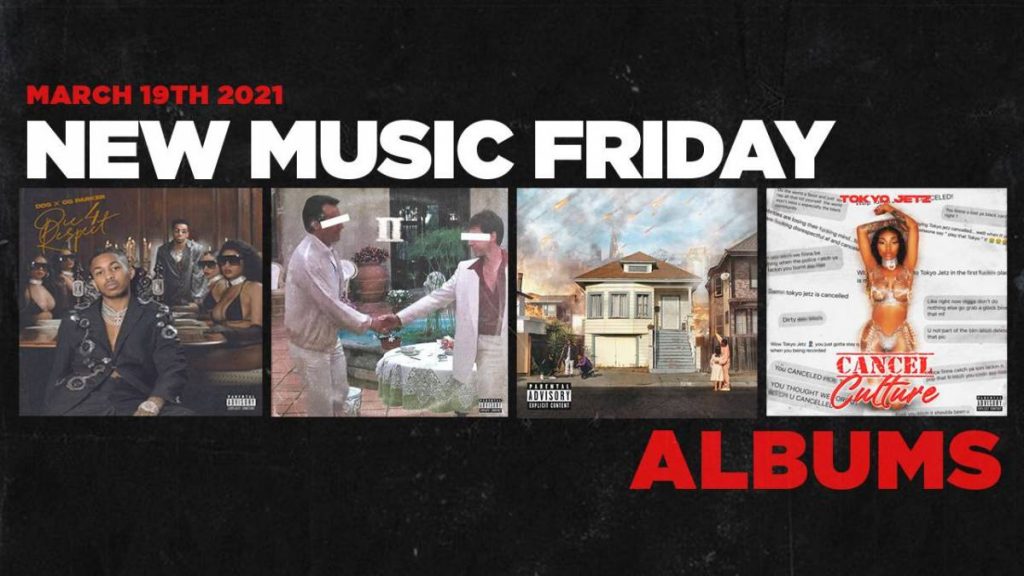 HipHopDX – There are multiple high-profile artist and producer collaborations embedded within this week's New Music Friday albums coverage.
Griselda lyricist Benny The Butcher and Brooklyn-bred MPC master Harry Fraud deliver their anticipated follow-up album while HipHopDX 2021 Rising Star DDG links-up with Atlanta producer OG Parker for their first collaboration. Meanwhile, scammer-turned-rapper Guapdad 4000 unleashes his !llmind-helmed project as Grand Hustle's leading lady Tokyo Jetz emerges from a social media inflicted banishment with her derivative album.
Here's the top releases from the week ending Friday (March 19).
Benny The Butcher & Harry Fraud — The Plugs I Met 2
A lingering cloud of lyrical smoke has figuratively hung over the head of Buffalo MC Benny The Butcher since the release of his Burden Of Proof album, which was executive produced by 2021 Grammy Award-winner Hit-Boy, last year. And just as the star-studded release marked Benny's swift ascension into the mainstream, his reunion with around-the-way producer Harry Fraud marks his commitment to providing the gritty, hand-to-hand hustle raps that energized his come-up. On The Plugs I Met 2 The Butcher recruits Fat Joe, 2 Chainz, French Montana and more help provide assistance expanding his organized Hip Hop empire.
DDG & OG Parker — Die 4 Respect
After leading with his 42 Dugg-assisted paper-chasing anthem "Money Long" DDG and OG Parker have unlocked the full 10-tracks thriving within their inaugural Die For Respect collaboration. Seemingly keeping pace with the Michigan rap star's feverish hit-making pace, D4R is home to several radio-ready bops featuring artists such as Lil Yachty, Youngboy Never Broke Again, 2KBABY, Coi Leray and more.
Tokyo Jetz — Cancel Culture
Divine timing is real, and that is why it is almost ironic that Tokyo Jetz is releasing her Cancel Culture album as Grand Hustle Records boss, T.I. is currently embroiled in multiple sexual misconduct allegations. Nevertheless, it's business as usual for the Florida native in her first album since 2018, as she battles misconceptions about herself alongside rappers such as DX 2021 Rising Star Toosii, Kevin Gates and Jackboy.
Guapdad 4000 & !llmind — 1176
In a thoughtful Instagram post on Tuesday (March 17), Guapdad 4000 revealed the numeric title behind his !llmind-produced album was the address to his childhood home, while also assuring fans the music on the project "Slaps." 1176 is an unfiltered depiction of Guapdad's life through the eyes of the Ferragamo Falcon himself, featuring guest appearances from Buddy, Tish Hyman and his fellow Bay Area rapper homie, P-Lo.
22Gz — The Blixky Tape 2
Being that Brooklyn-born rapper 22Gz is revered as a co-founder of New York's relentless drill music scene, the 23-year-old's early discography has served as a blueprint for the expansion of the sound. So it's somewhat of a no-brainer that the "Suburban Pt. 2" rapper is reaching back into his bag to deliver the reprise version of his 2019 The Blixky Tape. Keeping consistent with the initial release, The Blixky Tape 2 captures 22Gz in his element, murdering pulsating drill production across 13-tracks with features from Jackboy, Julio Foolio and more.
Starrah — The Longest Interlude
Even though Mad Decent singer/songwriter Starrah isn't a household name in 2021, she wrote some of the biggest hits for the hottest artists in 2020, such as her pen game on Megan Thee Stallion's Grammy Award-winning mega-hit "Savage." And now as the spotlight descends on her solo moment, The Longest Interlude proves Starrah can command the limelight all on her own as the 13-track effort arrives with a lone feature from Skrillex.
Also, make sure to dive into this week's Honorable Mentions, including new releases from Kota The Fiend and Statik Selektah, and Rayven Justice.