New Music Friday – New Albums From Quavo & Takeoff, NBA YoungBoy, G Herbo + More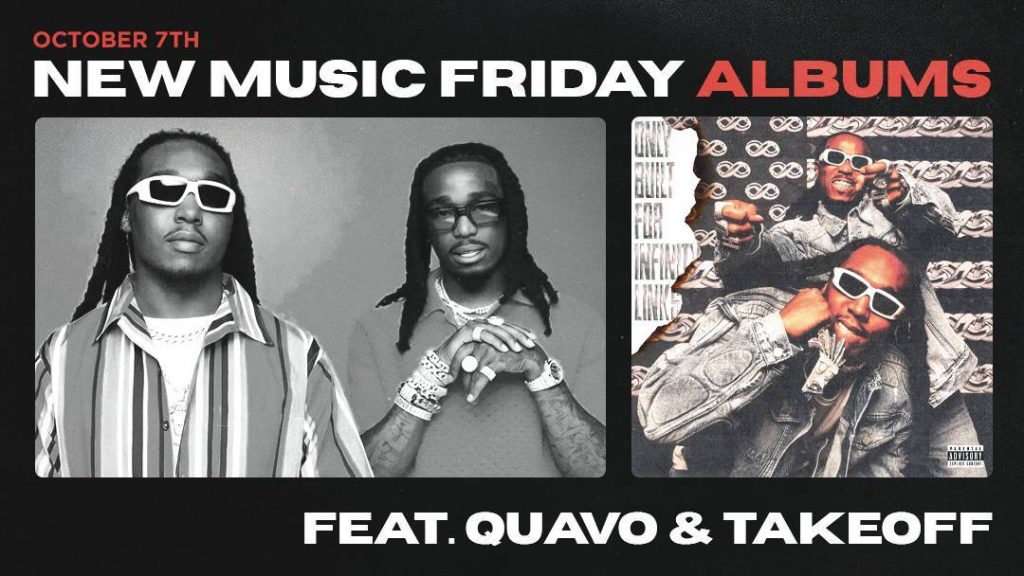 HIPHOPDX – As is often the case, the discourse surrounding Hip Hop and R&B this week revolves around the artist formerly known as Kanye West and his wild antics on social media.
While unveiling the latest collection of his Yeezy fashion line in Paris, Ye unveiled an unsavory T-shirt with the phrase "White Lives Matter" emblazoned across the back. Of course, the DONDA rapper's intentions were not clear, but likely it's another ploy to draw attention to himself and his Yeezy empire.
Despite the drama which has seeped across nearly every timeline, this week brought some positive blessings in the form of new albums.
On this week's edition of HipHopDX's New Music Friday coverage, you'll find releases from Quavo and Takeoff with Only Built For Infinity Links, NBA YoungBoy's surprise project 3800 Degrees and the first half of G Herbo's Survivor's Remorse, among others.
Check out the full list of new rap albums released on Friday (October 7) below:
Quavo & Takeoff — Only Built For Infinity Links
It's a bold strategy to flip the name of a record as iconic as Only Built 4 Cuban Linx…, Raekwon's legendary 1995 album, but Quavo and Takeoff are hoping the bet will pay off.
There have been no confirmations, but all signs point to uneasiness and tensions in the Migos camp. The group hasn't released music together since 2021's Culture III as Offset continues to explore his solo career and Quavo and Takeoff release music collaboratively.
The latest from the two-thirds of the Migos is Only Built For Infinity Links, which features Summer Walker, Young Thug, NBA YoungBoy and more.
NBA YoungBoy — 3800 Degrees
At one point in time YoungBoy Never Broke Again and Kodak Black were on amicable terms. But over the years the two embattled rappers fell out of each others' grace and now only spite remains.
As Kodak teased the release of Kutthroat Bill: Vol 1. this week, YoungBoy went forward with his album, 3800 Degrees. Like Kodak, YoungBoy is tremendously prolific: the release of 3800 Degrees marks his fifth album of the year so far, and judging by his output, it won't be his last.
G Herbo — Survivor's Remorse: A Side
The music of rapper G Herbo is often rooted in the experiences of his upbringing in the Chicago streets and the rags-to-riches arc he has experienced. But on his latest album, Herbo ponders the guilt his success has brought.
One of the pioneers of Drill, Herbo's most recent offering Survivor's Remorse is split into two halves; the first, A Side, has just been released and Side B is slated to arrive this coming Monday. A Side, or Survivor's Side, includes twelve tracks with verses from Future, Gunna, Offset, Benny The Butcher and more.
Jean Dawson – Chaos Now*
Trying to put California-based artist Jean Dawson into a neat box will prove to be a challenging task. Sometimes his work resembles the nostalgic pop-punk of artists like Blink-182 and Fall Out Boy, other times it's closer to R&B or even indie rock. Yet most of the time it sounds singularly unique.
There's a smattering of sounds present on his latest album Chaos Now*, which boasts guest appearances from Earl Sweatshirt and Isaiah Rashad. But despite the references, it is obvious only Dawson could have made this piece, a soaring compliment in an industry packed with biters.
DDG — It's Not Me It's You (Deluxe)
Joyce Wrice — Motive
There are exceptions, of course, but in today's industry, R&B generally falls into two categories: the powerhouse voices of traditionalists such as Jazmine Sullivan and Ciara and the vibe curators helmed by artists such as Kehlani and Blxst. They are each a thrilling side of the same coin, but Joyce Wrice is one of the exceptions: an artist that sits somewhere between the two.
The San Diego-born artist's latest capsule is Motive, a five-song EP which comes over a year after her breakout album Overgrown was released. The production, handled mostly by Kaytranada, capitalizes on the ethereal nature of Wrice's voice making for a magical listen.
Toosii — Boys Don't Cry (EP)
Open Mike Eagle — Component System with the Auto Reverse
Open Mike Eagle is a truly refreshing gem in the rough of the contemporary musical landscape. The Chicago-born, Los Angeles-based rapper's esoteric music has been heard for over a decade. From the 2010s with projects such as Dark Comedy and Unapologetic: Art Rap through recent years and the incredible Brick Body Kids Still Daydream and Anime, Trauma and Divorce, Mike has been one of rap's dearest treasures.
His legacy continues to grow with Component System with the Auto Reverse, a bitingly clever project filled with nostalgia, obscure references and Mike's inimitable humor.
Cormega — The Realness II
The New York rap legend returns with his first album in eight years and the sequel to his 2001 debut, The Realness II, boasting collaborations with Nas, Lloyd Banks, Havoc and The Alchemist.
Crimeapple & DJ Muggs — Sin Cortar
GRIP – 5 & A F*** You
GRIP first entered Hip Hop's collective universe with 2017's Porch, which hinted at the Atlanta rapper's skills, but he was still undeveloped. He continued to grow into his sound with Snubnose from 2019 which featured artists such as Mick Jenkins and Armani White, before he fully realized his sound on his Shady Records debut I Died For This!?.
There are also several highlights in this week's New Music Friday singles coverage, including fresh offerings from A Boogie Wit Da Hoodie and Roddy Ricch, Nicki Minaj, Ty Dolla $ign and Lil Durk and many more.
Stay up-to-date with the latest Hip Hop and R&B releases here and peep HipHopDX's 2022 Rising Stars update, highlighting the achievements of Doechii, Nardo Wick, Coi Leray and others.