New Music Friday – New Singles From Baby Keem & Kendrick Lamar, Meek Mill, Lil Durk + More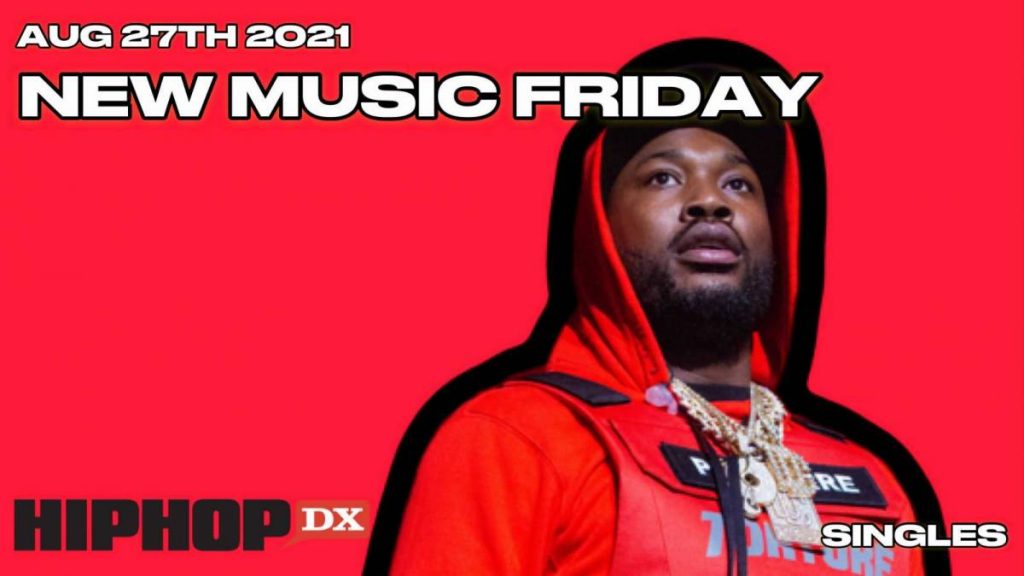 HipHopDX – The Month of August is going out with a bang.
On top of the fabled-about return of soon-to-be former TDE rap G.O.A.T. Kendrick Lamar, there are several high-profile collaborations featured in this week's New Music Friday Singles coverage.
Leading with Rich Off Pints rapper Icewear Vezzo's gap-bridging link up with Lil Baby, highlights include Babyface Ray's Hit-Boy-produced banger with Big Sean and, Russ' heat check release + more.
Dive into the full list of releases from the week ending Friday (August 27), below.
Baby Keem f. Kendrick Lamar – "Family Ties"
If there is one thing that is for certain, it's the fact that Kendrick Lamar still has the ability to take control of the game merely off the hype of one of his impending verses.
Morever, fresh off the his TDE departure announcement, K. Dot reiterates the magnitude of his P.G. Lang outfit with flagship artist Baby Keem on their declarative "Family Ties" disrupter.
Icewear Vezzo f. Lil Baby – "Know The Difference"
The Detroit rap scene is bubbling right now thanks to budding stars such as Icewear Vezzo.
Continuing his Rich Off Pints 2 rollout, Vezzo connects with DX 2020 Rapper Of The Year Lil Baby on "Know The Difference."
Meek Mill f. Lil Baby, Lil Durk – "Sharing Locations"
Meek Mill fans may be getting the best gift of all listeners tonight.
While the Philly legend has offered a sparse hand of noteworthy releases this year, such as his "Flanders Flow" loosely, he's making up for lost time with his Lil Baby and Lil Durk assisted "Sharing Locations" smash.
Babyface Ray f. Big Sean, Hit-Boy – "It Ain't My Fault"
Without a doubt, Michigan rapper Babyface Ray has elevated his Hip Hop stock value into the red off the strength of massive gains spawned from his impeccable Unfuckwittable album.
Cementing the ever-strengthening Detroit-to-L.A. connection, Babyface Ray joins forces with Big Sean and Hit-Boy for their lightening "It Ain't My Fault" collab.
Rich The Kid f. Polo G – "Prada (G Mix)"
Rich The Kid appears to be in his mode right now.
After delivering his monster "Richard Mille Patek" hit, followed by the anthemic "Prada" single, Rich grabs Polo G to hop on the remix to continue his fast-paced 2021 music blitz.
Russ – "Can't Let Go"
It's becoming very clear that Russ devised a long-game strategy for his seemingly endless 2021 rap campaign.
Following back-to-back-to-back singles, with his most recent offering manifesting in the form of his vibrant "Thinktoomuch" boo, Russ continues to apply pressure on "Can't Let Go."
Nardo Wick – "I Be Chillin"
I'ts clear that nothing can stop "Wo Want Smoke?" rapper Nardo Wick – not even U.S. Marshals.
Contrary to the public consensus of his wild, unruly reputation, Nardo Wick wants to make it known that he leads a low-maintenance lifestyle on his "I Be Chillin" release.
Eighty8 – "Hit"

Cash Money Records is ready to retake its place at the forefront of the industry following a roster revamp that included the recruitment of several new artists including Miami-based artist Eighty8.
Ushering in a new era for the legacy imprint, Eighty8 makes sure his first impression is a "Hit" on his debut single.
Helluva f. Veeze, GMO Stax – "No Membership"
Detroit native and producer wunderkind Helluva has been having one hell for a year, lacing every notable 2021 artist, such as Megan Thee Stallion, Lil Baby and Larry June with his trademark sauce.
Opting to take matters into his own hands, the multi-platinum beatsmith is sharing a teaser from his upcoming executive production project by way of his "No Membership" single featuring Veeze and GMO Stax.
There are also multiple new releases landing on this week's Honorable Mention list, including a fresh offering from DX 2021 Rising Star DDG, Chief Keef's new banger, a three-track single EP from TDE's new signee Ray Vaugn + more.
Also, peep this week's New Music Friday Albums list featuring new releases from Westside Gunn, Belly, OhGeesy + more.
Stay up-to-date with the latest music releases here.