New Music Friday – New Singles From Drake, Bruno Mars & Anderson .Paak, Tyler The Creator + More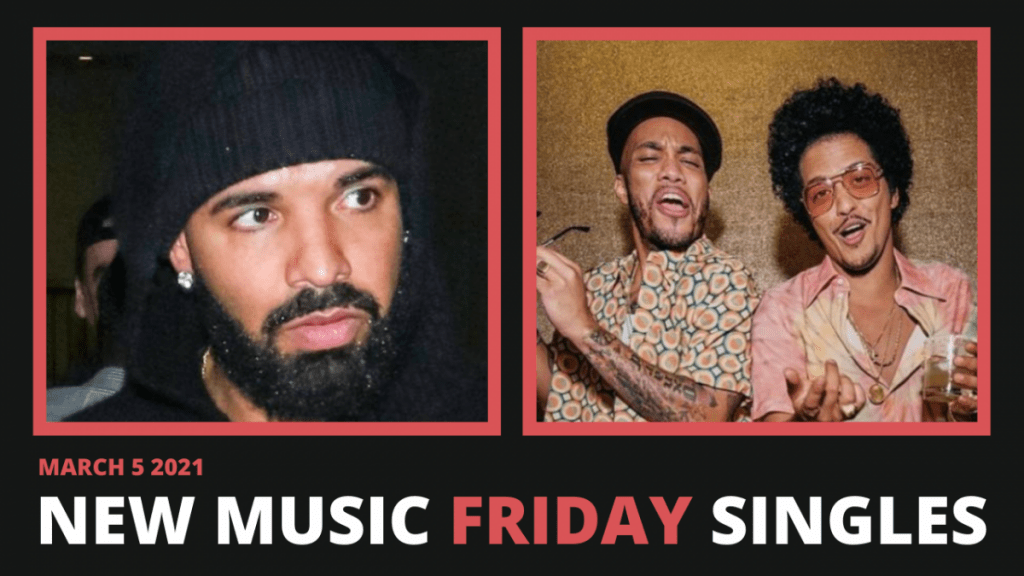 The topic of good and bad weeks for new music is usually debatable but not today. This is unquestionably the biggest day for new singles of the year so far. The list of names reads like a who's who of Hip Hop's top talent beginning with the genre's biggest star, and the Toronto Raptors' number one fan, Drake.
After footage from a recent video shoot leaked on social media, Drizzy went ahead and confirmed what fans were hoping for: A new single. "Scary Hours" makes its debut right now but you probably already knew that. Half of you are probably listening to it while you read these words. Just kidding. You probably skipped this paragraph and scrolled right to the music.
Drake isn't the only one making a huge wave this week. With a newly announced project – said to have a 70s vibe – on the way, Bruno Mars and Anderson .Paak (collectively known as Silk Sonic) just dropped off their lead single "".
Elsewhere, Tyler The Creator, whose been lighting up features over the past few months, steps back into the solo space, G Herbo comes through with two fresh joints and Key Glock & Young Dolph keep the hot streak going with another banger.
Here are the top single releases for Friday, March 5.
Drake – "Scary Hours"
Lucky for the New Music Friday album drops tonight, Drake is not dropping a whole project (just a mini-EP), so the number one spot on the Billboard 200 charts is still up for grabs. It's been a minute since we've heard from the Young Money juggernaut. Don't be surprised if the internet breaks for a second. Then again, if you're reading this it's too late.
Silk Sonic – "Leave The Door Open"
The announcement may have been unexpected but the pairing makes perfect sense. If this single is an accurate gauge of what's to come, the album is going to be legendary. Plus, as two of the most acclaimed live acts in music, well, let's just hurry up and get this vaccine going so we can talk about this tour.
Tyler, The Creator – "Tell Me How"
It's hard to believe this many years in that Tyler could still be growing stronger as an artist but his recent work speaks for itself. At this rate it's scary to think of how good his next project will be whenever it drops.
Clever f. Juice Wrld & Post Malone – "Life's A Mess"
The legend of Juice Wrld's uncanny work ethic proves more true every week as the late rising star's posthumous verses and songs continue to come to light. Post Malone makes it bittersweet with a preview of what could have been had the two had a chance to do more together.
Saweetie f. Doja Cat & Stefflon Don – "Best Friends (Remix)"
Three's company! Saweetie and Doja Cat welcome Stefflon Don into the friendship circle on the newly minted remix of their single from earlier this year.
Young Dolph & Key Glock – "Aspen"
Young Dolph and Key Glock have quickly become one of the bright spots on 2021, with clear chemistry that's only gotten stronger on songs like "Green Light" and "Case Closed." The turf stories continue on their latest snow-centric single.
G Herbo – "Really Like That & Break Yoself"
G Herbo continues to distract himself and his fans from his outside-the-booth headlines by putting out new music. This time with two new singles, both of which make it clear he's still got his ear to the streets.
Taleban Dooda f. 42 Dugg – "Trappin Ain't Dead"
Dugg is in his element, finessing the Detroit sound, laid by producer, Helluva. For his part, Dooda flips his style in a way that will definitely please, and in some cases surprise his fans.
Also be on the lookout for new singles from Baby Keem ("No Sense"), Sonny Digital ("Dance") and Chance The Rapper will have a new video when you wake up.
Check out HipHopDX's Singles and Videos sections for new music dropping throughout the week, and of course New Music Friday Albums out now.