New Music Friday – New Singles From Joyner Lucas & J. Cole, Future & Gunna + More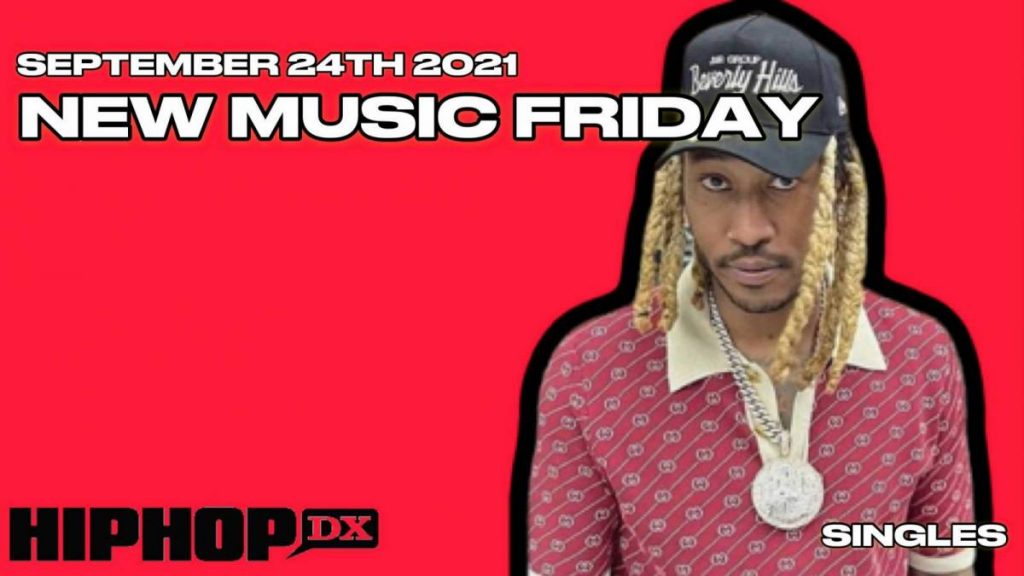 There's a lot to look forward to in this week's edition of HipHopDX's New Music Friday Singles coverage so we're jumping right into fire first thing.
J. Cole fans are in for yet another treat due to Jermaine's guest appearance on Karen Civil's mortal enemy Joyner Lucas' new track, following his transparent "Heaven's EP" release.
Future and Gunna also join forces to flex their muddy star power ahead of DS4, BIA and G Herbo connect for their tender collab and 2021 DX Rising Star Blxst links with "Bitchuary" rapper Shordie Shordie for a melodic, in-pocket new street vibe.
Check out the full list of DX-approved releases that dropped Friday (September 24), below.
Joyner Lucas f. J Cole – "Your Heart"
Joyner Lucas has just come off a big week of naming names within the music industry such as Karen Civil and Steve Stoute for their shady business practices.
Following his "Dreams Unfold" collab with Lil Tjay, the Evolution lyricist continues to remain unphased by 2021 negativity and grabs J. Cole to boast on "Your Heart" about how eqquiped he is to take on this year's bullshit.
Latto – "Big Energy"
BIA f. G Herbo – "Besito"
BIA's Latin flare is helping the Epic Records artist bring in a major bag in 2021.
On the heels of her twinning "Platinum pussy" chaining day with Nicki Minaj in celebration of their million-unit-selling "Whole Lotta Money (Remix)" single, BIA commissions G Herbo to give her his best sneaky kiss bars for her bi-lingual "Besito" banger.
Remble f. Lil Yachty – "Rocc Climbing"
California rapper — by way of San Pedro — Remble has the world at his fingertips.
After securing heavyweight features for his debut It's Remble album from artists such as traffic music innovator Drakeo The Ruler, Untreated Trauma MC Mozzy and more, the "Touchable" rapper taps Quality Control starlight Lil Yachty for their brash "Rocc Climbing" hit.
Logic f. Lil Wayne, A$AP Ferg – "Perfect (Remix)"
If it is not apparent by now, Logic did not actually retire from rap.
The No Pressure rapper has actually consistently performed at a high level all year, delivering both his YS Collection Vol. 1 and Bobby Tarantino III albums this year alone — and now he's adding to his robust bunch of singles with the "Perfect (Remix)" featuring Lil Wayne and A$AP Ferg.
PAYDAY f. Danny Brown – "Vampire"
Shordie Shordie f. Blxst – "Specific"
Shordie Shordie is proving to be a worthy collaborator in 2021.
After his fan-favorite Murda Beatz-produced Memory Lane mixtape gave way to fan-favorite tracks such as "Doctors" and "LOVE" featuring Trippie Redd, Shordie Shordie catches a vibe with DX 2021 Rising Star Blxst on "Specific."
Morray – "Bad Decisions"
Fayetteville artist Morray isn't done spitting his Street Sermons just yet.
Thanking God for a year filled with successful highs such as his appearance in the No. 1 slot Billboard's Emerging Artists chart, 2021 DX Rising Star Morray reflects on his treacherous past on "Bad Decisions."
PG RA f. 6LACK – "Selfish"

AZ Chike f. Rucci – "My Niggas"
L.A. rappers AZ Chike and Rucci continue to turn up the fire and stir the pot ahead of their Kourtesy Of Us album — dropping on October 8th.
Building on the hype from their turnt-up "Hoodrat" collaboration with Boosie Badazz, AZ Chike and Rucci salute each other on "My Niggas."
Russ f. Capella Grey – "Seduce"
Russ is the 2021 rap juggernaut.
Week after week, Russ has maintained his steady, sure-fire single release campaign, dating all the way back to his January "Ugly" collaboration featuring Lil Baby.
For the listeners who just aren't convinced yet, Russ is about to "Seduce" you with this !llmind-helmed drop.
This week's Honorable Mention list is packed with releases that deserve some extra attention.
Along with the new offering from 2021 DX Rising Star Sheff G, Cash Money signee GSO Phat delivers a fresh visual single with Boosie Badazz, rising L.A.-based R&B newcomer Griff Tyler drops off his smooth, melodic bop and Atlanta rapper J Pizzle shares a new turnt-up release.
Also, peep this week's New Music Friday Albums list featuring new releases from YoungBoy Never Broke Again, G-Eazy, D Smoke, Larry June and Cardo and more.
Stay up-to-date with the latest music releases here.