Nick Cannon Trends After One Of His Baby's Mothers Suggests She Can't Afford Night Nurse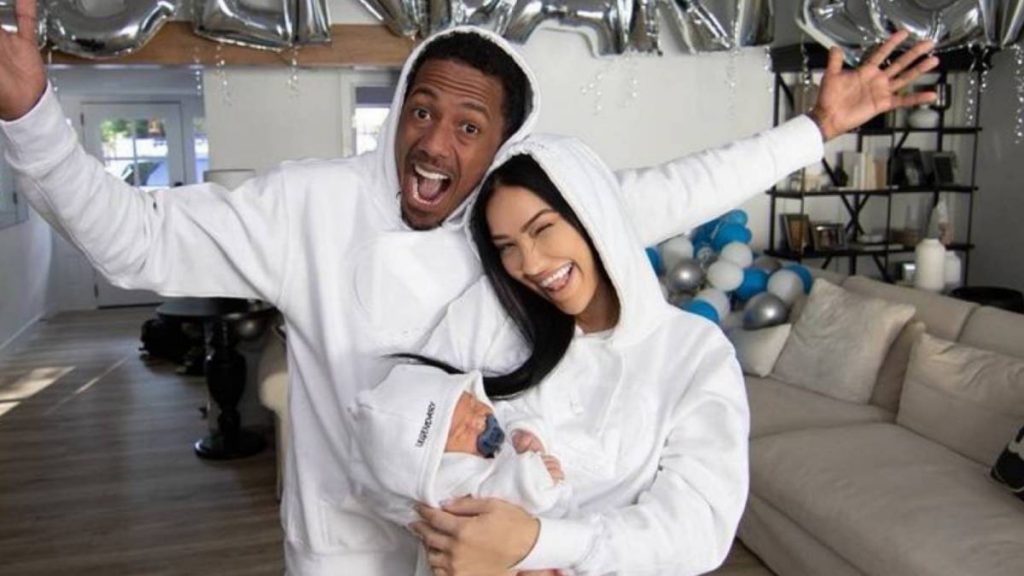 Nick Cannon is once again a trending Twitter topic after one of his many baby's mothers, Bre Tiesi, suggested she couldn't afford a night nurse.
On September 19, Tiesi shared a video message on Instagram revealing she hadn't slept "in like three days" because her two-month-old son had been "screaming his little head off." A fan quickly suggested she should hire a night nurse to help her out.
Tiesi then asked the fan if they wanted to pay for it and they responded, "Tell Nick!!" to which Tiesi fired back: "I don't need your unsolicited advice, thanks. U have some fucking nerve."
She then warned anyone who had advice regarding her and her family, writing on her IG Stories: "KEEP MY PARENTING, MY KID AND MY BABY DADDY'S NAME OUT UR MOUTH. Nick is NOT my sugar daddy. Nick is MY FUCKIN CHILDS FATHER THAT IS ALL. Watch your fuckin mouth when you speak on mine!"
Lmao so he don't be around cuz he's out making new babies and he don't be openin his wallet. Like what is the point of Nick Cannon as father? https://t.co/R2OHrmwpMy

— Mehmet Okurrrt (@Natural_OneDurr) September 26, 2022
That was all it took and soon, Twitter exploded with memes, jokes and even more unsolicited advice for the new mom. As many pointed out, Nick Cannon has fathered 10 children over the years, four in just one year alone.
He's vowed to take care of all of them despite his demanding career and — as he told HipHopDX in an interview earlier this year — four hours of sleep a night.
Y'all said Nick Cannon could be a father of 8 children in several different cities because he was a millionaire.

Baby mama #___? ain't slept in 72 hours because the baby won't stop crying and she can't afford a night nurse. pic.twitter.com/4T1NGNk05a

— The Moment. (@itsKARY_) September 26, 2022
Y'all swore nick cannon could take care of all them kids. This is why having baby mamas in multiple households should be frowned upon. You cannot give the proper care and attention to all those kids https://t.co/1sx5KSNelG

— BORN PINK (@bisexuaIpinks) September 26, 2022
Bre Tiesi ultimately addressed the chatter on one of her Instagram Stories, explaining in a lengthy message her comments were taken out of context. Instead, she said she was simply having a tough mom moment.
"LOL here we go again no one was venting, I took nothing 'left,'" she wrote on Sunday (September 25). "I was talking about how I haven't slept bc baby is teething early and that a family member came to visit and spilled my milk all over the couch put my ember cup in the microwave which is electronic and that it was only 9am.
"To then have someone say nick should pay for a night nurse … not sure how ANYTHING I was saying had to do with needing a night nurse of Nick at all."
She continued: "All I was sharing was a hard moment as a mom being honest where after not sleeping and working it was just one more thing after the other. NOONE was talking about Nick this person decided to bring him up. She took it there just like everyone else does I hear it alllll day.. and all the thousands of other nasty comments and im fuckin over itttttt."
Nick Cannon's baby's mother Bre Tiesi responds to the reports about needing a night nurse https://t.co/mh4FXcSURr pic.twitter.com/nyGiBvQjVQ

— HipHopDX (@HipHopDX) September 26, 2022
Nick Cannon welcomed his ninth child, Onyx Ice Cole Cannon, earlier this month and announced the baby's arrival in an Instagram post.
"Introducing ONYX ICE COLE CANNON," he said. "Once again Today I am in Awe of the Devine Feminine! God has given me and @MissLanishaCole the privilege of hosting an Angel here on earth. I vow to protect, provide, guide and love this child to the best of my abilities.
"In this moment of celebration and jubilee, I wish to mute any low vibrational frequencies and only rejoice with the Highest Class of Civilization who are truly aligned with our purpose here in this dimension. I've given up on attempting to define myself for the world or society but instead I'm doing the work to heal and grow into the infinite Being God ordained me to be."