Open Mike Eagle Dissects Hip Hop's Use Of 'Bitch' In Netflix Series 'History Of Swear Words' Using Old Drake Interview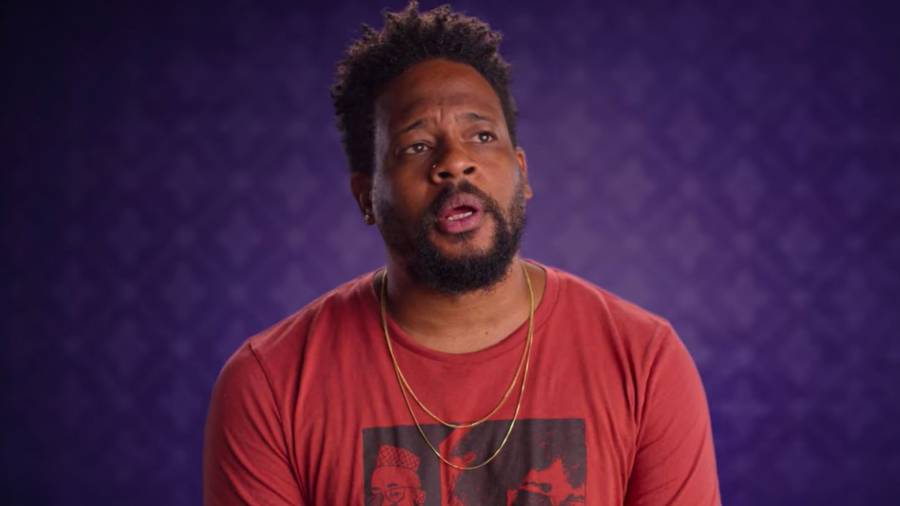 The word "bitch" has become such a common word in the English lexicon, its history is often long forgotten. The new Netflix series History of Swear Words aims to change that by educating viewers on the origins of words such as "bitch," "fuck," "dick" and even "damn."
As host Nicolas Cage helps explain in Episode 3, the word "bitch" derives from the Old English word bicce, which means a female dog. Comedian/MC Open Mike Eagle, who appears in the episode alongside fellow comedians London Hughes, Patti Harrison, Nikki Glaser and more, talks about how the word has evolved in the context of both old jazz music and Hip Hop. 
"Curse words is something we been using in the Black community for generations — on street corners, in jazz clubs and even going back to the '20s and '30s," he says in the show. "It was a sanctuary. People could say what they wanted to say and part of what they wanted to say was women using the 'bitch' word and really embracing their sexuality."
catch me on what my family is calling 'the cussing show'. History of Swear Words on @netflix

it comes on whenever you want it to.

(repping #QDTR) pic.twitter.com/O92qBlnTa7

— Open Mike Eagle (@Mike_Eagle) January 13, 2021
The Mello Music Group rapper then cites blues singer Lucille Bogan as an example of one of those women who didn't shy away from her sexuality.
Instead, she embraced it on songs such as "Till The Cows Come Home" which contains the lyrics, "I got a man I love I got a man I like/Every time I fuck them mens/I give 'em the doggone clap/Oh, baby/Give 'em the doggone clap/But that's the kind of pussy that they really like" — and this was the 1930s, long before Cardi B and Megan Thee Stallion dreamt up "WAP."
Footage of journalist Katie Couric interviewing Drake in 2010 then pops up and he's asked about the misogynistic nature of some of Hip Hop's lyrics to which he says, "The b-word, at times, is definitely demeaning. I'm definitely not the type of guy that demeans women. I think that sometimes, you know, you just need to chalk it up as Hip Hop."
Mike continues, "I feel like people who normally would not allow that type of talk in any other media or any other kind of conversation are OK with it in Hip Hop. That OK'ness makes me uncomfortable in some ways, because I wonder if there's not some underlying racism to that OK'ness. I think it's something I'd like to challenge people not to do."
The episode proceeds to explain the difference between being "100 percent THAT BITCH" — which Lizzo proudly proclaimed in her 2019 hit "Truth Hurts" — and simply "a bitch."
Whether Drake has refrained from demeaning women in the 11 years since that interview aired is up to the listener, but his 2018 Scorpion track "Nice For What" definitely caught the ear of feminists with its multiple uses of the word "hoes" to refer to women — despite its video celebrating female celebrities such as ballerina Misty Copeland and actress Tracee Ellis Ross.
Revisit it below.