Outkast Meets Dreamville As Big Boi & JID Join Forces On Masego's 'Garden Party'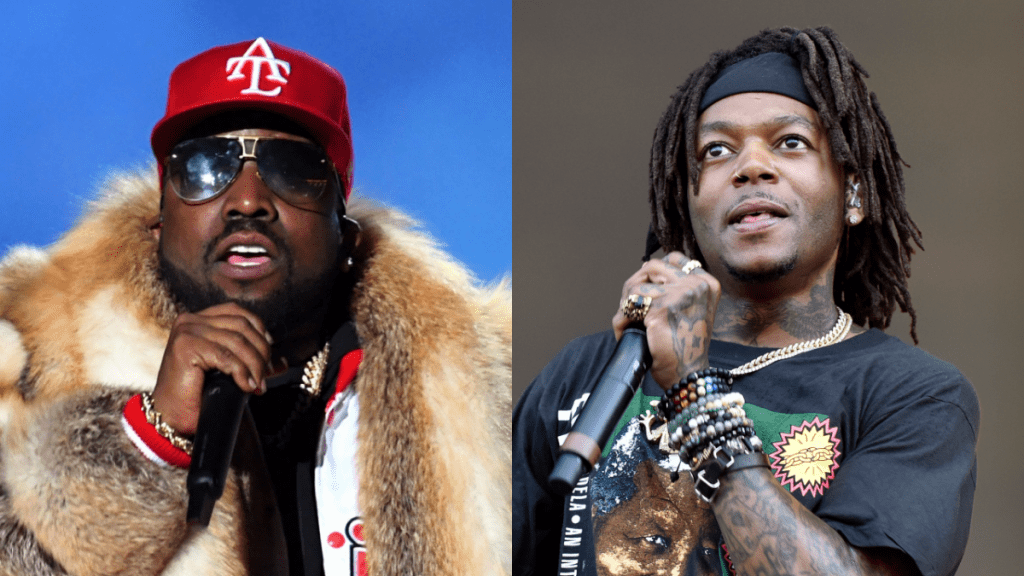 Masego is riding high after seeing his "Navajo" song (which itself borrows from The Beatles) sampled on the intro to Drake's blockbuster Certified Lover Boy album, "Champagne Poetry." Freddie Gibbs, Lupe Fiasco and IDK have all blessed the smooth beat, too.
Now, the R&B singer/saxophonist is capitalizing on his CLB spotlight by dropping his new single, "Garden Party." Although Masego hails from Virginia (and also proudly reps Jamaica and South Africa where he has family ties), the track brings together two generations of Atlanta rap as Outkast legend Big Boi and Dreamville spitter JID share guest verse duties.
Produced by Iman Omari and Jack Dine, "Garden Party" finds the trio inviting listeners to an outdoor shindig featuring beautiful women, mind-altering substances and an enchanting soundtrack. Masego sets the scene in typically smooth fashion with references to Slick Rick and Stomp the Yard, but the party's refreshments only seem to plunge JID deeper in his thoughts.
"I been high as heaven, drunk as hell, but don't fly right/Seeing tie dye colors and side eye cover with shades from the sideline/Say goodbye/In my shaky life I try to stabilize, crazy times/I gotta pray to God but he don't say nothing," he raps.
Closing things out, Big Boi lives up to his playa persona by serenading his +1 to the party with a short but sweet verse: "When it's time to plant our seeds off in the bushes/Got 'em gushin' like a hydroponic system/And I would love to listen to you breathe in my ear/As we make sweet love under the trees."
It appears Masego planted the seeds for the collaboration just a few days prior to its release. On Monday (October 4), he tweeted out a screenshot of him calling Big Boi on FaceTime. Then, on Tuesday night (October 5), he updated fans by announcing, "The call went well."
I reached out to @BigBoi https://t.co/USizMpjlKq pic.twitter.com/BaHpfSqcAa

— Maségo (@UncleSego) October 4, 2021
Meanwhile, "Garden Party" is no doubt a milestone moment for JID, who was born and raised in Atlanta and has made no secret of his admiration for Outkast.
"Coming from Atlanta, I definitely see myself in their music, because it's basically the foundation of what I was brought up on," he said in a 2019 interview with Pitchfork while discussing his love for the duo's Aquemini classic "Chonkyfire."
"They just developed a heightened intelligence as far as rapping, and being able to have substance and be original about your shit."
However, it appears the love wasn't always mutual. Back in 2018, Big Boi had JID blocked on Twitter for reasons that puzzled the DiCaprio 2 rapper. "I need answers as to why Big boi from OutKast has me blocked, I never even followed him and I love dem niggaz," he tweeted.
I need answers as to why Big boi from OutKast has me blocked, I never even followed him and I love dem niggaz 😂😂 pic.twitter.com/90fRlvT0Fw

— (J.I.D) (@JIDsv) March 7, 2018
It's unclear whether "Garden Party" is part of a new Masego project or simply a one-off single. The R&B rookie released his debut album, Lady Lady, in 2018 before following up with the Studying Abroad EP last year.
Big Boi, meanwhile, is currently prepping a new joint album with fellow Dungeon Family member Sleepy Brown called The Big Sleepover.