Pharoahe Monch's 'Gun Draws' Was Meant For Dr. Dre's 'Detox' & 13 Other Things We Learned About 'Desire' LP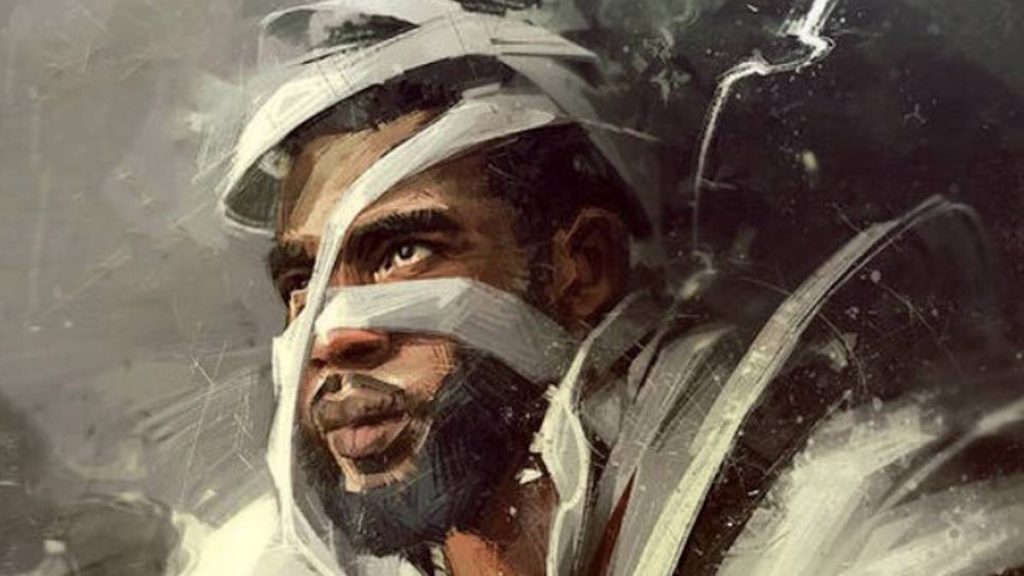 Pharoahe Monch was the only MC Denaun Porter felt like working with in 2006. The celebrated producer had been in a deep depression after losing two of his closest friends and peers — J Dilla and Proof — just months apart in February and April, respectively. 
"I was hiding out in Dallas," Porter tells HipHopDX. "I had stopped going to L.A. I was giving Monch and [Eminem] records and doing movie shit. I scored Waist Deep and said I'm out the game."
Monch, the Queens rap legend born Troy Donald Jamerson, was at a similar crossroads in his career. His biggest hit, "Simon Says," had landed him in court over an uncleared sample and his label Rawkus Records had folded.
"I was kind of in limbo, and this label wanted to take me over there, and another label wanted to bring me over there," Monch says. "I felt like I was getting shelved without being shelved, so to speak. Those times, emotionally and spiritually, brought me to a point where I was like, man, you really got to have a desire to push forward if you still want to do this."
Monch had been on the road with Talib Kweli and the artist formerly known as Mos Def on the Sony Playstation tour. He was ghostwriting for Puff Daddy's Press Play album, so money wasn't really an issue. "So, from an emotional and financial standpoint, I started to be like, 'I don't even want to sign to a label again. I'm just going to make music, be happy, do shows.'"
Monch's desire to be independent didn't quell his need to create, and he found himself in Detroit recording with Mr. Porter at his studio in Farmington Hills known as Area 51.
"What he was doing sonically at the time was just like this is where I want to be," Monch says of Mr. Porter. "Punchy kicks, snares, a cat who could play instruments, sing. I mean, he's a super producer. Everybody knows this. So it was an honor to go to Detroit to work with him."
Denaun says Monch and Bilal were the only artists he was working with at the time, and there are songs they recorded that most people still haven't heard. "It was really good energy for him to be in a room with a producer in that way."
View this post on Instagram
Pharoahe Monch and Denaun Porter began shopping the music they'd created to various labels, including Eminem's Shady Records and bidding wars ensued. "There was so much going on at the time that was good," Monch recalls. "I had a lot of people interested. That was the good thing about that time that I remember. It felt good to be wanted by so many majors and so many people."
The collection of songs that would eventually become Desire was almost a second debut for Pharaohe. Years removed from his first solo outing Internal Affairs, and even further from his group work with Organized Konfusion, he wasn't merely reinventing himself, he was pushing the genre outside its comfort zone musically and lyrically. 
"The basis of the record was about me wanting to implement harmonics through vocals to bring out the soulfulness of the desire and the inspiration that it took to make it through the period that I was going through at the time," he states. "So hopefully it's an inspirational record for other people as well."
He ultimately signed a deal with Steve Rifkind, the former LOUD Records CEO who'd launched his own label, SRC Records, and released Desire on June 26, 2007.
"It's a classic record for him," Denaun declares. "I think it's one of his best bodies of work. Besides Internal Affairs I think that's one of his best records and I'm happy to be part of it."
Fifteen years later, many of the messages and musings contained on Desire are more relevant than ever. So, for its anniversary, HipHopDX is sharing some gems about its creation from some of the people who were there. 
1. Sean "Puffy" Combs Wanted TO Sign Monch After Hearing Songs He Made With Denaun
Pharoahe Monch: I landed a publishing deal and Jessica–I forget her last name now–she was involved with Puff and told me that Puff was looking for writers and specifically asked about me. And we just met with him. I played him what would be the demos, "Desire," and some of the songs off that album. It blew his mind. He was like, "Yo, you got to work on this album." And so, subsequently, he even wanted to sign me there at Bad Boy, just off the music that I was working on at the time.
2. He Played "When The Gun Draws" For JAY-Z At Def Jam & He Lost His Mind 
Pharoahe Monch: That was like the highlight of telling you how big my head had gotten, because I was like, "I'm not signing shit till I sit down with Jay." And people were like, "What? How you going to make that happen?" And we made it happen. So just to sit down with him … and I see there's the meme now: "What would you pay to sit down with JAY-Z versus the information you could get?" And he was just a well of information, brilliant, genius shit even in that time, like his forecasting on where the music industry was going.
He was saying it would be to my benefit to come in low [on a deal] and stretch the record out [rather than] take a massive bonus or signing bonus or whatever the fuck they used to call it. And I was like, "Nah, I'm not going to be able to do that." Because it was like so much money on the table already. I was playing him shit like "Body Baby," "What It Is," "Desire," different joints off the album.  When I got to "When the Gun Draws," he was like, "Yo, homes, why the fuck you ain't play this first?" All right. 
I was taken aback by the fact that he took a liking to that song and he said that should be the single or at least first. And then that's what had me interested. I'm like if he hears that, then we're on the same page. I'm playing songs and he would be like, "Yo, I got a line similar to that." He said the line and he was like, "I don't want you to think I pinched your shit." You know? So it was a real MC and executive shit. And in the end, he gave me the truth. And that's what I think is most respected about that meeting, he gave it to me 100 percent the truth.
3. "When The Gun Draws" Was Originally For Dr. Dre's Detox 
Denaun Porter: That was actually a Detox record and I kind of had to pull it. If you listen to it, it sounds like a [Dr. Dre record.] I'm probably one of the only people who could sonically match Dre at the time. I was a student of his, but I also came to the table with sonic correctness. 
The version you hear is what I made for Detox. Remember Busta's "Decisions?" That was another one of those records. It had the feeling I was reaching for at the time.  I knew Monch's story was going to be crazy. I knew it should've been a single and a video. I wanted "So Good" to be single, too, but "Gun Drawz" fit perfectly for him. It was like "Stray Bullet," this was like a piece of that. It was the aftermath of it. Here we are again talking about gun control 15 years later. It's even more prevalent now.
4.  Why The Title Desire? 
Pharoahe Monch: You know, that word takes on a couple of different meanings, but for me at the time, it was a desire to push through. Because I really was going to stop at that point, not making music but just doing it on a, "OK, let's get this video and let's market it the same way, doing it through the music industry, typical way of doing it." The industry was changing at the time. 
I don't think the labels were catching up to how fast it was going digital and going from CDs at that time. So we have to put that into context. I feel like they never, for the most part, knew what they were doing and looked for trends. But at this particular point, it was clear to me that I was like, "These motherfuckers don't know what the hell they're doing. So I might as well step down and be independent." So, it was my desire to like … My fortitude can push through, which is why "Push" is on the record and the simple titles, like Bong, Bong, Bong. "Push through, have the desire to keep going."
5. Becoming A Mummy For The Cover Had Special Meaning For Pharoahe
Pharoahe Monch: We were in makeup for a long time for that shot. It was a whole day shoot. We went around shooting and then we came in and did the wraps and did that shot for the album cover. The mummy wrapping took like an hour or two. It wasn't that much. They just wanted to make the mummified shit look weathered and get the material right. Because it was just kind of white. We were in the back of a restaurant in Williamsburg.
I was thinking about the videos or how to push this further in terms of what does this mean? Is it just imaging for the album cover? How can I push this further? Like even then I was like, "Man, I want to animate, I want to do this. I want to do CGI." But I was ahead of my time. Some of the pictures it's like I'm taking the wraps off. So it's almost kind of like a resurrection too.
6. He Feels A Kinship With Moon Knight's Multiple Personality Condition
Pharoahe Monch: It's funny because growing up, I didn't collect Moon Knight (comic books). I collected number one issues. So when that dropped, I copped it, but I didn't follow the storyline. So watching the show, it was all fresh for me. I was like, I'm down for this because I really don't know the origin of the character like that. I didn't.
[The duality of Moon Knight] that's Internal Affairs, that's Desire, that's Pharoahe and Troy Jamerson. I would think that a lot of artists feel that way. But me in particular, I use the Pharoahe moniker to break out these personas, even in inanimate objects and personalities. So I've always been multiple personalities in there. [Editor's Note: More on this later in the interview.]
7. Opening The Album With "Free"
Pharoahe Monch: I felt like I was free from the last situation. I felt like I was free creatively. I felt like all the shit that I was going through, there was actually court and depositions over the "Simon Says" shit. So I just felt like one of the obvious ways to start the album off and get into the politics of the word as it pertains to the country and as it pertains to the music industry, there's a lot of play on that throughout that album. 
8. "Desire" Was Inspired By His Touring
Pharoahe Monch: Alchemist played that beat and the spaces in it allowed me to exude a lot of passion. So I wanted the chorus to be sung with passion. I wanted harmonics on it. These are things that kind of give you good feelings. That's the reason why people listen to all forms of music, no matter what language it may be in, and it can still speak to you.
So I just felt it was the perfect record to have Showtime scream that chorus out. We started performing that stuff and the audiences were like "Yo, this shit is crazy." So I'm off the tutelage of De La. I'm like, "Man, if I'm good at a packed show with a new record, I'm probably good. It's a good record." 
I was writing those kinds of songs, knowing that I had the opportunity to tour and perform. So it was like that particular record is like, "You will feel me. My soul. desire." And then I'll let Showtime shine and it'll make for a great performance component. And the dynamics of that vocal being exchanged, I thought would be dope to feel live and see live. So that one was on my mind when even choosing a beat from Alchemist.
9. How Elvis Inspired "Body Baby"
Pharoahe Monch: That's the vibe that I wanted to capture. Obviously and historically, we know the fuck shit, which is ironic because I'm on the rock shit now and just how much was stolen from Black culture. But that kind of thing was like … I don't want to even say jokingly because I took it seriously, but it was kind of like an ode to those films, the after school specials, the Elvis after school special shit and the vibe and the energy behind that type of swing. That type of swing.
I mean, it's one of the songs off the rip that all the labels were fucking with. "Body Baby" was a song that I love, I just felt like how's this going to cut through if it's not coming from … like the button is not pushed on it type of thing. 
We shot [the video] down in Atlanta. It was mad fun, mad silly. It felt good to do some silly shit after all being a stray bullet and all the serious things that I've rapped about. So it was fun to be on that vibe.
10. The Lil Wayne Effect
Pharoahe Monch: I was grateful certain sections of the label around the globe would just pull me in wherever the record was popping. So the UK division of Universal just flew us out because the record was doing good over there, and they were like, "We're going to this." 
[But] like JAY-Z alluded to, after the "Push" single, [the label was like], "Our hands are up in the air." I think Lil Wayne dropped "Lollipop" and the whole building just put every fucking single dime on that record and shut all the projects down. I just remember a lot of albums that were pretty dope kind of getting swept under the rug a little bit because of that song or they felt that song was going to be so massive.
11. Remaking Public Enemy's Welcome To The Terrordome
Sean C: "Welcome To The Terrordome" is by far one of my favorite songs. The Public Enemy version is like one of my Top 5, Top 10 records and for me to do it over … it's a scary thing when you're making a remake, but I really think because I'm such a Bomb Squad fan, man, we were able to knock it out the park. This is one of my favorite records I've ever done. I listen to it all the time to this day. It's on my gym workout playlist. I think Pharoahe did justice to the remake. You don't get those too often. Usually, Hip Hop remakes are nowhere near as good as the first one. 
To get all of the elements from the original record, there's a couple missing because we couldn't clear every sample. PE had so many samples in there we couldn't clear everything. I really think we did a great job at paying homage to Public Enemy, and to Chuck and what the Bomb Squad did.
Pharoahe Monch: Oh man. Chuck D is just Chuck D. He's one of my favorites: the writing, the impact, the voice, lines, style, the inspiration that those records brought. When I heard the beat, I was driving in the car and when I get a dope beat that I like, I'll try and freestyle. I'll try some old rhymes. I'll try some Prince Pro rhymes, some old OC rhymes that I remember. I'll be doing shit from high school, Percy P rhymes, anything.
Just say something, say Biggie. You know what I'm saying? I'll rap Biggie. I'll rap Nas. And when I got the beat, everything I was trying, wasn't really feeling like the thing. And then I rapped Chuck and I was like, "Yo, this shit sounds crazy. This shit sounds crazy just like this. Just like this."
So Sean C and LV did the beat and I called [Chuck D] and I told him what I wanted to do. I said, "Listen to this." I think I might have laid it first, but no, I called Sean C and I was in the car and I just did it over the phone in the car. He was like, "That's crazy." Somebody got me on the phone with Chuck, he was like, "My man." I was like, "Man, it doesn't get any better than that." I mean, that's a highlight for me.
12. "So Good"
Pharoahe Monch: At that point, at the "So Good" joint and a Tweet sample, I just was like, "Yo, let's try to … " And when I say, "Yo, let's try that," I'm going there in my mind. Talking to myself [like] Moon Knight. Yo, let's try to do all these different personifications and these different things and metaphoric in the bars. Let's do an approach where Pharoahe's sensual and make a girl record. Kind of taking it back to "The Light" a little bit in that sense, but even a little more deeper, conversational. "So Good" is very conversational. 
Denaun Porter: "So Good" was one of my favorites. I had a full replay of that. There's a different version with no sample at all that's just as amazing, because he sampled Tweet. Even the sound effects. It was raining outside and we set the mic up by the creek outside. Everything was custom made for that album.
13. "Bar Tap" 
Pharoahe Monch: And then "Bar Tap" is just a fucking Black Milk banger, that's funky and it had me feeling like, "Oh man, if somebody played this today," if somebody just played an instrumental and I didn't know what it was of that beat or arrangement in a bar, I would kind of start moving around. I might even get up. And in that time, I was in the energy of, I would ask somebody to dance type shit.
But now as I look back, it's a fun record. It started off fun and mind you, Denaun executive produced the record, so even when on "So Good," I looped it. I put drums in and once I was out in Detroit, he was touching it up and playing the guitar parts, and just killing it. So shouts out to Mr. Porter.
14. "Trilogy"
Pharoahe Monch: Denaun gave me that first beat… And I was like, "Oh my God. Oh my God. Oh my God. Oh my God, I got to have this." And I wrote the first verse and I was like, "I don't have any idea how to finish this song."
Denaun Porter: [laughs] He got stuck. I made the first beat ("Cops Comin") for the album because I felt like it didn't have that element. After the first beat he told me the story I was like oh shit. When I heard the first verse, after working with Em, I knew what to do. I know how to finish the stories off. 
The second part I sang the original hook, but I had Dwele resing it. He's one of my favorites so I wanted to have him do it. He resang the hook and I had him play the horns. But the story wasn't done, and that's when I made the last beat. It was like we made that one on the spot. I think we were amazed at how it was coming together. It was being produced from top to bottom.
Tone Trezure is a girl I signed from Flint Michigan. She was on "Let's Get Stoned" with Snoop. I was putting her in a position to be a hook master. She did some Jay Electronica records, too.
15. Monch Would Like To Press Vinyl For Desire's Anniversary But He Can't 
The vinyl for the Desire album is just like a boot leg cover. There's no 12-inch cover with that picture of the mummy on it as an album cover. Labels were kind of … well, they were kind of lost as to what to do at the time and that's just a travesty because people are still asking. I recently called Steve [Rifkind] and he picked up, I got his number and I was like, "Can I have my fucking album back please? It's been 15 years."
I wasn't disrespectful. That's my guy. I'm just saying like, "You had an album. What's going on with that?" Because I think that's the only one in the latest that I don't own. We got the first two Organized back and Equinox, I don't [own].
Then Internal Affairs, War, PTSD have been reverted. So I was trying to find out what's up with it, because it's been 15 years and, on the business side. He was like, "I'm not there anymore." Hoppitty, hoppitty, skippitty. He passed the buck to Joe, Joe Schmo. "Call Joe Schmo," he said. I don't think that deal was too crazy. So it should be reverted, you know what I mean? If it is, I'll press up some vinyl. It would've been nice to have it for this year. 
[Editor's Note: If you've read this far you realize that in the headline we say "13 more things" and there are 15 entries here, not 14 total. I had fifteen items for the 15th anniversary of Desire, but if you are a fan of Monch, you know how important the number 13 is to him, so I employed some creative license. Thanks for understanding.]