Pharrell & Chad Hugo Celebrate N.E.R.D 'In Search Of…' Anniversary With New adidas Shoe Collab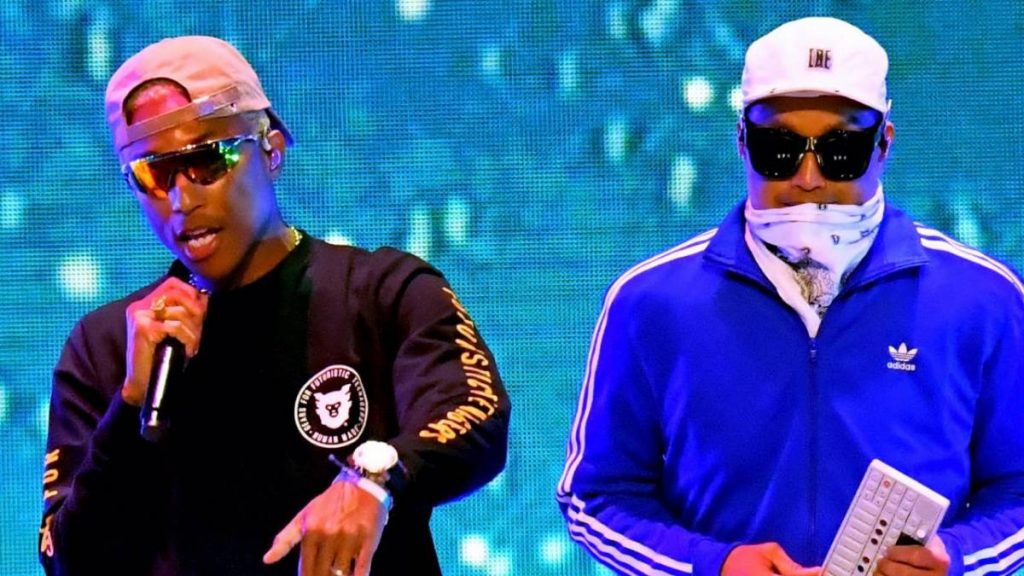 The Neptunes' Pharrell Williams and Chad Hugo were recently crowned the greatest Hip Hop producers of the 21st Century by Billboard. Now, adidas is helping them celebrate with an upcoming sneaker collaboration, this time in honor of N.E.R.D's debut album, In Search Of…
On Tuesday (July 27), N.E.R.D's official Instagram account posted a series of photos featuring a brand new colorway of the PW HU NMD N.E.R.D — tan, mint green and peach. The N.E.R.D lettering is also displayed prominently on the top of the shoe.
The caption reads, "Celebrating 20 years since the drop of our debut album, 'In Search Of…' @adidasoriginals PW HU NMD N.E.R.D available globally August 6, in Europe early September. adidas.com/pharrell."
View this post on Instagram
Pharrell has teamed up with adidas numerous times on sneakers and apparel. As noted on the adidas website, the Originals Pharrell Williams collaboration was launched in 2014 and is intended to be "an extension of Pharrell's vision to connect people with love, passion, and energy as a celebration of the diversity of humanity."
Most recently, they dropped a collection of Pharrell Williams Chancletas Hu Slides in a variety of vibrant colors such as orange, yellow and pink.
The Neptunes have cranked out seemingly countless hits on the Billboard Hot 100 chart, including Nelly's "Hot in Herre," Snoop Dogg's "Drop It Like It's Hot," Gwen Stefani's "Hollaback Girl" and Ludacris' "Money Maker. But they've also found plenty of success with N.E.R.D.
In Search Of… was initially released in 2001 with songs such as "Lapdance," "Provider" and "Rock Star." In 2002, the duo dropped a re-recorded version of the album, which included electronic backings of the original version being replaced by a more rock-oriented sound with the use of live drums and guitars played by American funk rock band Spymob.
However, the album peaked at just No. 56 on the Billboard 200 and No. 31 on the Top R&B/Hip Hop charts.
Check out the adidas collab above.