Philly Rapper Poundside Pop Says Meek Mill Tried To Lowball His Record Contract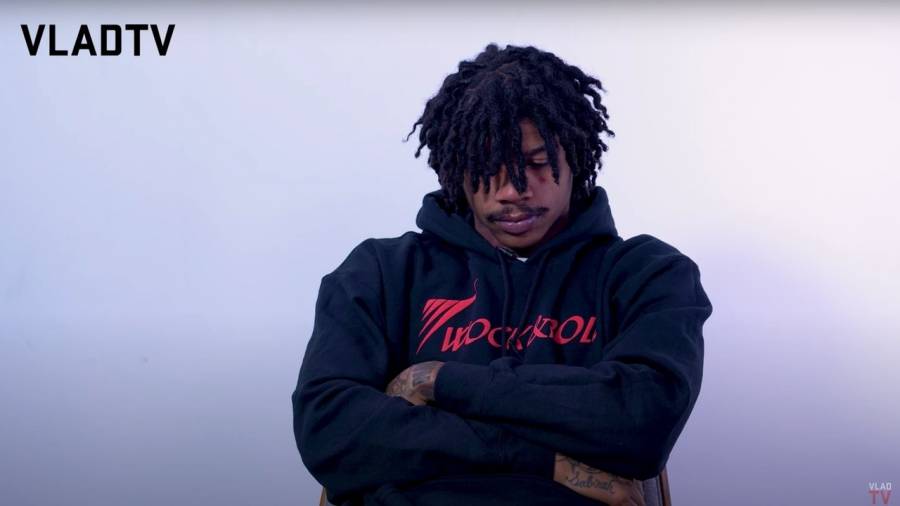 New York, NY – Philadelphia artist Poundside Pop has revealed his cities superstar rap hero, Meek Mill, offered him a meager record deal not once, but twice.
In a new VLADTV interview, the up-and-coming rapper discussed linking up with the Dreamchasers boss after his 2017 street anthem "O.S.S." [On Some Shit], blew up.
"Meek, I ain't know Meek until I had that big record," he recounts with a smirk on video.
"Everybody knew me when I had that 'On Some Shit,' record."
The "Off Top," rapper proceeds on to describe several encounters with Meek, including a stop during the Legendary Nights Tour when he was called on stage, and again at NBA player Dion Waiters' birthday party. Eventually, the pair officially met while Poundside Pop was staying in Los Angeles, at which time he alleges Meek tried to sign him.
"You know you gotta come correct when you trying to sign somebody, so that didn't workout right," he begins.
"Basically, I'm out in L.A., this when I'm out In LA. I get with Meek because he out in L.A. So we running around a lil bit, and then they like, 'So we trying to sign you,' basically. So I'm like, 'Alright, I'll sign with you nigga, for sure' But, when the deal come, it's for $10,000. A $10,000 deal I'm like, 'Oh, wtf,' Fuck am I supposed to do with this I'm out in L.A. shit high as shit. The cost of living is expensive out here."
The ZooGang member says he tried to negotiate a deal with a better advance but was again met with an offer he felt undervalued his talents and underserved his larger purpose — which is to take care of his people.
"So basically, I tell him like, 'Yo bro, this ain't enough, I'm fucking with you, but I ain't feeling this jawn,' So, they send another one back for $20,000 — I said, 'Nah, I can't do nothing with $20,000 either,' After taxes it's damn near like $10,000. So, that's how the deal really ain't workout, because I wasn't really fucking with a deal after that. It wasn't enough for me, I can't take care of my folks with that — I can't take care of myself with that. People spend that on an outfit, people I know, to be honest. "
Even though Poundside Pop goes on to say there is, "No love lost," between himself and Meek Mill following the botched recording contract, he still has found time to poke fun at the situation and rekindled their pseudo-feud in a recent Instagram post.
"Lol, I'm done," he captioned a video meme pitting his Wock and Roll imprint against Dreamchasers.
View this post on Instagram
Poundside Pop released his Wock and Roll EP this past Friday (December 4). Stream the full project below and watch the full interview clip with DJ Vlad above.