Pi'erre Bourne Proves He's More Than A Producer On 'The Life Of Pi'erre 5' Album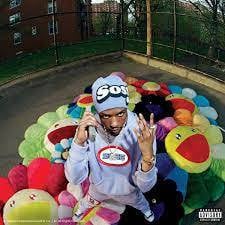 Pi'erre Bourne knows how to break free from restrictive boxes and labels. He's ducked in and out of various roles within the music industry, all while pushing and perfecting his sound, a hazy amalgam of a post-Yeezus Kanye West and digital SoundCloud synths, warped through his knack for long-form narratives and referential sounds.
He's proven his prowess as a beatmaker, repeatedly racking up Billboard placements and plaques while producing for the likes of Young Nudy, Trippie Redd and Playboi Carti. As a producer, Bourne finds the balance between pushing his own narratives and respecting the artists' wishes.
But it's when Bourne picks up the mic that the listener is finally let into his world. The Life Of Pi'erre 5, the latest and final installment of Bourne's rap series, stands as his most cohesive and complete body of work to date.
Bourne's production has been excellent for years and TLOP5 is no exception. But the "Poof" artist's rapping has matured since the series began five years ago; his bars are tighter and more clever; his timing and cadence are more masterful and his newfound confidence allows him to break the mold by experimenting with ambitious song structures.
Bourne's dual role enables his thoughts and concepts to feel homegrown without any creative dissonance and far more personal results. He's not bound by the restriction of language or the difficulties of collaboration. Rather, he's able to engage in an insular but abstract and organic manner of creating — and the outcome is apparent.
The production on TLOP5 sounds similar to much of Bourne's effervescent, mood-setting previous work. When producing, the 27-year-old's process mimics a collage. Samples, loops and original compositions are layered together to combine a larger portrait of Bourne's life. Even when the lyrics aren't entirely personal, Bourne's particularity when assembling the project speaks volumes.
But the locales Bourne brings his listeners aren't foreign or otherworldly. Instead, they're founded in familiarity and nostalgia; an ice cream truck's jingle rings out in the final moments of "Couch" and the LP is littered with 2000s pop culture references to WWE, Spongebob, Degrassi and more.
It seems Bourne is following in the footsteps of Hip Hop icon Pharrell Williams, who tread a similar path between the lines of producer and rapper. There was a learning curve with both artists, a period where their original beatmaking skills far surpassed their rapping abilities. But eventually, their raps caught up to their production. For Pharrell, this moment came with his now-classic 2006 album In My Mind. For Bourne, TLOP5 represents the moment where he's found himself as an MC.
He glides across "Sossboy 2" with longtime collaborator Lil Uzi Vert and bounces on "Biology 101," dropping quotables over playful chimes, lacing bouncing flows within the beat's pockets using skills he hadn't yet developed in earlier editions of The Life Of Pi'erre series.
Bourne kept features to only what's essential. Familiar faces are present in Playboi Carti and Lil Uzi, but he also calls on fellow Sosshouse member Sharc for one of TLOP5's three guest spots. Even with the star power present on TLOP5, Bourne still stands on centerstage, with the features building to his colorful world instead of detracting from it.
Album sequencing is an under-appreciated component of Hip Hop albums, but Bourne clearly paid it due mind. Beats blend seamlessly into the next —  "Hulu" transforms into "Couch," which weaves into "42" so well that shuffling takes away from the experience. The tight-knit nature of TLOP5 helps to create a full-circle experience, but it also brings a level of monotony which, at times, strikes as redundant.
"Amen," the album's weakest link, could've been substituted with something as sharp and vitriolic as "40 Clips," one of the few times TLOP5 strays from the blueprint and allows for more experimentation. "YNS" is one of the more personal tracks for Bourne but even in the album's effort to blend with full cohesion it's inessential and skippable.  Though the project at times calls for more diverse experimentation, it's a small sacrifice to enjoy the intoxicating progression of TLOP5, watching as Bourne continues his journey to becoming a fully-fledged rapper.
Repeat Me:
Fan Feedback:
pierre bourne put crack in the life of pierre 5, like why is it that good

— princess☆ (@tsw3lo) June 24, 2021
@pierrebourne is this generations Pharrell Williams

— ☪️? (@juicyboxez) June 12, 2021