Post Malone Toasts To 9 Wins At 2020 Billboard Music Awards As Killer Mike Accepts Change Maker Award With $1M Donation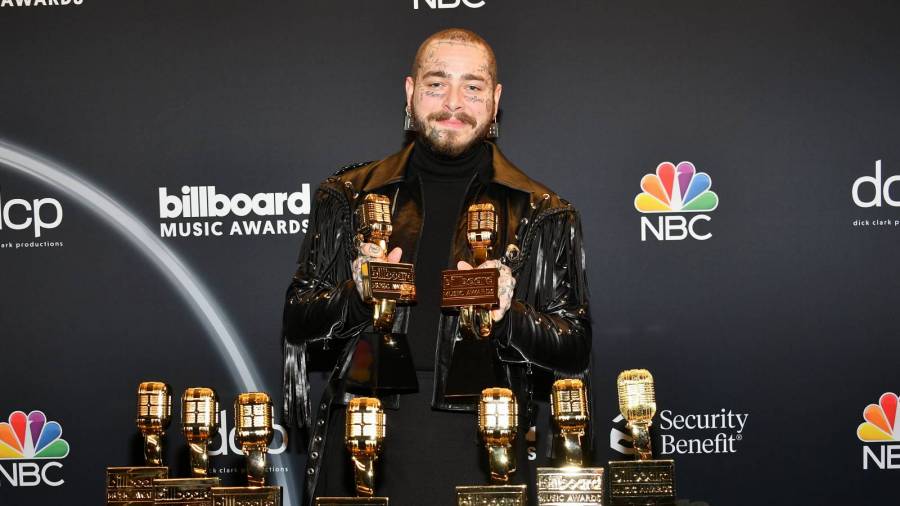 Los Angeles, CA – Post Malone stole the show on Wednesday (October 14) after picking up a total of nine awards at the 2020 Billboard Music Awards — the most of any artist.
Taking place at the Dolby Theatre in Los Angeles, the show saw Posty win a bulk of the 16 awards he was nominated for, including Top Artist, Top Male Artist, Top Billboard 200 Artist, Top Hot 100 Artist, Top Streaming Songs Artist, Top Rap Artist, Top Rap Male Artist, Top Rap Tour and Top Rap Album.
"I'm honestly blown away by the love that everybody's shown to me," Post said. "Honestly, I appreciate it more than I could ever express. It's kind of a big deal for me and everybody involved because we work our asses off, and we just try our best every day."
He continued, "To be able to reach out to people who might not have anybody to turn to, and just be able to reach out and show everybody that they're not alone and music can bring everybody together is absolutely incredible. I just want to say thank you so very much ladies and gentlemen. I'm blown away, I'm floored. Thank you very, very, very much."
#BBMAs Top Artist award goes to… @PostMalone!!! 🎉 Congrats! pic.twitter.com/jJovZvc8qS

— Billboard Music Awards (@BBMAs) October 15, 2020
Khalid came away with the second-most wins with five awards, including Top R&B Artist, Top R&B Male Artist, Top R&B Tour, Top R&B Album and Top R&B Song. After that, Kanye West managed four wins in the Top Gospel Artist, Top Gospel Album, Top Christian Album and Top Gospel Song categories. Lil Nas X and Billy Ray Cyrus also won four each, with the chart-topping "Old Town Road" securing Top Hot 100 Song, Top Streaming Song, Top Selling Song and Top Rap Song.
Elsewhere, Cardi B won Top Rap Female Artist, while Summer Walker won Top R&B Female Artist.
Killer Mike was also honored with the first-ever Change Maker Award at the APEX Museum of African-American history. Presented by Atlanta Mayor Keisha Lance Bottoms, the award honors an artist or group that speaks truth to power through music, celebrity, and community and is active in their community and charitable with time, money, or influence to improve the lives of others.
"Kids out there that sing and dance, what you do is worthy," Mike said. "You are artists, and your goal should be to express the very reality around you in the very most beautiful or ugliest of ways that you see fit. You matter more than you know. The kids that are organizing, plotting, planning, strategizing, right there on the ground mobilizing, you are needed more than ever. I'm a culmination of all these things."
NBC and MRC have also donated $1M to Greenwood, a digital banking platform Mike founded with civil rights activist Andrew J. Young and Bounce TV founder Ryan Glover for Black and Latinx people.
Throughout his 20-year music career, @KillerMike has been instrumental in social justice and civil rights movements and that is why he is our Billboard Change Maker! Congrats! #BBMAs pic.twitter.com/GIwiSUmdJM

— Billboard Music Awards (@BBMAs) October 15, 2020
Check out the list of winners below.
Top Artist:
Billie Eilish
Jonas Brothers
Khalid
Post Malone – WINNER*
Taylor Swift
Top New Artist:
DaBaby
Billie Eilish – WINNER*
Lil Nas X
Lizzo
Roddy Ricch
Billboard Chart Achievement Award:
Mariah Carey
Luke Combs
Lil Nas X
Harry Styles – WINNER*
Taylor Swift
Top Male Artist:
DaBaby
Khalid
Lil Nas X
Post Malone – WINNER*
Ed Sheeran
Top Female Artist:
Billie Eilish – WINNER*
Ariana Grande
Halsey
Lizzo
Taylor Swift
Top Billboard 200 Artist:
Drake
Billie Eilish
Khalid
Post Malone – WINNER*
Taylor Swift
Top Hot 100 Artist:
DaBaby
Billie Eilish
Khalid
Lil Nas X
Post Malone – WINNER*
Top Streaming Songs Artist:
DaBaby
Billie Eilish
Lil Nas X
Post Malone – WINNER*
Travis Scott
Top Song Sales Artist:
Billie Eilish
Lil Nas X
Lizzo – WINNER*
Post Malone
Taylor Swift
Top Radio Songs Artist:
Jonas Brothers – WINNER*
Khalid
Lizzo
Shawn Mendes
Post Malone
Top R&B Artist:
Chris Brown
Khalid – WINNER*
Lizzo
Summer Walker
The Weeknd
Top R&B Male Artist:
Chris Brown
Khalid – WINNER*
The Weeknd 
Top R&B Female Artist:
Beyoncé
Lizzo
Summer Walker – WINNER*
Top R&B Tour:
B2K
Janet Jackson
Khalid – WINNER* 
Top Rap Artist:
DaBaby
Juice WRLD
Lil Nas X
Post Malone – WINNER*
Roddy Ricch
Top Rap Male Artist:
DaBaby
Lil Nas X
Post Malone – WINNER*
Top Rap Female Artist:
Cardi B – WINNER*
City Girls
Megan Thee Stallion 
Top Rap Tour:
Drake
Post Malone – WINNER*
Travis Scott
Top Christian Artist:
Lauren Daigle – WINNER*
Elevation Worship
For King & Country
Hillsong United
Kanye West
Top Gospel Artist:
Kirk Franklin
Koryn Hawthorne
Tasha Cobbs Leonard
Sunday Service Choir
Kanye West – WINNER*
Top Billboard 200 Album:
Billie Eilish "When We All Fall Asleep, Where Do We Go?" – WINNER*
Ariana Grande "Thank U, Next"
Khalid "Free Spirit"
Post Malone "Hollywood's Bleeding"
Taylor Swift "Lover"
Top R&B Album:
Beyoncé "Homecoming: The Live Album"
Justin Bieber "Changes"
Chris Brown "Indigo"
Khalid "Free Spirit" – WINNER*
Summer Walker "Over It"
Top Rap Album:
DaBaby "Kirk"
Juice WRLD "Death Race For Love"
Post Malone "Hollywood's Bleeding" – WINNER*
Roddy Ricch "Please Excuse Me for Being Antisocial
Top Christian Album:
Bethel Music "Victory: Recorded Live"
Casting Crowns "Only Jesus"
Hillsong United "People"
Skillet "Victorious"
Kanye West "Jesus is King" – WINNER*
Top Gospel Album
Kirk Franklin "Long Live Love"
Donald Lawrence & The Tri-City Singers "Goshen"
William McDowell "The Cry: A Live Worship Experience"
Sunday Service Choir "Jesus Is Born"
Kanye West "Jesus is King" – WINNER*
Top Hot 100 Song:
Lewis Capaldi "Someone You Loved"
Billie Eilish "bad guy"
Lil Nas X ft. Billy Ray Cyrus "Old Town Road" – WINNER*
Lizzo "Truth Hurts"
Shawn Mendes & Camila Cabello "Señorita"
Top Streaming Song:
Chris Brown ft. Drake "No Guidance"
Billie Eilish "bad guy"
Lil Nas X ft. Billy Ray Cyrus "Old Town Road" – WINNER*
Lil Tecca "Ran$om"
Post Malone & Swae Lee "Sunflower (Spider-Man: Into the Spider-Verse)"
Top Selling Song:
Lewis Capaldi "Someone You Loved"
Billie Eilish "bad guy"
Lil Nas X ft. Billy Ray Cyrus "Old Town Road" – WINNER*
Lizzo "Truth Hurts"
Blake Shelton "God's Country"
Top Radio Song:
Lewis Capaldi "Someone You Loved"
Jonas Brothers "Sucker" – WINNER*
Khalid "Talk"
Lizzo "Truth Hurts"
Ed Sheeran & Justin Bieber "I Don't Care"
Top Collaboration:
Chris Brown ft. Drake "No Guidance"
Lil Nas X ft. Billy Ray Cyrus "Old Town Road"
Shawn Mendes & Camila Cabello "Señorita" – WINNER*
Post Malone & Swae Lee "Sunflower (Spider-Man: Into the Spider-Verse)"
Ed Sheeran & Justin Bieber "I Don't Care"
Top R&B Song:
Chris Brown ft. Drake "No Guidance"
Doja Cat & Tyga "Juicy"
Khalid "Talk" – WINNER*
Lizzo "Good As Hell"
The Weeknd "Heartless"
Top Rap Song:
Lil Nas X ft. Billy Ray Cyrus "Old Town Road" — WINNER*
Lil Tecca "Ran$om"
Lizzo "Truth Hurts"
Post Malone & Swae Lee "Sunflower (Spider-Man: Into the Spider-Verse)"
Post Malone "Wow."
Top Rock Song:
Imagine Dragons "Bad Liar"
Machine Gun Kelly x Yungblud x Travis Barker "I Think I'm Okay"
Panic! At The Disco "Hey Look Ma, I Made It" – WINNER*
Twenty One Pilots "Chlorine"
Twenty One Pilots "The Hype"
Top Dance/Electronic Song:
Black Eyed Peas x J Balvin "Ritmo (Bad Boys For Life)"
Ellie Goulding x Diplo ft. Swae Lee "Close To Me" – WINNER*
Illenium & Jon Bellion "Good Things Fall Apart"
Kygo x Whitney Houston "Higher Love"
Marshmello ft. Chvrches "Here With Me"
Top Christian Song:
Bethel Music, Jonathan David Helser & Melissa Helser "Raise A Hallelujah"
Casting Crowns ft. Matthew West "Nobody"
Lauren Daigle "Rescue"
For King & Country "God Only Knows" – WINNER*
Kanye West "Follow God"
Top Gospel Song:
Kirk Franklin "Love Theory"
Kanye West "Closed on Sunday"
Kanye West "Follow God" – WINNER*
Kanye West "On God"
Kanye West "Selah"