Pusha T Disses McDonald's Again With Arby's 'Rib Roast' Song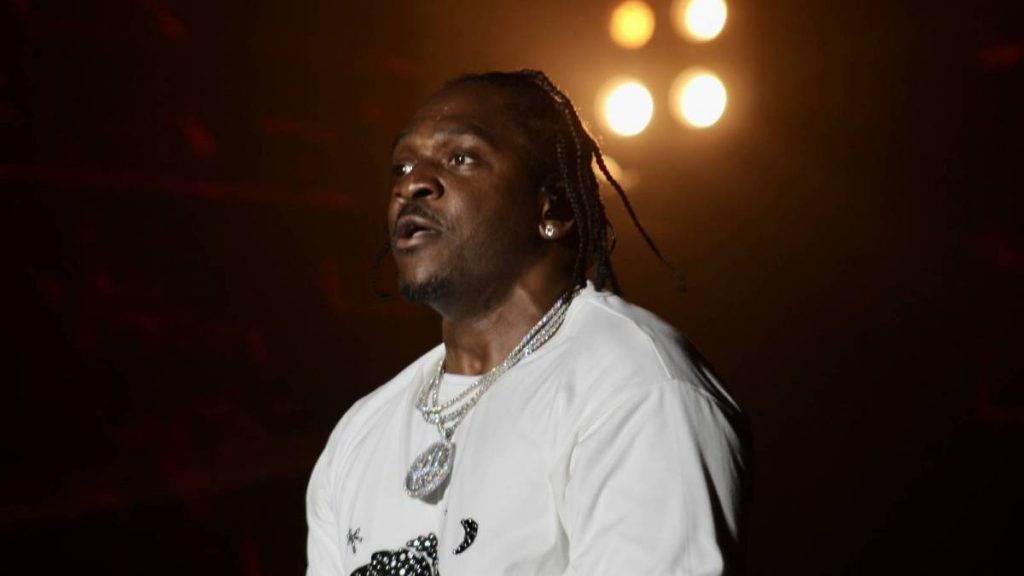 Pusha T and Arby's are targeting McDonald's once again with a brand new diss track taking shots at the popular restaurant and their McRib meal.
The Virginia native served up "Rib Roast" on Tuesday (September 27) along with an accompanying video starring professional bull rider Ezekiel "Blue" Mitchell. "It's the second diss track with @Arbys that buries 'em," Push wrote on Twitter.
The cowboy-themed spot rubs salt into McDonald's wounds by featuring images of a sad clown and side-by-side comparisons of the McRib and Arby's Real Country Style Rib Sandwich, which is making a comeback this fall due to popular demand.
"That McRib falls below average / Replaced by the Country Style Arby's Rib Sandwich," King Push raps over a Wild Western-inspired beat. "McDonald's, what you selling, mystery meat? / Hop up and go away, what this history teach? / Mickey D's, McRib, you ain't it in the streets / The Real Country Style Rib Sandwich here to compete."
Mitchell, meanwhile, shows off his skills on a mechanical bull while modeling pieces from Pusha T and Arby's new merch collection, which includes a T-shirt, jacket, cap, bandana and even a bolo.
"The business relationship between Arby's and me is really strong because we're both just very passionate and very committed to the quality that we put out," Push told Complex of the new song. "They have a different level of commitment and focus that I've never seen in working with another brand."
The new diss track comes months after Pusha T and Arby's first joined forces to diss McDonald's. In March, the two dropped "Spicy Fish Diss Track" ridiculing McDonald's Filet-O-Fish sandwich.
"I'm the reason the whole world love it / Now I gotta crush it/ Filet-O-Fish is shit and you should be disgusted / How dare you sell a square fish asking us to trust it / A half slice of cheese, Mickey D's on a budget? Arby's Crispy Fish is simply it / With lines 'round the corner we might need a guest list / Exit stage left, the sandwiches taste fresh / A little cube of fish from a clown is basic," Push rapped on the song.
During an interview with Rolling Stone, the Clipse MC explained the diss was inspired by McDonald's not paying him properly for writing their iconic "I'm Lovin' It" jingle.
"I am solely responsible for the 'I'm Lovin' It' swag and the jingle of that company," he said. "I did it at a very young age at a very young time in my career where I wasn't asking for as much money and ownership. It's something that's always dug at me later in life like, 'Dammit, I was a part of this and I should have more stake.'
"It was like half a million or a million dollars for me and my brother [No Malice] — but that's peanuts for as long as that's been running. I had to get that energy off me, and this [ad] was the perfect way to get that energy like, 'You know what? I'm over it.'"
Pusha T learned from his mistake and negotiated 40% ownership of "Spice Fish Diss Track," meaning he gets paid every time the song is played. The collaboration also boosted Arby's pockets — to the tune of $8,203,272 in equivalent advertising exposure, according to business analyst Darren Rovell.