Q-Tip, Lupe Fiasco, Offset, Kid Cudi, Juicy J, YG & More Flood Twitter After Joe Biden Is Declared President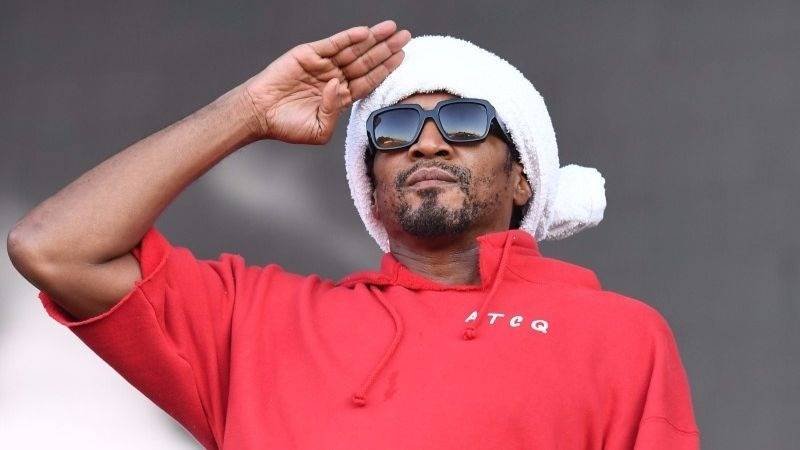 New York City's Time Square is flooded with people chanting "U.S.A." in the streets. People are singing, playing the trumpet, blasting their boomboxes, clapping, ringing bells and cheering. Cries of joy can be heard in every corner of the United States — apparently, this is sound when Donald Trump loses the 2020 presidential election and Joe Biden wins.
Not only did Biden break a record with over 70 million votes, but Kamala Harris also made history when she became the first Black/Indian-American woman vice-president.
The news broke on Saturday (November 7) and sent Twitter into a frenzy. Numerous Hip Hop/R&B artists took to the social media platform to celebrate the projected victory. A Tribe Called Quest's Q-Tip shared a video of the scene in Harlem, while Paul Wall showed off his diamond-studded Grillz with the caption, "Straight Cheesin."
Meanwhile, Juicy J offered Trump a little of his Wildflower weed strain to help ease the stress, Kid Cudi issued a "fuck yeah Joe" and Lupe Fiasco simply wanted to know when Trump's trial is going to begin.
As millions of Americans continue to rejoice across the country, check out celebratory tweets from Offset, "FTD (Fuck Donald Trump)" rapper YG, Erykah Badu, Alicia Keys and more below.
Harlem USA pic.twitter.com/AMQhHXzTHR

— QTip (@QtipTheAbstract) November 7, 2020
Straight cheesin ? ?? pic.twitter.com/pK2OHzrIcD

— Paul Wall (@paulwallbaby) November 7, 2020
Fuck yeah Joe!!!! This is beautiful

— The Chosen One (@KidCudi) November 7, 2020
Yoo @realDonaldTrump you should try my new weed "Wildflower" it will help ease the stress no cappuccino ?

— juicy j (@therealjuicyj) November 7, 2020
CONGRATS President-Elect @JoeBiden!!
CONGRATS Vice-President Elect @KamalaHarris !!#VotersDecided ?? ??
• • • • •
? & ?: @OffsetYRN & @AP pic.twitter.com/yMLGGVFuHo

— OffsetYRN Fan (@OffsetYRNUpdate) November 7, 2020
FUCK DONALD TRUMP ????

— 4HUNNID (@YG) November 7, 2020
Who did this ? ?? pic.twitter.com/NtqmH3jaK4

— ErykahBadoula (@fatbellybella) November 6, 2020
When do the trials start? pic.twitter.com/05sUrsvHz3

— TAPE TAPE & HOUSE EP NOW PLAYING (@LupeFiasco) November 7, 2020
niggaz really only celebrating bruh leaving office, I still don't trust shit round here if we being frank..ocean

— (J.I.D) (@JIDsv) November 7, 2020
Eat a Dick https://t.co/ChAvDaq58n

— stealth level boat (@lilyachty) November 7, 2020
I'm on Trump slander all day, unfollow me!

— REASON TDE (@reasonTDE) November 7, 2020
AYYYYYYYYYYY

— Chance The Rapper (@chancetherapper) November 7, 2020
MOOD‼️‼️‼️ pic.twitter.com/W8eGpJ6rBl

— Def Jam Recordings (@defjam) November 7, 2020
Girl , please leave us alone and pack your things https://t.co/wNpqUsMZDM

— Wale (@Wale) November 7, 2020
The season finale of The United States was a doozie. Now @twitter needs to block dude's account.

— DJ Scratch (@DJScratch) November 7, 2020
real shit we all know plenty of the fuck shit still cometh but tonight we are getting fucked up

— el-p (@therealelp) November 7, 2020
Let the healing begin!!! Loveism for all!!!

— Kurtis Blow (@KurtisBlow1) November 7, 2020
Not a crier but I lowkey shed a tear, we won't let hate win! When we show up for each other we win! There's SO much work to be done but I believe we are willing to show up for each other! Let's keep being loud & strong. Now the real work begins! Big congrats to @KamalaHarris ??

— Alicia Keys (@aliciakeys) November 7, 2020
FDT.

— Fashawn (@fashawn) November 7, 2020
The good thing about Trump's presidency is it revealed a lot of selfish, insensitive, racism supporting people.. Y'all keep that same energy. Don't try to go back into hiding ? .. I see y'all ?

— Hi-Tek (@HiTek) November 7, 2020
If you're partying in the street, stay safe. We need every one of y'all.? #UncleTweets

— B. Dolan (@BDolanSFR) November 7, 2020
Trump was a fraud and the fact that so many critical thinkers fell for his cheap hustle in their problem. Now that this bloated windbag is gone. We have a country to repair. I gave both sides the business today. Because we can't forget how much we have left to do.

— Immortal Technique (@ImmortalTech) November 7, 2020
???????

— DJ Z-TRIP (@ztrip) November 7, 2020
pic.twitter.com/SNR3Iks6N2

— ashy daddy (@Thundercat) November 7, 2020
Please we need to order confetti for the house RIGHT NOW @QuelleChris https://t.co/p6Mq2T5TCW

— what the happened (@JeanGreasy) November 7, 2020
Is there going to be a coordinated national moment of skee wee?

— Donwill® (@donwill) November 7, 2020
Let us celebrate this momentous victory that has come at the expense of the innocent shedded blood of our Brothers and Sisters.A victory forged through the intense flames of a pandemic that has stolen thousands of lives.A victory won on the shoulders of heroic Women to Gods Glory pic.twitter.com/v0pAZTHYsH

— MC HAMMER (@MCHammer) November 7, 2020
What an exorcism

— DJ NU-MARK (@DJNUMARK) November 7, 2020
Think about every stupid ass Trump supporters face right now i am cryingggggggggg ???????

Imagine forever losing all your respect + credibility over a racist 1 term president who didnt give a fuck about you ..

We didn't forget ??

— kennybeats (@kennybeats) November 7, 2020
Literally crying

— EXILE (@ExileRadio) November 7, 2020