Quality Control's Lakeyah Danaee Discusses What Sets Her Apart From New Wave Of Female Rappers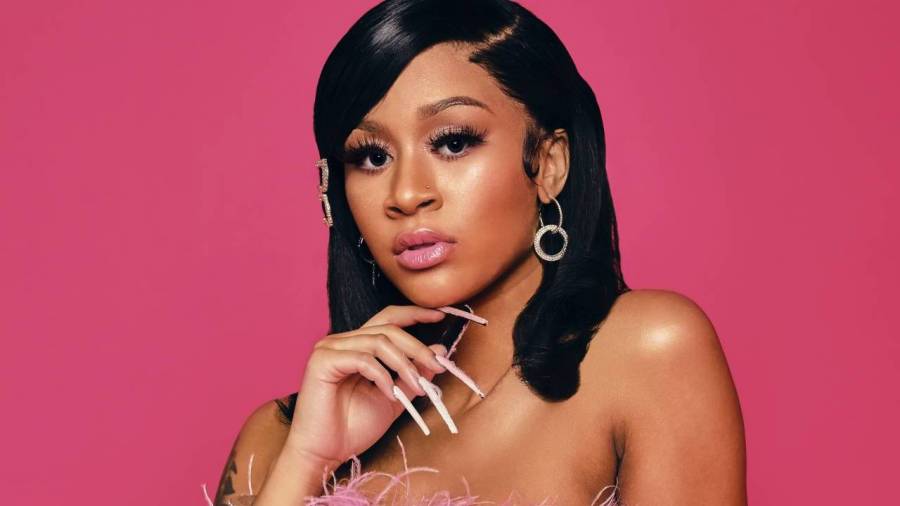 Atlanta, GA – Lakeyah Danaee has just experienced her first major label-backed release, the ballsy "Big FlexHER" single featuring 42 Dugg. The QC support is evident in the video — which was shot in both Milwaukee and Atlanta — as Lil Yachty makes a cameo and Lakeyah laughs as she divulges in an exclusive conversation with HipHopDX ("Even JT came to the shoot but didn't get in the video cuz she didn't have her hair done").
The Milwaukee native has noticed several differences between being an independent artist vs. having a supportive team in just a short time.
"Being in the studio so often because I used to plan when I went to the studio," she explains. "And I didn't really record a lot, But now it's like you need to be in there every day. You need to record a lot of music. But what I really like though, is having treatments already made for video shoots and having the crew, the glam. When you're an independent artist, you have to run around and get all the components together yourself."
So what would make a major label invest their resources into a young girl from a typically untapped Hip Hop market like Milwaukee? When you're a teenage talent who spits and sings and is eager to learn, the decision may have came easy for the imprint. Lakeyah reflects on her strengths, mentioning how important it is to for her to write her own songs, and for her music to be authentic.
"I'm very passionate about it [music] because this is everything to me," she explains. "Even when I came to QC, they were like, 'We want you to write your own music because you really lyrically talented,' If I need help, I could ask for writers and stuff. But I haven't had a writer in a session yet. I like books. I'm super intelligent, I was top of my class. I like big words. It has a lot to do with me being a rapper now. Bars. I want people to sit and think like, 'What did she just say? Hold up, she's so cold.' Because Lil Wayne did that a lot to me."
Lakeyah also understands the importance of being marketable, explaining, "Having bars, metaphors is super freaking important, especially now. Being able for somebody to make it a social media caption." However, she admits she focuses more on the actual music and her fanbase—"I really drop whatever I feel is nice. Because I really try to relate to my fans a lot. It's not even about anybody else, because people will hate or love you. But my fans will support me through everything. So I know what type of music they like, and I know what type of music I like. Everything I make is something I would listen to."
View this post on Instagram

Bs – @jheneaiko keymix🔥🤷🏽‍♀️ "them bitches you chilling with— bitches you dealing with? 2/10 im OFFENDED" ew 😂🥱 • • • • #lakeyahdanaee #lakeyahdanaeekeymix #thekeymixii #thekeymix2 #femalegoat #femaleartist #explore #explorepage #talentsearch #talent #rap #femalerapper #atlartist #mkeartist #music
On her authenticity, she says, "Both my R&B and my rap are good representations of me because I'm really like that. I rap about money a lot and just having new stuff, all that, that's just me. I really like to spend a lot of money on hair, nails, shoes. But also the R&B perspective, a lot of my songs still come from me being a teenager, in my feelings and stuff. That's why a lot of people can relate to me, knowing they been through the same thing."
Clearly, Lakeyah's online hustle had brought her success this far, it's also worth noting that the 19-year-old has never performed for a large crowd before. She mentions she looks forward to touring once COVID-19-related restrictions are lifted and discusses being a natural-born performer, "I've done shows, but not in front of very, very large crowds. So it's going to be new to me, but I'm really, really different when cameras come on and everything. I be ready all the time." When asked about her dream tour lineup, the ever-confident artist says, "I really think I'm up there with guys lyrically. So I would rather go on a tour, like Lil Baby and people like Tee Grizzley. But if I did an all-female show, I would love to do a show with City Girls and people like [Megan Thee Stallion]. Hard female rappers. Cardi B. Mulatto."
The multi-talented artist touches on her definitions of success, revealing, "It's not a sold-out tour and it's not even money. I really need … to feel successful. I'm aiming for the highest pinnacles. My family is already super proud. They all think we're all on and millionaires," she admitted with a laugh.
View this post on Instagram

What's y'all favorite bar from big flexher ? ILL START‼️1..2..3 … comment #bigflexher #qc
For her immediate next moves, Lakeyah discloses that Pee wants things to move fast, and a full-length project is set to drop before the year is over (less than three months to go!).
"We're working on a project," she reveals. "It's probably going to be a mixtape. I have some nice features on it. I don't think I should say who right now, but I can say that I'm working with some of my labelmates."
For more information on Lakeyah Danaee's upcoming projects and releases, follow her on Instagram @itslakeyah.