Remember Dave Chappelle's 'Player Haters' Ball?' Ice-T Explains The True Definition Of A 'Player Hater'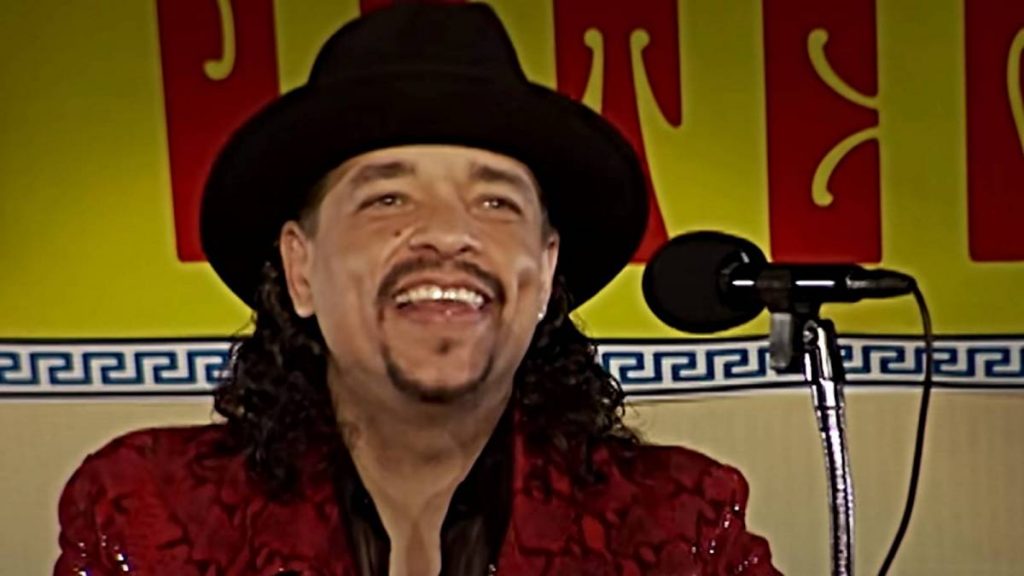 Exclusive – Dave Chappelle's iconic sketch comedy show, Chappelle's Show, pumped out dozens of unforgettable skits between 2003 and 2006. From the blind Clayton Bigsby (the world's only Black white supremacist) to the" Mad Real World," Chappelle found ingenious ways to make poignant statements on socio and political issues under a veil of pure hilarity.
Among the most memorable skits was "Player Haters' Ball" guest starring Ice-T, Patrice O'Neal and a collection of recurring characters such as Silky Johnson (Chappelle) and Buc Nasty (the late Charlie Murphy). As they prepare to go to the "haters" convention, each character — dressed as 1970s pimps — is interviewed for a mock HBO documentary about what makes a hater.
During a recent interview with HipHopDX, Ice-T revisited the legendary skit and gave his own definition of a "player hater" in the best way possible.
"A player hater is just somebody who hates you because you're fly," Ice-T says with a chuckle. "They hate your flyness about you. A player hater is like, 'Why he got two girls and I can't even get one? Why he got to have five cars?' It's like they hate the player in you.
"Whatever it is about you, it drives them crazy. If you're a girl and other men like you, they hate that part of you [laughs]. They don't hate the square part of you. They hate the player part of you. And they will talk down on you and they'll give every excuse why they were unable to pull it off."
Most people are aware Ice-T has starred as NYPD Detective/Sergeant Odafin Tutuola in Law & Order: Special Victims Unit for over 20 years.
Directed by Dick Wolf, the series is just about to begin production on its 23rd season, making it the longest running show in television history. The Body Count frontman says a player hater wouldn't give him credit for his success in acting. Instead, they'd hate on him and credit it to some outside source, then hate on him some more.
"'Yo Ice-T, yeah you know, he's sucking Dick Wolf's dick. That's what's going on,'" he says. "It couldn't be I'm a good actor. It can't be anything other than some old bullshit he done created in his fucked up mind. They got excuses. A hater is a hater, but a player hater hates the flyness of you. They are envious of how fly you are."
View this post on Instagram
When asked if he had a favorite line from the skit, Ice-T didn't hesitate and named one of Silky Johnson's lines.
"Oh yeah," he says. "It was, 'I'm gonna go home and put some water in Buc Nasty's mama's dish [laughs]."
Although that came later in the skit, the top player hater from Korea, Mr. Roboto (Yoshio Mita), first had a few things to get off his chest regarding Mr. Beautiful (Donnell Rawlings), calling him a "broke-ass sexual chocolate." From there, Silky Johnson makes his grand entrance and explains, "The Player Haters' Ball gives us an opportunity to hate on a diverse range of mark-ass marks, trick-ass marks, punk bitches and skip skaps skanks and scallywags, hoes, heffers, hee-haws and hoola hoops."
But Buc Nasty comes in with the kill and tells Johnson, "Man, you better take that cane and beat whoever made that suit to death." Once the player haters are inside the convention, Ice-T opens up the ceremony with a quick speech and welcomes ignorant ass bitches, critics, complainers, disgruntled rappers and racists, especially, to the 9th Annual International Players Haters' Ball."
Ultimately, the title of Player Hater of the Year is awarded to Silky Johnson, who was nominated for calling in a bomb threat to the Special Olympics.
While it's been roughly 18 years since that infamous skit, Ice-T is as busy as ever. In addition to filming Season 23 of Law & Order: SVU, the 62-year-old rap icon/actor is working on a new Body Count album called Merciless, the follow-up to 2020's Grammy Award-winning Carnivore. He's also racking up endorsement deals, most recently in Tide's new "Cold Call" campaign alongside wrestler Stone Cold Steve Austin and Vanilla Ice.
Revisit the "Player Haters' Ball" skit above.