Review: 03 Greedo & Kenny Beats' 'Netflix & Deal' Is A Series Of Unfinished Thoughts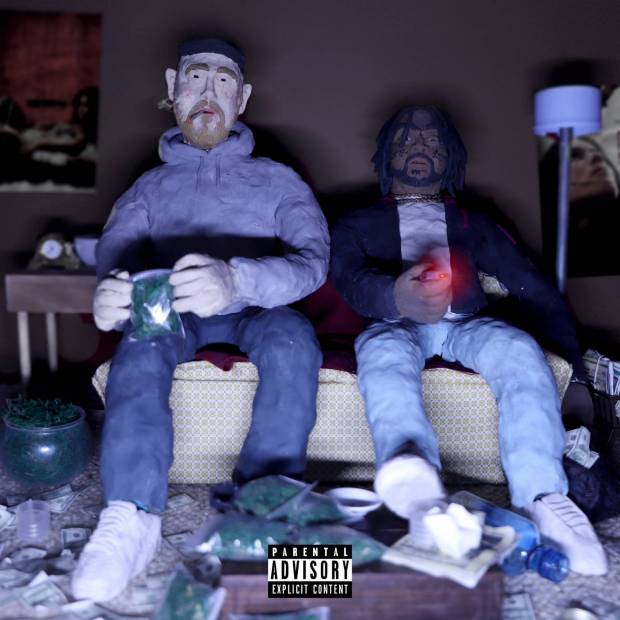 03 Greedo has been incarcerated since June 2018, but his legal troubles have not slowed down the Watts rapper's rollout of several projects, including his latest, Netflix & Deal, a collaborative LP produced by the prolific Kenny Beats. A slideshow to Greedo's favorite films, actors, and cinematic moments, each song on the 34-minute album is an ode to the artist's love of Netflix, cinema, and drug escapades, a welcome and refreshing approach.
The YouTube documentary, The Making of Netflix & Deal, displays some behind-the-scenes clips of 03 and Kenny Beats in the studio, working hard to record as much as possible before Greedo had to report for his 20-year sentence; "It's not the land of opportunity, that's what I really be saying," Greedo tells Kenny in one of the more intimate moments of the documentary. But instead of a reflective album that speaks to Greedo's interactions with the justice system, Netflix & Deal is an exuberant collage of cinematic moments, an album that succeeds largely because of Kenny Beats' diverse and unique production and 03's ability to seamlessly match the energy of whatever beat he's rapping over, but nonetheless the project manifests as snapshots of unfinished thoughts. Where Greedo's dexterous skills shine also lies one of the core problems with the album—the project relies heavily on production and collaborators to break-up an otherwise monotonous half-hour listen.
Highlights on this album appear when Greedo's playful and emotive voice matches delightfully with Kenny Beats' signature 808s and synths. The collaborative track with Freddie Gibbs, "Disco Shit," sways slightly from Greedo's typical oeuvre of soft trap music, but the 80s-style production is a surprising but welcome match for Greedo's crooning tones. Gibbs delivers an impressive and unusual verse for the Indiana-born rapper as his Auto-Tuned verse spills across the blingy production.
Guest features help somewhat to diversify the otherwise ubiquitous sound, but for every successful feature is an unsuccessful one—Buddy, KEY!, and Vince Staples all contribute forgettable verses.
Southern Hip Hop continues to be one of Greedo's influences, which is apparent on "Beg Your Pardon" which pairs Houston rapper, Maxo Kream's chopped and stuttering hook with a slurred, leaned-out Greedo verse that's reminiscent of a sped-up Lil Flip cypher, as one of the most blissful moments in the project.
The album is interspersed nicely with quirky skits, outtakes, and adlibs from studio sessions, but Greedo's natural charm and charisma isn't enough to hold the listener's attention for the entirety of the project. The finale, "Dead Presidents," is one of Greedo's most lyrical and thoughtful songs, addressing his legal troubles and the state of his incarceration, but fails to convey what Greedo is truly feeling at these moments, due to the discordance of production and the album's murky structure, a problem that plagues much of the project.
Ultimately, 03 Greedo and Kenny Beats' Netflix & Deal contains some exciting moments, but otherwise, the short-sighted project that relies too heavily on production and features instead of Greedo's raw and unbridled ability to tell stories.