Review: 16 Minutes Of Ambjaay Is Somehow Too Long On "It Cost To Live Like This Pt. 2"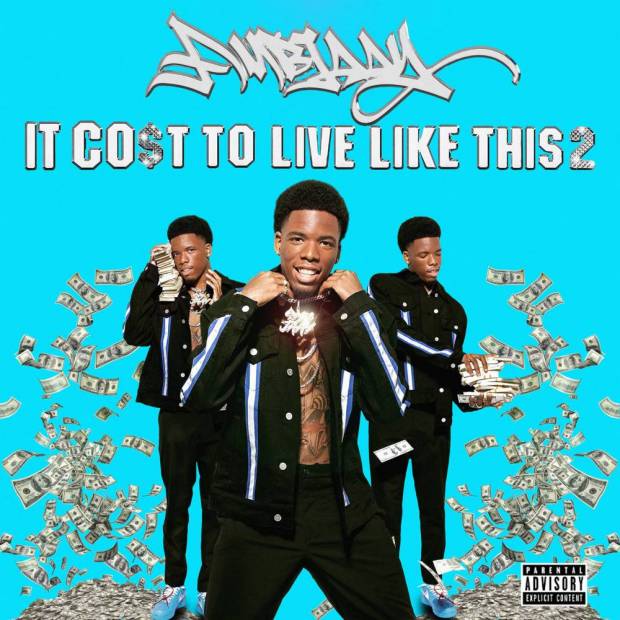 Type Ambjaay's name into the Google Chrome search bar, and the description is "YouTuber." Even with a placement on the Billboard Hot 100, the Southern Los Angeles rapper's online presence seems to have been deemed more significant than his music. For comparison's sake, Bhad Bhabie is listed as "American rapper."
"Uno" made a decent splash with its elementary Spanish vocabulary, sampling of Mobb Deep's "Shook Ones Pt. II" and its lively video, featuring a cowboy-hatted Ambjaay. But even for a two-minute song that sounds tailor-made for TikToks, it's hard to get past its vapidness. By the time "Uno" closes out the 16-minute-long It Cost To Live Like This Pt. 2, the guilty pleasure goodwill has mostly vanished.
The best compliment this project and its similarly short predecessor can be given is they don't overstay their welcome too much, but they still feel overlong at fewer than 20 minutes. A couple of years ago, there was rightful concern over artists like Drake and Migos bloating their projects for higher stream revenue. However, 90 minutes of Drake is easier to get through than 16 minutes of Ambjaay.
There are eight tracks here, but they're so homogenous there's hardly any point in differentiating them. Ambjaay has pretty much the same shouty flow from beginning to end. His lyrics are mostly about getting paid and getting laid, especially being fellated. The best sex bars can be incredibly arousing and/or delightfully filthy. When Ambjaay and Wiz Khalifa rap on "Blow the Pickle," they sound like snickering middle schoolers in the back of the classroom.
The average 8th-grade RapCaviar listener could write something more clever than "I came alone, but I left with two bitches." There are some mildly infectious tracks like "Badaboom" that suggest Ambjaay could make something enjoyable but disposable. "Dangerous" has some charm when he talks about saving money in his familiar flow.
Finding the "good" moments on It Cost To Live Like This Pt. 2 means digging and lowering expectations, and something this short shouldn't require either. Sometimes, the production is decent, like on "City Girls." Other times, it's awful, like on the obnoxious "Salsa." Mostly, it's just there, hardly worth remembering or discussing.
That pretty much describes Ambjaay's music, which doesn't even have the "stupid fun" quality of someone like 10k.caash.  His slogan is all over this project, including its title, and it's probably the most memorable line. It's due to repetition, not quality, but with eight versions of essentially one song, Ambjaay likely doesn't care.