Review: Asher Roth's Self-Imposed Exile Ends With The Uneven 'Flowers On The Weekend'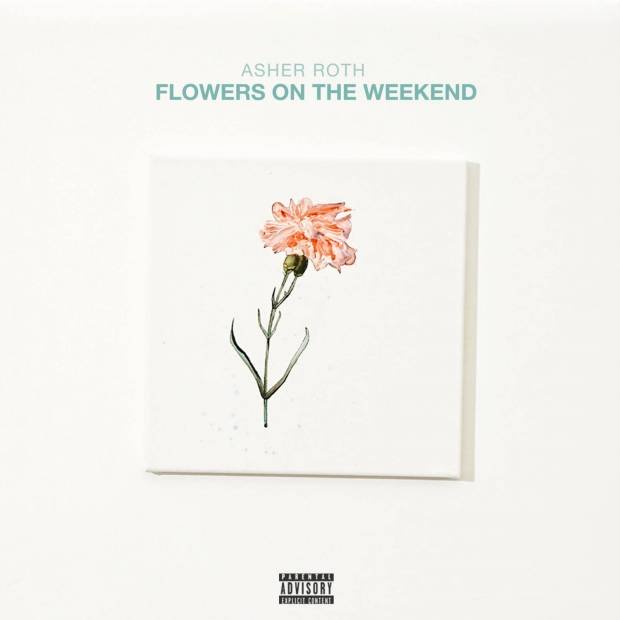 Times, it goes without saying, have changed drastically, and Asher Roth seems to have changed along with them. Whereas once the harbinger of frat-rap sang about thirst-traps on Thursday and party anthems (think Andrew W.K. let loose on a college campus), his preferred subject matter now includes Senate hearings and speak-rapping quasi-poetic platitudes to shorties.
Artists are expected to grow with the times so Roth's growth, on its own, doesn't make Flowers on the Weekend particularly notable. Neither is the fact that Flowers is Roth's first album since 2014's forgettable Retrohash. What makes Flowers on the Weekend notable — for both good and bad reasons — is that Roth seems entirely out of his league when rapping about this new array of subjects, and while he hits the mark on more than a few occasions, he falls disastrously short on more than a few others.
The title track is one such example of how Roth falls disastrously short of the mark. At 34 years old, he is entirely too old to be making cracks about bathroom humor and YouTube fame, but that doesn't stop him from spitting — with nary a shred of irony, no less — "I don't ever wanna do what you do/Got a bunch of gluten in your doo-doo/I be in the shed makin' heat, heat/You be YouTube 480P (Can't see)/All your bullshit, I'm beyond that/On the back porch Adirondack(Maybach)." It's Roth's attempt at hipster humor, to be sure, but he comes off sounding less like Saturday Night Live and more like Beavis & Butt-Head. And while the latter was certainly hilarious for teenagers in the 1990s (and Eminem fans a decade later), the humor falls flat now that those teenagers are in Roth's age range — and the fact that Roth plays to that type of humor at his age is annoying and indicative of arrested development.
"Cher in Chernobyl" is another song that's more cringe than cool. Perhaps Roth was trying for a dissociative stream of consciousness — Hip Hop's answer to beat poet Allen Ginsberg — but he ends up trolling a la "Poopity Scoop"-era Kanye West with "Life seems to fuck you every time and you just waitin' on the sign/When you're the farthest thing from home/You put the 'Cher' in Chernobyl/Go give it to me."
But that said, there are other tracks that work out pretty well. "Way More Fun" is a short, trippy vignette into outer space (Lil Uzi Vert was a visionary, after all), and Roth's decision to enlist Lil Yachty as a special guest was a wise one. Likewise, Roth is in peak form on "Hibiscus," where he raps about "smoking on some Christmas trees" over a pseudo-Caribbean beat — not your speed if you like your island beats authentic, but a passable song if you prefer unseasoned food.
Flowers on the Weekend, overall, is an interesting listen, if nothing else. It speaks to the Asher Roth fans that are still remaining in the world, though whether he earns any new ones as a result of this release is up for debate. Perhaps, too, this album would have gone over better in a world that wasn't ravaged by death and disease, though there's certainly a case to be made for Flowers being a welcome respite in a world gone mad.
Regardless, Flowers on the Weekend is a fine enough way to pass the time for longtime supporters of Roth. Even if it means that it won't be remembered by the time the next news cycle rolls around.