Review: DDG & OG Parker's 'Die 4 Respect' Is Full Of Bangers But Doesn't Command The Scene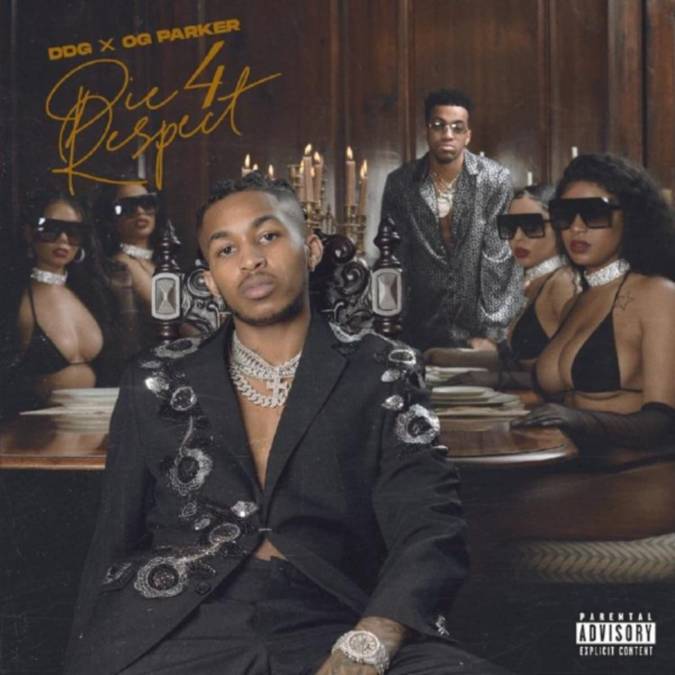 Hailing from the desolate city of Pontiac, Michigan, Darryl Dwayne Granberry, Jr, better known by his poppin' initialed stage name DDG, has emerged as a music industry jack of all trades in short order.
After conquering the YouTube game in the latter part of the 2010s and amassing millions of fans and subscribers in the process, the resourceful rapper proved his music wasn't a side-hustle, earning a gold certification for his 2017 single "Arguments" after just one year of activity. Even more impressive is the song doubles as an R&B record, showcasing a spitting/singing double threat from the gate.
It's such musical range that earned DDG a spot on the 2021 HipHopDX Rising Stars list and gives Die 4 Respect, his collaboration album with veteran Migos' producer OG Parker, its most sturdy pillars through waves of middling material.
At 23 years young, DDG has conquered the American Dream — with the wealth, women and wisdom of a tech-savvy maverick at his disposal boost his raps. His now-classic Blueface duet "Moonwalking In Calabasas" perfectly captures today's Gen Z exuberance as both stars flex rapid-fire come-up stories over a mandolin trap beat. "Impatient" featuring the red-hot Coi Leray also speaks to DDG's party skills, as he molds a playful melody on the hook for the "No More Parties" singer to electrify the track with her impressionable pitchy delivery.
Ditching the palm trees and reverting back to the streets that "made him" result in the album's best track when he opens the album with YoungBoy Never Broke Again on the somber "Hood Melody."
"All of my young niggas losing they life/Cause they don't know it's life that is outside the trap/N-ggas be tellin' us if we don't dribble the ball, then maybe a n-gga can rap," DDG volleys his lyrics for NBA to slam it home with an emotional flood of project drama.
Reality sets in again on the album's anchor "I Need Security," a cautionary tale for those individuals with assets worth protecting.
Still, success can't always cure boredom and instead of elaborating on his unique perspectives that made him a young boss, DDG opts to fall back on nondescript flashy raps on virtually every other song. On "Treat Me Right," a drippy R&B stab, the passionate crooning about "toxic" bitches prevents the project from maximizing its replay value.
OG Parker, for his part, supplies a solid batch of expansive sound beds for DDG to use by never allowing the thumping 808s to go without rosy instrumentation to boost the tracks. Yet, the Quality Control producer plays a more subdued role, rarely challenging his lyrical counterpart with beats to push the creatively forward. The bouncy piano loop that funnels through "Rule #1" sounds like an obviously TikTok-ploy (Lil Yachty's inclusion gives it away).
And the ominous grime packed on "Money Long" sets a suitable tone for DDG and fellow Rising Star 42 Dugg to slide on the track with the ferocity of their Michigan environments, it doesn't eclipse the groundwork of the current scene all the same.
Die 4 Respect has its share of wrinkles but still gives both artists a credible chip in their growing discographies. Here's to hoping they'll continue to build in the future because their existing chemistry is beyond respectable.
Repeat-Me:
"Impatient" f. Coi Leray
"Hood Melody" f. YoungBoy Never Broke Again
Fan Feedback:
To quote the legendary T-Pain, shawty snappin'!
French to English Translation: "I am currently almost in tears. The sound is really heavy !!"
Bruh no soft shit this me listening to #hoodmelody on @PontiacMadeDDG #d4r album 🔥🔥🔥🔥🔥 #ddg goated after this not gonna lie 🐐🐐🐐 #NBAYOUNGBOY #akademiks pic.twitter.com/pI5kk9SbyV

— kyl_0s (@0sKyl) March 19, 2021
Some Americans feel the same way!