Review: E-40's Wit Is Razor Sharp On 'The Curb Commentator Channel 1'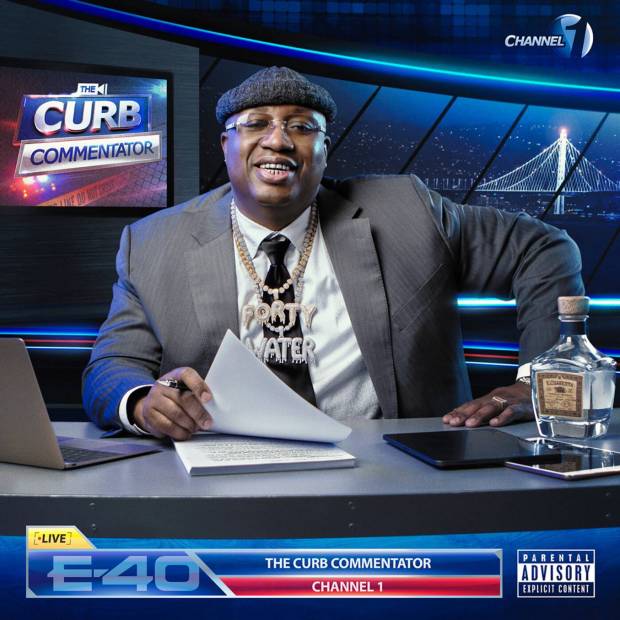 Few things in hip-hop are as certain as E-40 releasing new music. In the 26 years since his debut album Federal, he's released 26 studio albums. Of course, some projects landed with more success than others, but that unrelenting work ethic has made it impossible to overstate his influence in the Bay Area.
His latest offering The Curb Commentator Channel 1 isn't a full album, but the first installment in a year long, bi-monthly EP series. E-40 brings the same outrageous inflections and overflowing bars that fans have come to know and love.
"19 Dolla Lapdance" is shit-talking at its finest. It's not so much a song as it is a barrage of roasts slammed on top of a unmistakably hyphy bassline. Suga Free's shrieking hook supplies the necessary energy, while he later delivers what might be the EP's most memorable quotable: "The only way you'll get laid is if you crawl up a chicken's ass and wait."
Through and through, Suga's line and the other mockeries around it perfectly define The Curb Commentator Channel 1. The tape feels like a time capsule back to a 2006 SportsCenter clip. Once futuristic synths and simple bass lines give the project a very specific energy, an energy in which E-40 is right at home. Here, his tongue twisting syllables fight for breathing room with zero regard for the beat, before Wiz Khalifa counteracts Forty Water's frenetic wordplay with his own laid-back flow.   
"Smellin Like a Brick" takes a slight detour from the humor, instead finding E-40 talking up his own talents in the kitchen. He dishes a bit of free game as well: "Them folks didn't notice me, I was sneaky and smart / I wore these glasses to look like a square and drove a Dodge Dart."
His nostalgic efforts do misfire on "Go," however. An oddly placed choir creates an awkward soundscape from the jump. "I like to drink like the midget from Game of Thrones" is worthy of a chuckle, but the blaring synth beneath him feels too much like a hockey air horn to be repeated every few seconds.
For the most part, though, The Curb Commentator Channel 1 is another solid release from an artist who validated his place in hip-hop many years ago. He's used his name-recognition to explore other avenues by now, and even shouts out his E. Cuaranta Reposado Tequila brand on the cover art and in multiple bars. Still, it's clear that he'll always have a passion for music, and that his witty bars are just as sharp in 2020.