Review: Fredo Bang Shows Growth But Struggles With His Vision On 'Most Hated' Album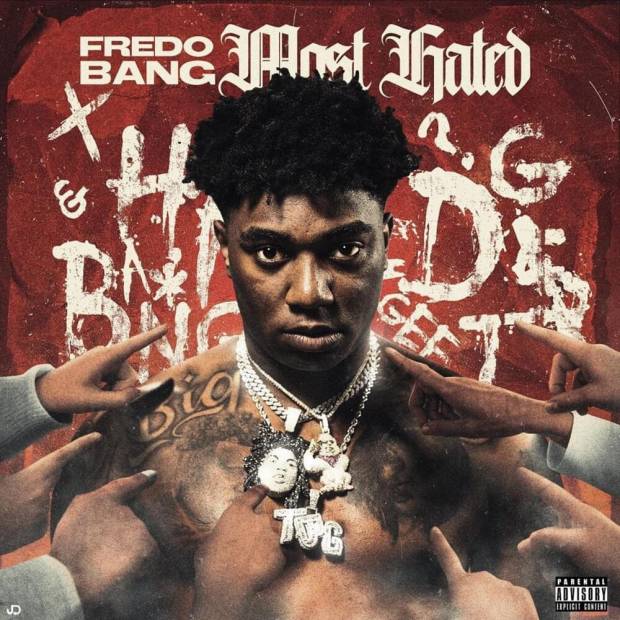 Louisiana is having another moment in Hip Hop. The early groundwork of Lil Wayne, Kevin Gates and Boosie BadAzz, among others, have given way to an explosion of rising stars — none brighter than the inescapable king of YouTube music videos, Youngboy Never Broke Again. But Youngboy isn't the only Louisiana rapper who has garnered some attention. Baton Rouge's Fredo Bang is looking to carve out his own lane after notching over 15 million streams with his bedroom serenade "Oouuh," back in 2018, and a string of mixtapes dating back to 2015.
Riding the success of that single — which received a 2019 remix alongside the aforementioned Gates — The Def Jam signee has dropped off a new project to continue his momentum as one of the buzzing rappers coming from The Dirty South. On his first release of 2020, Most Hated, Fredo shows some potential, rattling off memories of the nihilistic nature of bloodshed during his formative years but tries too hard to hit every mark of what "sells" instead of sticking to his strengths.
He receives choice production from Hardbody and DJ Chose, who contort and warp trap instrumentals and 808 drum tracks to bring some variety to typical trap production. Despite the competency of their production Fredo doesn't get overshadowed, cutting through their beats with a distinct voice that mixes the gravelly drawl of Kevin Gates and the cold-blooded, matter-of-fact resignation of an early 21 Savage.
Fredo delivers flex lines like Hannibal Lecter describing his kills on "Bag Talk," taking glee in his competence at slitting throats and leaving brains splattered on the porch alongside a game Moneybagg Yo. He continues his murderous musings on "Traffic," penning lines about embracing the adrenaline of life on the edge, unafraid of the consequences of his reckless abandon. "I take my chances in traffic, I ride with a ratchet/If niggas got some smoke on my ashes/I don't really talk about action/When it's time to them flashing, I be rappin', bitch, but murder my passion."
Where Fredo falters is from his need to try everything and see what sticks. Throughout the project he lacks consistency, opting instead to fill the status quo of what is "supposed" to be on a mainstream rap record.
Which isn't to say his B-material is bad. Sometimes he nails styles of songs that feel out of his element. The club banger "Droppin" injects some sweet southern bounce reminiscent of later career Ludacris and the somber "Trust Issues" drives home the Gates comparisons with an icy but longing tone, strained with the paranoia of past trauma.
And while those songs may give off the impression of a fish out of water by a rapper who seemed so unaffected by slaughter and chaos, it pales in comparison to his attempt at a "thugs need love too" song. On "Let Me Tell You," he breaks the immersion with a sappy and dull ballad about realizing he hasn't been appreciating his ex-girlfriend like he should. If it's supposed to come off genuine, it fails, sticking out on a tape that relishes in savagery and street violence.
He's more believable when he makes taking hits out on his enemies sound like an everyday occurrence. Fredo talks about murder with a workmanlike detachment on the standout track "Air It Out," alongside YNW Melly, who proves his competency as a hook artist with a varying vocal range despite a lack of substance to his bars.
What we're left with is a tape that makes the grade when Fredo confidently delivers his unapologetic view from the streets but loses steam when he tries to handle subject matter that counters the image he projects. Still, there are enough bops to satisfy listeners looking for some colorful, catchy and heartless come out the mud rap. And while it doesn't quite hit the mark, Fredo's willingness to experiment, coupled with refined production choices, shows he's not content with being just another face in the crowd.