Review: G-Eazy's "Scary Nights" EP Is A 26-Minute Turn-Up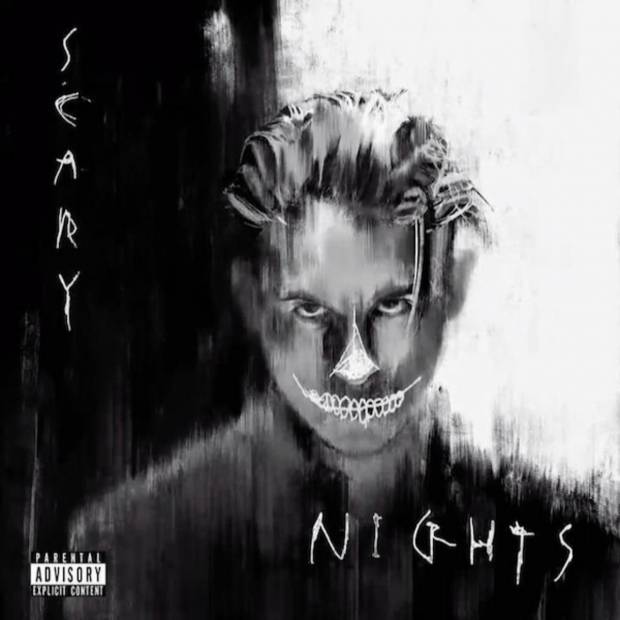 For better or for worse, G-Eazy has become a mainstay within American suburbia. The Oakland-raised rapper initially rose to fame by way of underground circuits in the Bay Area scene, crafting clever songs on love ache that was backed by sample-heavy hooks and breezy instrumentals. After his major-label debut with 2014's These Things Happen, however, Gerald Gillum's music ventured toward new terrain, diving into the sounds of trap and contemporary west coast bangers, and over the years, eventually homogenizing himself within the spectrum of Rap Caviar #Vibez for the sake of turn-up party music.
So, one has to wonder just how terrifying a widely beloved, chart-topping rapper can appear on a project titled Scary Nights, a 26-minute surprise EP that features the slick-back hairstyled rapper sporting a menacing grin that flirts with the idea of villainous raps. The answer: Not scary at all. The EP's self-titled track kicks things off with a song that sounds as if it belonged to Drake in 2014, as G-Eazy warns, "They don't wanna see the boys who came with me." On the same hook, G-Eazy raps, "All my cars black, they still notice me," just before diving into a verse that begins with, as one Redditor points out, "Used to have no options, I can't pick or choose / Two yellow Lambos look like Pikachus." It's an obvious misstep that shows the lack of care Gerald has for his final product, and it's that same mentality that fills the entirety of Scary Nights, almost teasing listeners for paying attention while frustrating fans who know he has potential for much more.
"I Wanna Rock," sees a twinkling beat by Boi-1da that's exciting, setting up G-Eazy to take a shot at his ex-girlfriend Halsey with a reference to their 2017 single: "When I said it's her and I, that shit was a lie." Gunna adds texture to the track by way of Auto-Tune, hilariously rapping, "She give me head, make me feel like the president / I'm cumming while I'm thumbing through these presidents."
On "Full Time Cappers," G-Eazy raps over an eerie, menacing trap beat that features an annoyingly whiny hook by French Montana. The same song sees Memphis rapper Moneybagg Yo somehow cooly rhyming the words "ask her," "never," "Casper," and "NASA" effortlessly with a southern twang.
Bangers aside, "Demons & Angels" invites The Game and Miguel to vibe over a soulful sample on the troubles of women and love. It's a tender track that sees G-Eazy delivering raps on relatable, less surface-level hardships, recalling the earlier charm found toward his career beginnings. But unfortunately, the projects ends on the boring closer, "A Very Strange Time," which sees the Oakland rapper name dropping Joker, Harley Quinn and Marla Singer from Fight Club, on a track that barely details how tough it is being rich and famous.
If Scary Nights' message is saying anything at all, it's that G-Eazy hasn't found a new way to talk about being caked up, doing drugs or hooking up women. He also doesn't seem too concerned with that either, and that's okay for his paying customers.