Review: 'IDK & Friends 2 (Basketball County Soundtrack)' Delivers Fun Shootaround Bops Galore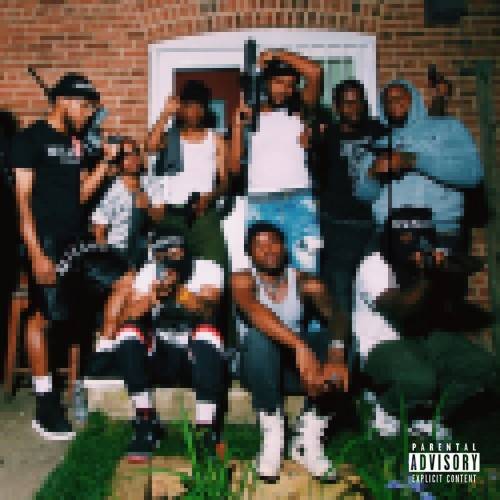 The lasting impact of IDK's major-label debut album Is He Real? is still unclear. His attempt to tackle the confusing and mysterious nature of religion and faith was polarizing when it dropped last year. Some, like Pitchfork and TheNeedleDrop, thought the material was good, but the concept was loose. Others enjoyed its creative storytelling and diverse styles of songs, appreciating the ambition of what he was going for even if the execution was a little disjointed. The opinions on the project were mixed, but regardless of where people stood, Is He Real? accomplished one indisputable thing for the Prince George's County native — it caught people's attention.
Jason Mills has been working to pull that off for years. Coming out of the DMV rap scene — which only started to gain recognition in the last few years as a hub for rising talent — the Maryland rapper had to grind with little support to make a name.
With IsHeReal?, he had finally made critics and publications, who ignored his DMs just a couple of years prior, take notice. He barreled through the interview circuit, notched placings on NBA 2K20 and Madden NFL 20's soundtracks and obtained features with top tier rappers like Pusha T; uncleared Frank Ocean features and Kanye West meetups: IDK could no longer be ignored.
Now it's time for him to ascend further with his next record unofficially titled, USee4Yourself. But before the 28-year-old tries to meet the lofty expectations he's set for himself, there's room to just have fun with some friends.
That's the idea behind his latest project, IDK & Friends 2. The new release is a sequel to his original 2018 EP IDK & Friends, a loose collection of bangers with flashy features and fellow rising DMV staples, serving as an enjoyable listen that didn't overstay its welcome. The sequel goes for the same vibe but ups its ambition with eclectic production and an influx of homegrown talent, though it doesn't quite match the consistency of the original.
The project also functions as a soundtrack to the Kevin Durant-produced Showtime documentary about PG County's basketball pipeline, Basketball County: In The Water, which IDK served as music supervisor and narrator for. He's rapping about euro stepping through girls' hearts, ballin' like CP3 and swishing shots in the net like his friend KD. But IDK isn't looking to score much with his rhymes, content with dishing assists to his guests like Andre Miller: only shooting on occasion.
The quality of the songs comes down to the guest's performance and how they blend with IDK's straightforward delivery. PG County's XanMan sounds at home on "Riley," rapping with his signature style of aggressive punchlines and pushing the limit of how many bars he can fit in a breath before the menacing piano beat loops back.
On "Bulletproof," Denzel Curry comes by to deliver a solid hook, leaving the rapping to IDK and Maxo Kream, the latter of which delivers a cutthroat verse about fake hard gangstas. A$AP Ferg and IDK trade bars about stacking their paper on "Mazel Tov," Ferg dropping off one of his better features in a while talking about Tesla Cybertrucks and his appreciation for Stacey Dash. Both are complemented by the production, featuring a flute that sounds like Link playing the Ocarina of Time.
The production sets the tone again on the Juicy J-assisted highlight track "Square Up," with a swift violin accompanied by Halo 3 theme-esque melodic "oh, ahs" blending together to produce the feeling of speeding through the final lap in a death race. IDK cleverly references different girls in pop culture he finds attractive, making for the catchiest chorus of the project.
Less favorable results come on "End Of Discussion," where PnB Rock is as bland as untoasted white bread without butter. "Live For It" provides rising DMV singer Alex Vaughn a platform to showcase her talents, but the low energy production sucks the life out of the song. While it's the most personal track of the tape, with Wale flexing about his continued influence on the game (we get it, truthfully) and IDK rapping about the people who doubted him, it's not that engaging, sounding more like a last-minute addition than an epic grand finale.
IDK & Friends 2 is an assembly of simple flows and straightforward shuffle slaps entertaining enough to tide fans over for the next LP. There's no existential themes or complex rhyme schemes to decipher this time; don't think about it too hard.