Review: Kota The Friend & Statik Selektah 'To Kill A Sunrise' Puts Up Valiant Fight Against Commercial Rap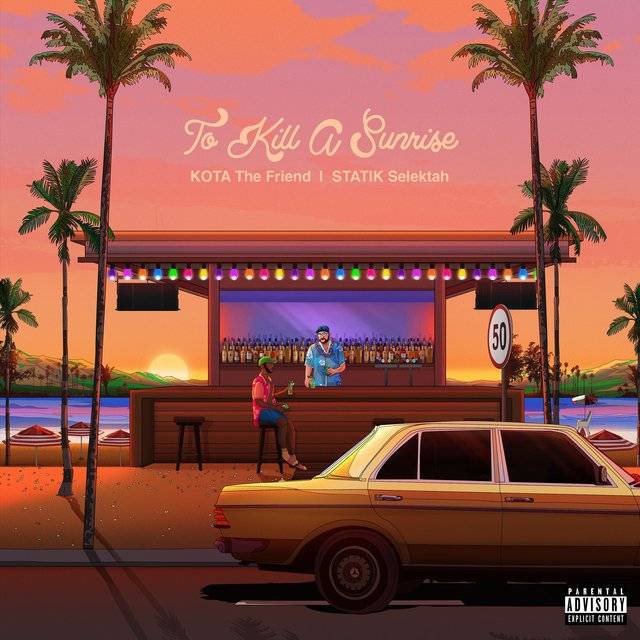 With the familiar tagline *Statik Selektah* setting off Kota The Friend's new album To Kill A Sunrise, the expectations are immediately set sky high. The Lawrence, Massachusetts-bred producer has left an indelible mark on countless projects from some of Hip Hop's finest, including Snoop Dogg, Freddie Gibbs, Royce Da 5'9 and The Roots' Black Thought.
But from the moment the ethereal strings begin to float over the beat on the opening track "Wolf," Kota and Statik make it clear they intend to deliver boom bap magic as well. After all, Kota's well-tuned ear for music started at 7 when he picked up the trumpet and progressed into making his own beats before erecting his own rap group (Nappy Hair) in college.
The marriage between Statik's Golden Era expertise and Kota's appreciation for Hip Hop at its essence lend to an innate chemistry demonstrated throughout the 10-track project while still allowing Kota's rhyming prowess to take centerstage. Kota's effortless flow on "Hate" as he rides the piano-laden beat with ease quickly grabs hold as Statik's precisely place cuts recall what feels like a bygone era.
And while most rappers are flexing about their seemingly endless wealth and acting crazy on the 'Gram, "rap's Banksy" is rhyming about balancing everyday struggles with modest boasts such as his girl buying him plane tickets to Chile for his birthday and eating cheesesteaks.
View this post on Instagram
The whimsical violins on "The Cold" offer a brief respite from the light piano sounds that thread the entire project and seamlessly lead into "The Love," which offers more insight into the 28-year-old's journey from — as he puts it — a lowly intern doing "bitch work" to ambitious MC.
As the project chugs along, Kota demonstrates he's in the middle of an important part of his evolution as not just an artist but also a man. Like on the string-heavy, nostalgia-tinged "Day Glow," he raps about appreciating the simplicity of life, his role as a father and being a loyal partner while interspersing the song with a loosely sung hook. ("I'm never racin' shit, I'm savin' my stimmy," he raps with a sense of responsibility. "I got a lot to lose but I don't got a lot to prove.")
One of the more beautiful moments comes on "Sunset," a track reminiscent of DJ Jazzy Jeff & The Fresh Prince classic "Summertime." The feel-good vibe of the songs shines a spotlight on his choice to pursue a life outside of the grimy streets of Brooklyn he witnessed growing up and his perseverance to overcome any obstacle thrown in his way. As he spits, "Made it past the gangbangers, hoes and the dope fiends/Even when I'm shining I'm keeping it lowkey/Cause shit, I could have been that."
But despite all its merit and consistency, To Kill A Sunrise struggles to continually excite — it's almost too smooth to the point where it can run the risk of fading into background music. Or perhaps Statik has his production down to such a fine science, he doesn't even notice the monotony in some of his beats as songs such as "The Cold" and "The Love" compete for the spotlight, almost melding into one.
The album also suffers a slight hiccup when "Go Down" featuring vocalist Haile Supreme momentarily brings the project to an emotional trickle before the more uptempo, snare-heavy beat of "What Ya Sayin'" pulls it back up, once again providing relief from the typical bars about bitches, Bentleys, guns and money that saturate current mainstream rap. Instead, Kota ruminates on the beauty of existence with lines such as "Life is something special/You gotta love yours."
The grind is especially admirable though, as Kota has continued doing things independently even though he has been offered three major label deals during the course of his career. And while he admits to having an aversion to social media, he might want to put his Twitter and Instagram fingers to work in order to bring more attention to the relatable bars he's throwing out there. It's a shame more people won't hear this project, but Kota and Statik can rest assured they gave it their all and delivered a solid set deserving of some sunshine.
REPEAT ME: 
Fan Feedback:
Pull up a bean bag, throw your headphones on and drift. 
It's like a sippin' on a piña colada while lounging on a beach — just in sonic form.