Review: Polo G Inches Towards His Claims With 'THE GOAT' Album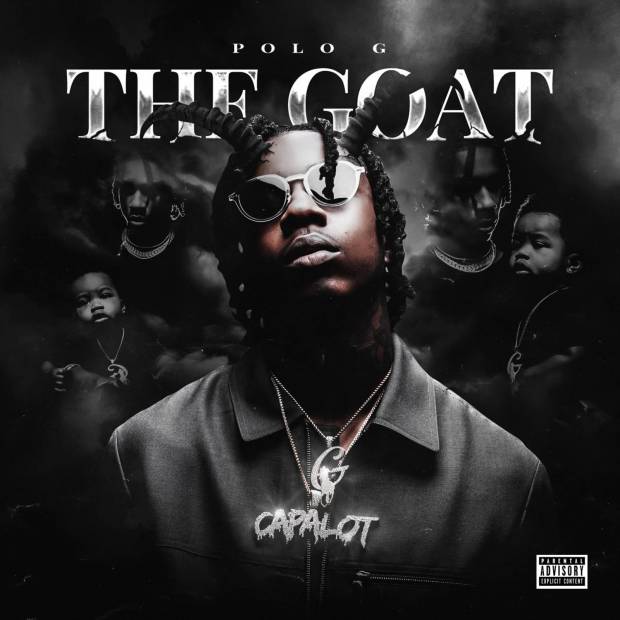 On his latest LP, Polo G claims he's the chosen one, a legend, and THE GOAT (The Greatest Of All Time). The Chicago rapper is focused on out-doing his last achievements, working towards cementing his legacy as the next important artist out of his city. In a genre where being competitive and crushing your opponent is rewarded, Polo G is looking to put other rappers in his same age bracket on notice. To him, he's the best to ever do it, so you better pay homage now.
If you keep calling yourself the G.O.A.T., eventually people will start to believe the hype. In his young career, the 21-year-old MC's catalog consists of two bold statements: 2019's Die a Legend, which included his platinum single "Pop Out" with Lil Tjay, and his sophomore effort controversially titled THE GOAT. According to Polo G, THE GOAT has a double meaning, relating to astrology (Capricorn zodiac symbol is THE GOAT) and that he's destined for greatness. Other Capricorns of note like LeBron James and Denzel Washington are exceptional at what they do. Polo G simply wants to be mentioned in the same conversation.
You have to admire Polo G's confidence in never settling for less than G.O.A.T. status. THE GOAT backs his self-proclamation by leaning into vulnerability and pain, revealing more about his past hardships in the streets and how those demons affect his life now. The songs here demonstrate his versatility by tackling new subject matters (relationships, love), expanding his reach with more big-name producers and features. He is no longer boxed in as a drill specialist but an artist with range, who can take that foundation and shape melodies that are on trend with 2020's standards.
Polo G opens his intro "Don't Believe The Hype" with "Niggas say they the G.O.A.T. but I can't buy into the hype/I dig deep into my spirit when I spit into the mic," setting the tone for an album that places an importance on lyrics and their meaning. Despite his mainstream ambitions, he continues to remain authentic like he's still rapping live from the 1300 block in Chicago. You believe him when he raps about his crew being heartless and how they show no mercy to their enemies. "My right hand mans, he got his name cause he gon' blast the pistol/Earned our stripes/We gonna blow if a nigga play foul, you would think we had a whistle," he raps on "Heartless." But the cold-hearted gangster even has his limitations. "Happiness and depression, I'm stuck inside the middle," Polo G states.
Though Polo G can feed his core fanbase with songs like "21" and "33," he's trying new things on THE GOAT in an attempt to tap into new audiences. He explores his sensitive side on "Martin & Gina" and "Beautiful Pain (Losin My Mind)," pulling the curtain back on a famous rapper whose heart has been broken by his ride or die. Both songs are slower tempos for Polo G, where he sounds comfortable expressing these kinds of emotions as opposed to drawing from the violence he's seen before. Maybe this will lead to Polo G opening up more and catering to women on future records.
What stands out from Polo G's growth is how he's meshing so well with other artists of similar popularity. THE GOAT is more feature-stacked than Die a Legend, with Stunna 4 Vegas, NLE Choppa, Lil Baby, and the late Juice WRLD appearing on the project. "Flex," produced by Hit-Boy, has potential to be a Hot 100 chart-topper backed by one of Juice's best verses. And Lil Baby's appearances on "Be Something," which could be one of his last features since he's apparently done doing them.
For all of Polo G's promise, sometimes being risky can have drawbacks. He ends his album on "Wishing for a Hero," which flips 2Pac's classic "Changes" into an address about police brutality. Like calling his album THE GOAT, this track will likely cause debates by purists on whether any rapper – let alone Polo G – can touch a 'Pac song and do it better. Polo aims to impress, blacking on the beat for two minutes and spitting facts about Martin Luther King and Malcolm X.
"Wishing for a Hero" ends with the return of his little sister, Leia Monroe, who previously appeared on "Through Da Storm." She congratulates her big brother on making it, saying, "You're the G.O.A.T."
While Polo G awaits the verdict by his fans, there's nothing wrong with calling it like it is.