Review: Quality Control's "Control The Streets Volume 2" Showcases Their Strengths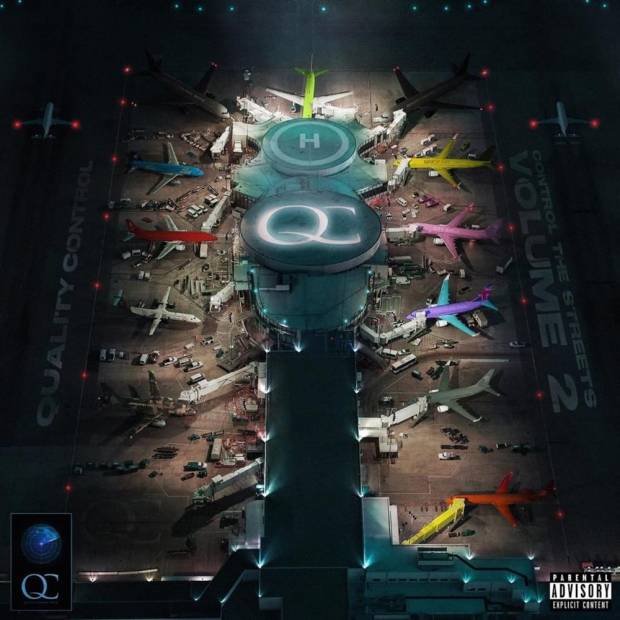 Quality Control co-founders Kevin "Coach K" Lee and Pierre "Pee" Thomas have truly built up something special with their roster of stars which include Migos, City Girls, Lil Yachty and Lil Baby.
QC's latest compilation album Quality Control: Control The Streets, Volume 2 is a manifestation of the strong league of luminaries Coach K and Pee have stealthily built up. With their entire all-star lineup on one project, nothing sounds amiss or off, though its 36 tracks can become an exhausting listen. In that case, Vol. 2 is best utilized as a playlist.
Production from DJ Durel, Wheezy, Murda Beatz and OG Parker are the glue that holds the QC sound together at its highest attribute as well as the carefully picked out features from artists not on the label.
Vol. 2's opening cut "Intro" highlights Gucci Mane, Lil Yachty and Migos effortlessly trading bars and encapsulates everything Quality Control is about. Remarkably, Lil Yachty shines bright among his peers on the "Intro" with an opulent flex.
The compilation's biggest track "Baby" hails from 24-year-old Atlanta native Lil Baby and his eponym rap ringer DaBaby. "Baby" is more of what fans from both factions have been wanting. QC held the power to pull it off without disappointment and to a higher degree than their previously released collaborations.
Wheezy's production on "Baby" provides magical stepping stones for Lil Baby to lay his verse as he boasts about still hanging out in the projects and DaBaby smashes on the beat equally, while both maintain their own unique way of rhyming.
Another treat Vol. 2 offers is a straight Migos track with "Frosted Flakes." For the past couple of years, fans have been getting used to hearing Quavo, Offset and Takeoff separately since the release of their respective solo albums.
It's refreshing to hear Takeoff dominate on the OG Parker-produced track, and serves as a reminder that the Holy Trifecta we know as Migos would be nothing without all three members. The synergy between Migos is unparalleled and it's a true blessing QC has them as artists to complete the Vol. 2. The trio's cultural impact could arguably be classified as the sound of this generation's Hip Hop era.
On the flip side, City Girls is one of QC's top ascending acts yet there are no lone songs from Yung Miami and JT like there are from Migos. This may have something to do with JT currently being incarcerated as Yung Miami maintains the duos relevance until her release. However, JT's verse on "Come On" with Saweetie exalts the locked up City Girl member's skills.
JT's temporary absence doesn't abscond Yung Miami's ability to spit lines through her thick, signature Opa-Locka accent by any means as she rallies for JT's return on the sacrilege "Pastor" featuring Quavo and Houston hottie Megan The Stallion.
"Wait 'til JT get home, lil' bitches, we gon' keep smashin'," Yung Miami raps.
Additionally, Megan sets the tone for "Pastor" and spits straight fire. This track can easily be considered one of Vol. 2's standouts.
Another detail making Vol. 2 an impressive feat is its tasteful amount of features per track on an overwhelming project such as this one.
Playboi Carti rarely releases music unless a song gets leaked on the internet and yet, in 2019, fans can enjoy "100 Racks" as an official Carti track. Additions from Young Thug on "Big Rocks" featuring Offset and "Bless Em" with Travis Scott also make Vol. 2 a must-listen.
Because of QC's careful curation of minimal features per track, the 36-song project feels more like Quality Control on shuffle than a compilation — which is a good thing but misses the mark on creating an album in the purest sense.
Many artists during this digital age seem to use a massive amount of songs on one project to game the streaming system in desperation to hit No. 1 on Billboard or to get an RIAA certification. If artists are going to run that play, the least they could do is come with straight heat, and the Quality Control organization accomplished just that.