Review: 'RTJ4' Marks Killer Mike & El-P's Most Powerful Statement Yet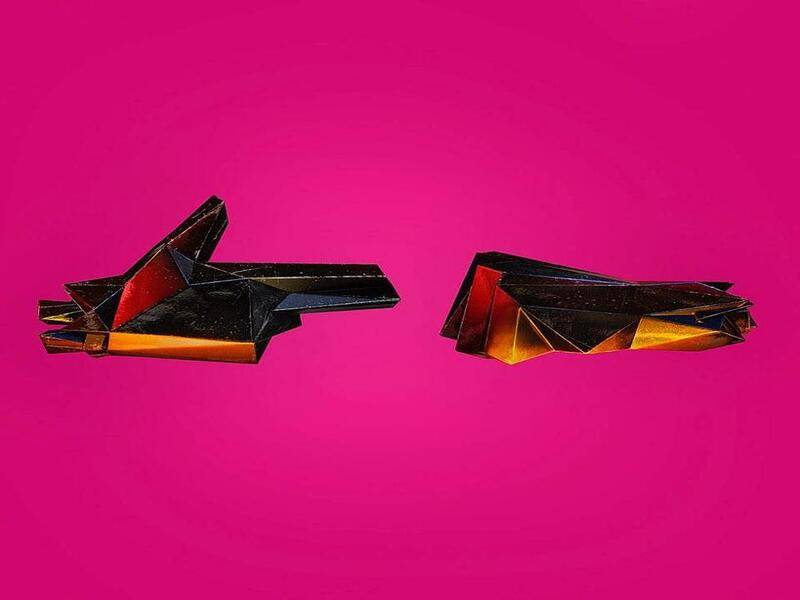 After a four-year gestation period from Run The Jewels' last album, Hip Hop's supreme tag team Killer Mike and El-P reemerge from their figurative cocoon and soar for their most ambitious and crucial release to date, Run The Jewels 4.
RTJ4 is bare bones with no filler skits, interludes (or dick jokes) and sports purposeful guest appearances without seeming like Hollywood red carpet cameos. It's a rabbit hole descent filled with echo chambers, athletic cadences, countless obscure and blatant odes to '80s and '90s rap. Wall-rippling 808 bass decidedly makes this offering more militant than Run The Jewels 3 and the project's timeliness is equally as important as the product itself.
The album's opening track and first single "yankee and the brave (ep. 4)" is an incendiary takeoff, wasting zero time to underscore the necessary sense of urgency through a compacted sonic boom. El-P and Mike represent their respective MLB city team's nicknames, paralleling Main Source's 1991 anti-police brutality allegory "Just A Friendly Game Of Baseball." But Mike is staunch in his give-me-liberty-or-give-me-death declaration ("I got one round left, a hunnid cops outside/I could shoot at them or put one between my eyes/Chose the latter, it don't matter, it ain't suicide/And if the news say it was that's a god damn lie").
On the Gang Starr-sampled "ooh la la," RTJ's most danceable record to date, the backdrop is a syncopated low octave piano loop. Veteran MC Greg Nice updates his wop dance-swaying lyric from "DWYCK" for the RTJ's hook, while DJ Premier adds his signature chops to play clean-up. There are other homages by RTJ to their musical influences, including "out of sight" featuring a stellar verse by 2 Chainz, containing a semi-inverted reworking of The D.O.C.'s "It's Funky Enough" instrumental.
Disruptive lyricism aimed at modern-day slave masters is constantly deployed. On "walking in the snow," Mike delivers his hardest verse, demanding his "Radio Raheem respect," attacking America's prison-grooming education system while speaking to the conditions that are burning America this very second: "And you so numb you watch the cops choke out a man like me/Until my voice goes from a shriek to whisper, 'I can't breathe'/And you sit there in house on couch and watch it on TV/The most you give's a Twitter rant and call it 'a tragedy.'"
The bouncy "JU$T" featuring Pharrell Williams and frequent RTJ collaborator Zach de la Rocha examines the global panopticon's virtual imprisonment and the veil of democratization within government-regulated social media, a concept predicted by George Orwell in his prescient dystopian novel Nineteen Eighty-Four. The Rage Against The Machine frontman blitzes with show-stealing swagger on the song's final verse with his trademark teeth-gnashing vocal style.
Instead of a calculated airstrike that renders an explosive, cohesive soundscape to fade into the sunset, RTJ4's final three tracks have the most mellow vibes. "never look back" featuring Queens of The Stone Age singer Josh Homme and R&B luminary Mavis Staples has an eerie yet alluring performance from Staples about the sorrow and anger spurred by powers that be. Meanwhile, "pulling the pin" takes on a subdued, electronica bop.
Album anchor "a few words from the firing squad" is the most personal and introspective. It displays El-P's love for his wife Emily Panic, waking up to watch her sleep while cherishing his time alive with her and pondering uncertainty about the future.
Mike opens up about his own political persona as a beacon of hope in his hometown of Atlanta, much like he did in his tearful speech last month when he begged fellow city residents to not "burn your own house down for anger with an enemy" as protests and riots erupted across the country. ("Friends tell her, 'He could be another Malcolm, he could be another Martin'/She told her partner, 'I need a husband more than the world need another martyr,'" he raps.)
RTJ4's theme is reminiscent of Arnold Schwarzenegger's evocative line in the classic sci-film action thriller Terminator 2: Judgement Day: "It's in your nature to destroy yourselves," in response to the protagonist character John Connor's question, "We're not gonna make it, are we? People, I mean?"
The duo has mastered the ability to commandeer the morale of the disenfranchised, refusing to be subjected to bondage on Amerikkka's plantation and all its present poisons; Führer 45 and his supporters' profiteering on systemic racism; the COVID-19 pandemic; sharp economic downturns and America's unemployment rate being the worst since The Great Depression.
Rap has supplied the history of recorded music with some dynamite one-two punches including Run-DMC, Outkast, EPMD, the late Phife Dawg and Q-Tip of A Tribe Called Quest and Posdnous and Dave of De La Soul. RTJ4 cements Killer Mike and El-P's right to be mentioned amongst the greats, especially in the realm of politically charged Hip Hop.