Review – SahBabii 'Do It For Demon' Is A Respectable Detour From His Sexually Charged Bops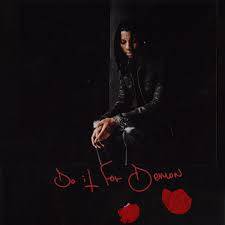 Over the course of his career, SahBabii has developed one of rap's most signature sounds, an immediately identifiable voice teeming with emotion, reigned back into an oozing box of melodic trap music. Sah's voice punches back at these walls, bending the enclosure and creating the feel of rap's version of a falsetto. But there's nothing gimmicky or trite about the Atlanta rapper's delivery, his craft is a masterclass on working and flourishing within set parameters: it's a testament to his ability to continually sound fresh.
SahBabii entered rap with 2017's S.A.N.D.A.S., where he began to cultivate his bars through rhythmic ambient tracks including "King of the Jungle" and "Pull Up Wit Ah Stick" featuring Loso Loaded. While these songs served an important role in Hip Hop's landscape of the time, the songs sound more like Young Thug than SahBabii, and don't allow the artist to fully explore his own voice.
2018's Squidtastic presented Sah as an artist with so much more to offer than YSL cosplay, from the hyper-sexual "Squidrific" to "Anime World." The natural progression continues with the 24-year-old rapper's latest album, Do It For Demon, an homage to DemonChild, his cousin and friend who was shot and killed in 2020.
Opener "Divine Order (Freestyle)" sets the scene, with SahBabii rapping in a stream-of-consciousness about his late friend, backed by instrumentals which sound like they come straight from an '80s Phil Collins song, yet work shockingly well with the MC's flowing cadence.
From the intro on, it's clear the "Ready to Eat" rapper is still processing his grief. There's overt themes of denial, regret and anger. Retaliation plays a central role in his healing process, sending threats which mask the pain hidden just below the surface. Masked beneath those violent thoughts is a man still learning where he now stands, feeling regret and hopelessness for the senseless loss of his family.
"I wish I can rewind, show you a different route/I told you 'Fuck bein' in the mix, we don't need the clout," he reveals on "Rewind." On "Believe It," SahBabii recalls learning of Demon's passing and being unable to process or truly come to terms with his loss: "When I found out that my brother dead, I thought he was playin' possum."
Without knowing the context of the album or closely following the lyrics, Do It For Demon can sound emotional and brooding at points, but it's so layered with pop melodies and warm instrumentals that the heavy themes of mourning can be missed. But it's those moments of pain varnished with a fresh coat of paint which are the most compelling.
The world-building SahBabii manages to achieve on his projects comes from the balance of his swirling vocals and the production's synth-heavy instrumentals, but it also comes from the mixing. Sage Skolfield and Sean Solymar, the two mixing engineers on Do It For Demon succeeded in this regard, making SahBabii's latest one of the best-mixed projects of 2021.
While the best moments of SahBabii's latest far surpass 2020's Barnacles, the project dwindles in substance at times and would benefit from a more trimmed and restrained tracklist, one more pass-through with a sharp knife to trim away the spare fat.
The first half of the project is substantially better than the latter half. There's a few exceptions; the villainous-sounding "Bread Head" is among the best songs SahBabii has released, with the ATL rapper sending malicious threats of vengeance with an unsettling sense of calm. On "Scared N****s" he falls into a beautiful and belligerent chorus and ends on a striking note with "Frontline."
"Crosswalk," meanwhile, sounds as though it came from the same sessions as "Bread Head," but holds little of the same emotional impact and, despite its catchy chorus, comes across more as filler than substance. "I See" finds Sah settling into an average and largely uninteresting flow, but worse is "Dickalationship," a clear attempt to capture the ludicrous eroticism of past tracks like "Squidrific," which fails terribly.
Do It For Demon stands as an honest account of SahBabii's grieving and still manages to produce some of his best songs to date. As a whole, it might not touch Sah's massive highs from Squidtastic, but the album's decadent production and opulent vocals simply never get old and tug at the heartstrings as he honors a life gone too soon.
Repeat Me:
Fan Feedback:
I can really listen to sahbabii all day everyday lol

— virgoat (@y4sslin) November 12, 2021
Sahbabii "Do it for Demon" tape Has some of the catchiest Songs I've heard in a minute.His bars are Crazy, Lewd ???, and vulgar even emotional on certain songs. One of the dopest tape to come out this year. pic.twitter.com/oKMlareWax

— Dee (@_Willofdee) November 12, 2021
sahbabii album not horny enough i'm so sad

— ☣︎ (@pinkfr1day) October 29, 2021