Review: Smokepurpp Unevenly Rehabs His Soundcloud Rap Origins On 'Florida Jit'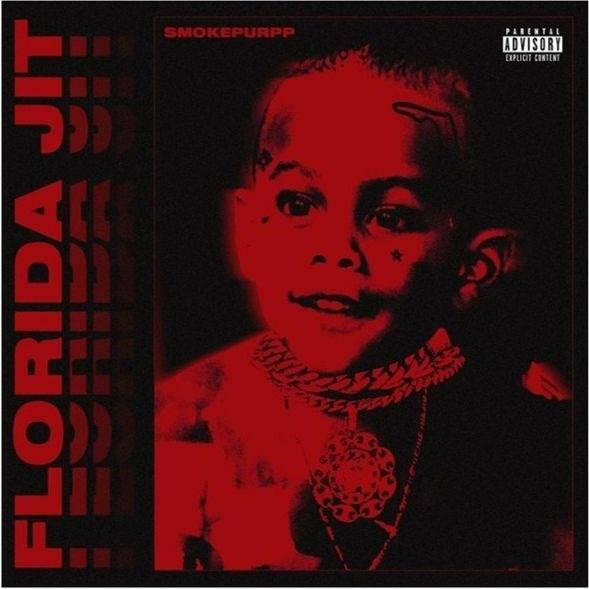 Smokepurpp is at an artistic crossroads for authenticity. The Miami-based lyricist and producer rose to stardom as a drug-abusing dignitary of Soundcloud rap movement in the late 2010s.
Since then, Lil Purpp overcame his addiction to lean and prescription drugs and continues pacing towards a creative redemption in his latest Alamo Records-released outing Florida Jit.
Purpp promoted the album as a return to the duppy, psychedelic trap beats of his early career apex Deadstar in 2017. He has maintained his songwriting formula that made him famous but dropped his mediocre debut album Deadstar 2 in December.
After his previous middling projects Lost Planet and Bless Yo Trap, Purpp realized he was similar to professional athletes cheating their way to their competitive peak by using steroids or other PEDs.
"It kind of felt like I was too used to rapping on the drugs type shit, so when I stopped doing them, it was like, 'Fuck, is it still the same?' But then I had to just tell myself that's my skill. I did that," Purpp said to Complex. "When you drink lean, your voice sounds a certain way. So, when you stop the lean, your voice doesn't sound the same anymore. That's one of the problems that a lot of people have."
Like fans, most artists romanticize their most celebrated early work as an inspirational benchmark. Purpp showed some signs of this on Florida Jit but didn't fully execute his mission towards the abrasiveness of Deadstar.
Smokepurpp's vocals range from luminous to lethargic across the 17-track effort in attempt to expand his distinctive chaotic sound and golem persona. He maintains his insouciant lyrics against morality by glorifying gunplay, loot-stacking with sudden glib one-liners about his sex fantasies like on his previous releases. Purpp employed Ronny J for 10 tracks on Florida Jit, employing his longtime producer's dissonant 808s and lo-fi instrumentation. Other producers including Tony Seltzer, A Lau, Diego Ave, YAYGO, Matthew McCobin and CBMIX round out the remainder of the production bill.
Save for the melodic and pedestrian "Big Dawg" featuring Rick Ross, most of the tracks are no longer than two minutes, thirty seconds. Florida Jit opens with Purpp's choppy stop-and-go bursts on its singles and first two tracks "Pop Shit" and the Lil Pump-assisted "Off My Chest." The tracks respectively sounds clean, kinetic with simplistic yet infectious keyboard chords that uphold the album's promise for a stellar output. Pump and Purpp are each other's most frequent collaborator whose frenetic energy and undeniable synergy as best friends and the latter artist tries to sell himself as a partying miscreant with no consequence. ("Bitch all on my body like a bed bug/Stick on the TEC, all I know it bust/Back in high school, used to take the bus/Hoes didn't like me, I was getting dubbed/Young rich nigga, came from Section 8.")
Following "Off My Chest," Florida Jit unevenly wavers through its average closing track and fifth single "Chopstix." Lil Purpp steps outside of his comfort zone to create a bouncy flow yet awkwardly high-pitched nasal chorus on the xylophone beat for "One Play." ("Fifty racks in this bag, made off one playyyyy/Scale lil' AP on my wrist, this ain't no day-daaaaate.") The flute-sampled and bass-hammering "Hanging On The Roof" resurges the album's lively spirit. But "It's Whatever" embodies the title, "1st and 3rd," "Mink Coat" and "Outside" and the title track lack the lasting impact that Purpp achieved on "Audi," "Krispy Kreme" and "Streets Love Me."
Besides the middling "Ends" featuring nearly inaudible Yung Nudy, the highlights that compensate for Florida Jit's missteps are the crunchy, distant banger "Fishscale," "24s" and the collaborative track "I'm Him" with Denzel Curry who bodies the scintillating beat like their previous joint song "What I Please" from Deadstar 2.
The most commercialized track is the mellow "Tide Pen" featuring a deadpan yet colorful recital from Jack Harlow. This is the most radio-friendly song from Smokepurpp, which could alienate some fans yet could reach a unique one from Harlow's fan base that enjoy his smash jingle "What's Poppin."
For the Soundcloud rap scene, history was repeating itself as South Florida brought its own new standard to the table in the rap industry. Smokepurpp's Florida Jit is helping keep the torch lit for the last of a dying breed that ushered in the region's brand of trap, emo and "punk rap" artists including the late XXXtentacion, Lil Peep, Juice WRLD, the incarcerated Kodak Black, Wifisfuneral, Lil Pump and Ski Mask The Slump God. However, Florida Jit is not a touchstone in that movement that is fighting to remain relevant.