Review: Tee Grizzley's Pen Bleeds Honesty On 'The Smartest' Album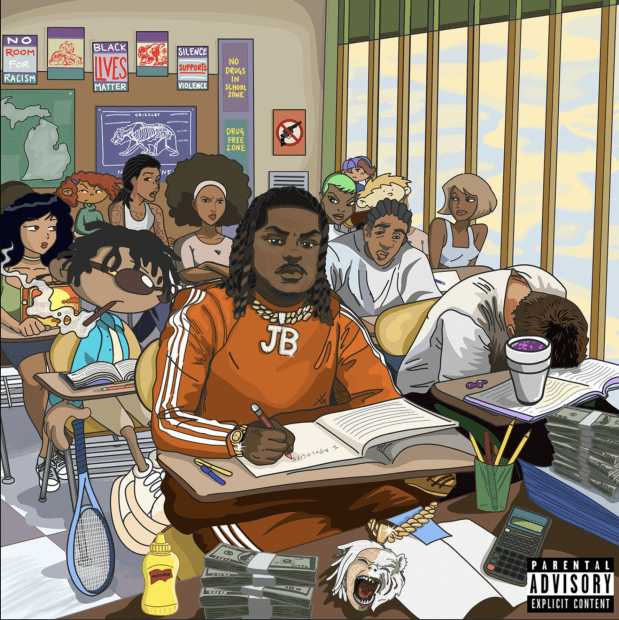 When Detroit MC Tee Grizzley dropped his 2019 album Scriptures, executively-produced by Timbaland, it seemed that he had finally found his footing — ascending from up-and-coming to established brand. Unfortunately, two months after the project's release, his aunt (and manager), Jobina Satish Brown, was murdered in his Detroit, Michigan hometown.
The grief and anger from his loss (coupled with the current state of the world) have given his follow-up The Smartest a different tone. While less cohesively polished than Scriptures, it has noticeably more depth in its brightest spots.
"Locked Up" was one moment on Scriptures that saw him open up the most, discussing his family tribulations. The lack of full emotional transparency last time around is something he references on one of this project's earlier gems.
He raps, "The last shit I dropped was some industry songs I thought was gon' be lit, now I know if I keep doin' that, I ain't gon' be shit." Adding that he isn't built for a Drake lane, he then breaks down how he feels the need to be more open and honest with his audience — rather than pander with music devoid of substance beyond universal rap isms.
From that perspective, this album does have quite a bit of variation. Tee plays with some great schemes, like "Rap A Lot," where he flips iconic southern rap label names in the chorus or referencing fast-food restaurants in the first verse of "Picture Of My City."
Then there is the lighter-hearted — and timely — collaboration with Lil Baby, "Covid." Lil Keed, Big Sean and Meek Mill also offer contributions, none of which overpower or outshine Tee.
Still, the crown jewels are found on the final two-song sequence. "Satish" is a song that expresses the sense of anger he harbors for the individual who shot his aunt. At the same time, he offers his take on the current social climate and escalated tensions between the police and black community, "Mr. Officer," featuring Queen Naija and members of the Detroit Youth Choir.
The Smartest isn't perfect or even groundbreaking album by any means. Tee has a very particular cadence and flow, and while Timbaland's production fit like a glove last time, there are patches on this album where he feels like he's losing the beat and rushing to catch up.
As well, while he bleeds a blend of thoughtful reflection, pain and authenticity, he also sprinkles in numerous cringe-worthy bars and punchlines (see "The Funeral").
"Them Detroit niggas want me to keep that same flow, but that ain't what get them millions, I can't, bro," he rapped on his last album. While he doesn't exactly keep the same energy he preaches on "I Apologize," he does manage to let his story do the talking.
Though the vibe veers a little more towards inconsistent than eclectic, The Smartest is a solid listen.