Review: The 'Queen & Slim' Soundtrack Is Inconsistent But Brutally Beautiful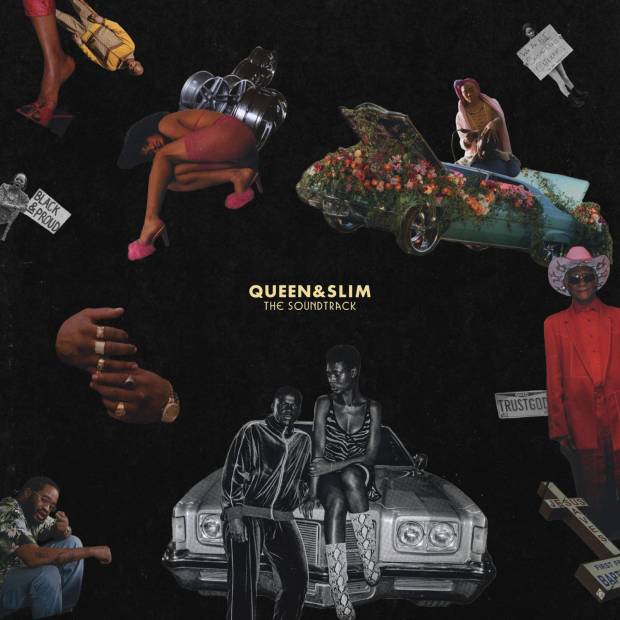 Self-defense or murder? Accident or deliberate? The Queen & Slim = film explores these esoteric principles against a stark backdrop of what it is, today, to be Black in America. Led by Black Panther and Get Out star Daniel Kaluuya and introducing Jodie Turner-Smith, the Queen & Slim soundtrack is just as bold, and beautiful, as the film itself.
Under his nome de plume Blood Orange, Devonte Turner scores the soundtrack that features new tracks from a who's who of urban artists, ranging from the hot and rising (Megan Thee Stallion) to the OG classical (Lauryn Hill).
And it's the latter artist's song — "Guarding the Gates" — that is, perhaps for obvious reasons, a standout. With Hill serving as Turner-Smith's musical avatar, the Fugees legend raps in a stronger, yet smoother, voice than from years past when she rasps, "You can laugh at me, you can laugh at me, but I'm in love." Hill isn't in the studio as much as she used to be, and it shows in her vocal range, which registers far lower than in years past. However, Hill's still "got it."
Other standout tracks include Orange/Turner's sole contribution, "Runnin' Away," and Megan Thee Stallion's remix of "Ride or Die," in which she flexes her considerable Hip Hop muscle to prove that she's not just a pretty face, but a real spitta.
The sole true shortcoming on this album is Lil Baby's "Catch The Sun," which is given a retro-phonic gloss-over in an attempt to make the young stunna sound more like a man and less like a mouse. It falls horribly short, of course, because the lyrical content is not only immature ("How come at peace my heart already set on fire?/If it ain't color, what's the difference between you and I?/I'll let you decide or come up with some repeated lies."), it doesn't make sense in the overall context of either the film or the soundtrack.
Blood Orange is known for his unique style of mixing and matching rock, soul, and Hip Hop, and he sticks to what works on Queen & Slim, as he adds Nigerian singer/songwriter Burna Boy, Dreamville's EARTHGANG, and the acid jazz stylings of Ian Isiah and Jason Arce to the mix.
The compilation offers great songs abound, to be sure — the aforementioned Hill and Stallion songs, "Yo Love" by Vince Staples — but you're no sooner getting into the album that you're hit with the aforementioned "Catch The Sun" and it's as jarring as a record scratch; and the album really could have done without The-Dream's "Cedes-Benz" — that disrupts the flow.
Nevertheless, the Queen & Slim soundtrack is a tome to the racial tensions of the 21st century and a worthy addition to any Hip Hop fan's collection.