Review: Von Pea's "City For Sale" Is A Satisfying Slice Of Creativity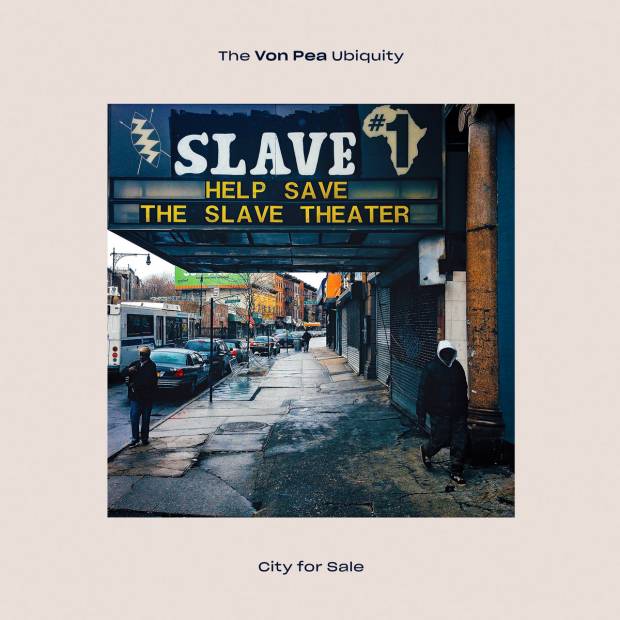 It's been a great year for fans of Tanya Morgan. First, Donwill dropped his Von Pea-produced One Word No Space LP this past summer, and now Pea drops his latest, City For Sale — the follow-up to 2018's I'm Good Luv, Enjoy.
As the vet rapper noted in his Bandcamp liner notes for the project, this is his first body of work produced entirely by himself — adding that he hopes it will ultimately be his "calling card." That may not be far off; while not a listen that everyone will find fruitful, the 11-song LP is an original, eclectic mix of funky loops and breaks that serve as the backdrop to Pea's seasoned pen.
A prominent theme of the LP is the gentrification of the borough of Brooklyn — not unlike the sentiment that courses through the veins of Skyzoo's latest offering.
On the soulful opener "Here Come The Neighborhood," he spends plenty of bars in the second verse describing how his block has changed. In fact, this project is in many ways dedicated to Brooklyn, even spouting specific intersections before some of the tracks. Though it's not clear if they are meant to add literal significance to the songs themselves, like the Halsey Ave and Throop Ave tag that precedes "Wild" featuring Donwill.
Assuming that it does, it adds further dimension to some of the project's standouts, like the Gary Bartz sampled-"The Norm," a stark warning to BK's newer breed of upscale resident that danger still lurks on a block that has yet to be gentrified (which he notes is Vernon Ave between Lewis and Sumner).
He also gives a similar geographical definition to "Around The Way Girl" — Marcus Garvey Ave between Park and Myrtle. This song is one of the most endearing as Pea grapples with how to approach his role in the life of a past partner's son, and his emotions that came with the falling out of that relationship.
That idea of moving on from a relationship is actually a very pronounced subtext of this entire album. Whether it's relationships with people or the old New York, there is a sense of moving on that subtly interweaves itself throughout.
What makes this project so compelling is its awareness and cohesion. Pea's production isn't linear by any sense, but then again neither are his rhyme schemes. There's this overarching sense of blue-collared normality to his music. "Pity Party" is a good example, where he describes failure from multiple perspectives.
This definitely isn't a project made for casual listeners; a lot of the shiniest gems require you to really sit with an LP that is devoid of much commercial fodder, which does pigeon hole it's audience a bit. Some of his beats also sport this kind of awkward appeal, not unlike MF DOOM.
City For Sale manages to walk the fine line of (sonically) dated and timeless, though the LP definitely teeters said line throughout its duration. For fans of Tanya Morgan and Pea's previous work, City For Sale is a satisfying slice of creativity.