Review: Wale Shreds Police Brutality & Racism With Forceful Bars On 'The Imperfect Storm'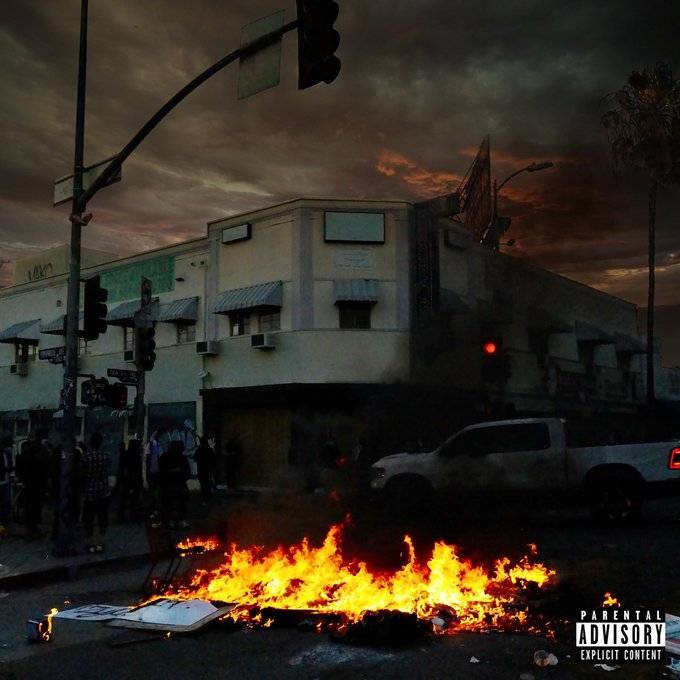 2020 is shaping up to be one of the most impactful years America has had in a very long time.
Between the COVID-19 pandemic, protests against police brutality and systemic racism, and political division stoked by the incendiary Donald Trump, people aren't likely to forget these 366 days any time soon. That includes Wale, who brilliantly condensed the 2020 experience into The Imperfect Storm. The six-track EP balances pain and sadness with a resilient bounce for an emotionally resonant experience.
"Yeah, America is lost, these are the results," Wale declares on "June 5th/QueenZnGodZ." The Washington, D.C. native, would know. After all, it was in Wale's hometown that Trump declared he was willing to set "vicious dogs" on protestors, and had peaceful protestors tear-gassed and shot with rubber bullets so a path could be cleared for a photo op at a church.
In these times, Wale is just trying to get by, as evidenced on the opening track, "MOVIN' DIFFERENT." But wanting basic human rights has never been met with compassion, and he smoothly and clearly articulates the mindset behind the measures taken to fight for justice: "My niggas want peace so my niggas want problems/I never lack passion, I maybe lack knowledge/Celebrate the progress, that's how we mobbin', We was movin' targets and niggas moved Target." He flows nimbly over bouncy production.  This doesn't make light of the issue, but rather allows the listener to groove and connect to it in a way that merits repeat streams.
During a global pandemic, amidst a fight for social justice, bills need to be paid, jobs worked, and life and love goes on. "EMPTY WISHING WELL" finds Wale and his significant other trying to reconcile their feelings for each other with the challenges presented to them by being black amidst a global health crisis. "Who goin' outside and who comin' back?/Shit we both don't know cause we both bl-/Shit…We matter…We matter." His voice sounds tired but resolute, and his ability to convey all sides of what it means to be black in America transcends The Imperfect Storm from music to an experience that can break down barriers.
Social issues permeate each cut, even when Wale is living it up. Pharmacies are raided, killing his high on "BLUE YELLOW GREEN PINK WHITE." Unfazed, he skates over Lakim's ear-grabbing, feet-moving beat with gusto. But it's "June 5th/QueenZnGodZ" that is most impactful. Over melancholy cries, he's in his element as he makes a statement song for the movement, alternating between unifying ("We ain't never been perfect, but this family ours") and clever ("Yo, America, tuck your shirt in, your devil is showing.") The track gives way to a beautifully touching tribute to black women. His positivity is soothing, the music the antidote to the pain.
There is no weak link on this project. However, The Imperfect Storm also lacks a clear anthem to elevate it to the pantheon of Hip Hop protest music. There is nothing as urgent as "Fight the Power," as defiant as "Fuck Tha Police," or as unifying as "Alright." The lack of a defining moment doesn't dampen the EP's excellence, but it does limit its memorability.
Still, Wale continues to strive. He's aware that "SHIT DON'T STOP" amidst the struggle. The final cut, "MAAJO," is triumphant even as he laments his standing in Hip Hop: "It's the last dance, I ain't even gonna pass/Everybody got your back 'til your back go Pippen."
And yet, as the track fades out, he's confidently spitting about being a "sixteen killer" and making "hits like 'Thriller.'" Through everything, he stands strong as a black man and an artist. His claims are fortified by The Imperfect Storm. The EP, while so specific in its timely content that it may eventually lack for replay value, nevertheless stands as an affecting time stamp for the movement.