Review: With 'Pregame Rituals,' 2KBABY Offers More Than Just A Viral Hit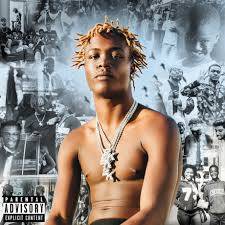 When 2KBABY was signed to Warner Records, it was off the strength of his viral hit track, "Old Streets." And while that's a testament to his talent, his first EP would, by default, demand that he prove he was more than just a one-hit-wonder. Pregame Rituals is 2KBABY's attempt at doing just that — and, for the most part, he succeeds.
2KBABY knows what he's good at, and from the first song — "Drowning" — to the last — "Old Streets" — he ably performs his brand of trippy, melodic, quasi-supernatural raps. It's worked well for the likes of Lil Uzi Vert, who has made a whole career out of outer-space raps, and it looks like it will work well for 2KBABY as well.
Authenticity is the name of the game for this rising star from Louisville, KY, and the first track speaks as much into existence. "They don't know the game now, yeah/They don't know about the late nights with the gang now/I remain the same now, yeah," he says in the opener.
But 2KBABY, while a decent rapper overall, obviously can't carry the EP by himself because, "Old Streets" aside, his mettle is unproven. For his debut go-round, he enlisted G Herbo, YFN Lucci, and Lil Durk — the latter of whom helped him out with a remix of "Old Streets" prior to Pregame Rituals hitting the shelves.
It's G Herbo who proves to be the strongest rapper of the three special guest stars, as he completely carries the otherwise weak "Old Soul." It's a bit disingenuous for an "authentic" rapper to be talking about how he's an "old soul" at 20 years old, which is why his bars about "I'm sorry that I got a old soul, yeah/But we only totin' on four-fours" fall more than a little flat.
The good news is, even though the EP takes a down-turn beginning with "Old Soul," 2KBABY turns the ship around by the time the fourth track, "Faxts," comes around — the song is not only catchy, it's the best track on the album. 2KBABY is fiery as hell when he spits "I speak the rawest facts, admit that shit, no, I won't take it back/Or keep on fallin' back, repent that sin, nah, I'ma save that sack/Don't want no piece of me, this four-four chop gon' split your wig/I keep that piece with me, these .223's gon' flip your whip." It's as close to perfection as the songs can possibly get, and it works well.
Overall, Pregame Rituals is a pretty decent album — a solid first offering, especially for a rapper that only had one song in his catalog before "getting signed." Time will tell if 2KBABY can last for the long haul, however.