Review: Yung Pinch Rides High Off Ocean Vibes But Gets Burned By Inconsistency On 'Back 2 The Beach'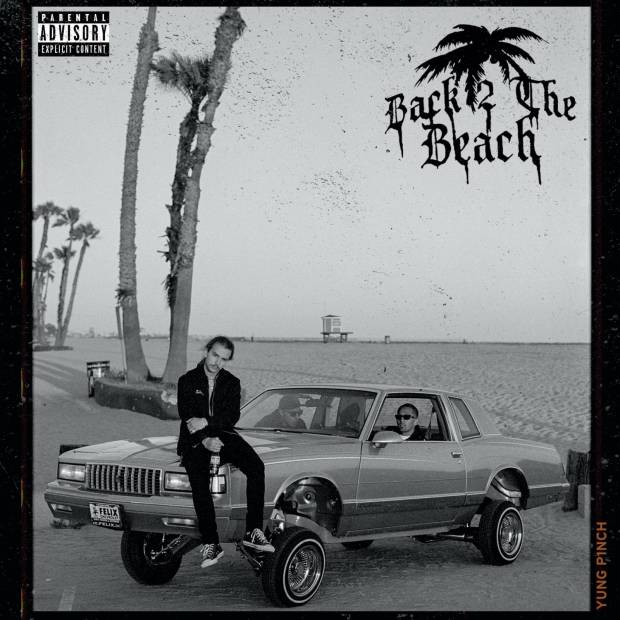 California crooner Yung Pinch is not a "SoundCloud" rapper. The singer may have risen to prominence off of the streaming service, but his music isn't some hyper-aggressive blend of punch you in the face punk rap, nor is it down-trodden emo-rap pitched down with distortion.
Pinch, whose real name is Blake Sandoval, makes music reminiscent of the candy-coated raps of a Skizzy Mars mixed with the eclectic pop style of a lil Aaron and a dash of Trippie Redd angst, without the edginess. Essentially, the Huntington Beach heartbreaker is rap's answer to pop-punk.
On his major-label debut album, appropriately-titled Back 2 The Beach, the 22-year-old accomplishes the album's namesake, riding waves of fun, though sometimes getting swallowed by a riptide of repetitiveness. The beach boy triumphs when he's making addictive melodies like if blink-182 abruptly decided to become MCs and replaced Travis Barker with an 808 drum machine.
These sensibilities come out on "My Friends, Not Yours," featuring a sticky hook backed by bouncing video game sound effects and glitched out production. Then the Wiz Khalifa-supported banger "Over It" has some aquatic guitars and synths with Pinch singing another fluffy chorus. Wiz fits the flow of the instrumentals, even though his actual lyrical content sounds like it's from a completely different song (wouldn't be the first time).
When the production starts to match Pinch's romantic laments, the project falls off. Many tracks either suffer from "in one ear, out the other" syndrome or don't have the infectious hook that the highlights possess.
Some melancholic tracks break out of monotony like "Beauty Sleep," which features powerful vocals and passable bars. "Hanging With Ghosts" also hammers home the emo pop-punk influence with contributions from Good Charlotte and Goody Grace, all combining for some nostalgic Hot Topic sweetness.
But when Pinch gets in his bag and lets adolescent strife take over his pen, the results aren't as palatable like on the dower "Toast To Us," an Auto-Tuned acoustic slog. "I announce my resignation from you," croons Pinch as if he unearthed the line from middle school texts to his ex. While he certainly can emulate the immaturity of a blink-182 or Green Day, he can't quite tap into their endearing juvenile thought process of attempting to defy the concept of growing up that made them iconic.
Pinch's appeal comes from his singing and knack for producing a pleasant hook that sets him up for success. His writing skills don't quite hit the right notes though, asking for reconciliation with an unnamed woman on "Cross My Mind," pitching his second chance by saying she crossed his mind while he was getting "top from a new bitch"— how charming. 
He has a distinct sound, which carries him, but for someone that's clearly interested in providing an experience that's not just "vibes," he rarely has anything meaningful to say.  However, sometimes he writes something heartfelt. His tribute to Juice WRLD (and possibly XXXTENTACION) on "Legends Never Die" reads straightforward and genuine, giving the lines a crushing effect.
"Got me pouring out shots for the famous/ Washing off the chalk on the pavement/ Another one lost, I can't take it." 
Back 2 The Beach features some sublime cuts, hitting major highs when Pinch relies on his bright vocal delivery and knowledge of the pop-punk genre to create a unique sound. However, when the harmonies fail to hit their mark, and the generic song topics are left to carry a good bulk of the material, it's just not enough to propel this record past adequate.