Rick Ross Dubs Himself 'Rozay Woods' Following Weekend Golf Outing With Dwyane Wade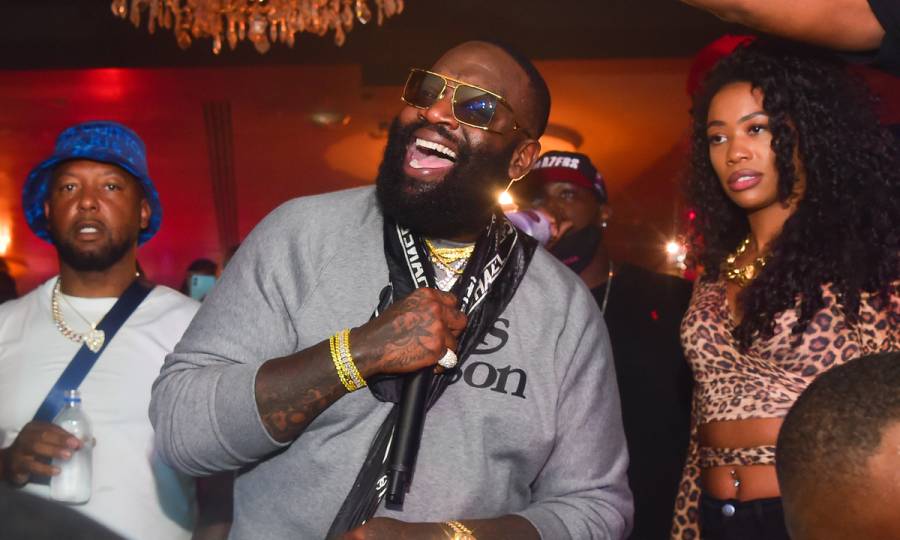 Miami, FL – Rick Ross found himself on the green over the weekend with former Miami Heat player Dwyane Wade. On Sunday (March 14), the Maybach Music Group boss shared a video clip of his swing to his Instagram account and nicknamed himself after one of the most celebrated golfers in the world, Tiger Woods.
"Introducing 'Rozay Woods' lol," he captioned post. "My homie @dwyanewade got me on the green today and gave me a few pointers. Had sum real laughs.Can't wait to get back. Country club click."
Shortly after Ross makes contact with the ball, he can be heard saying, "Oh hell yeah!" as Wade calls him "Rick Woods."
View this post on Instagram
Par for the course, Ross has been reveling in his abundant wealth as of late. Earlier this month, he copped another palatial property in addition to his sprawling 109-room Atlanta estate.
According to PEOPLE magazine, Ross dropped $3,500,000 in cash on NBA All-Star Amar'e Stoudemire's former Miami mansion after it'd been on the market for just four days, marking the fasting closing in the history of Florida Landmark Ranch Estates. The 2.3 acre gated home boasts a guest house, six bedrooms, five bathrooms, a hidden theater, yoga room and nine-car garage, among many other luxurious amenities.
The veteran rapper also allowed portions of the Eddie Murphy and Arsenio Hall film Coming 2 America to be shot at his Atlanta home and was allowed to keep many of the enhancements made to his property for the movie.
As reported by NBC News, the 45,000 square-foot Fayetteville mansion sits had the scale director Craig Brewer and production designer Jeffery Sage had imagined.
While Ross watched his home transform into a Zamundan palace, he became a recipient of a permanent home makeover.
"They changed the wallpaper in the dining room so I asked them to keep it up there," Ross said with a laugh. "They also created that huge dining room table for a dining scene that seats 50-60 people, and they left that for me as a gift. It's humungous."