Sada Baby Explains Relationship As A Blood With Crip Cousin Icewear Vezzo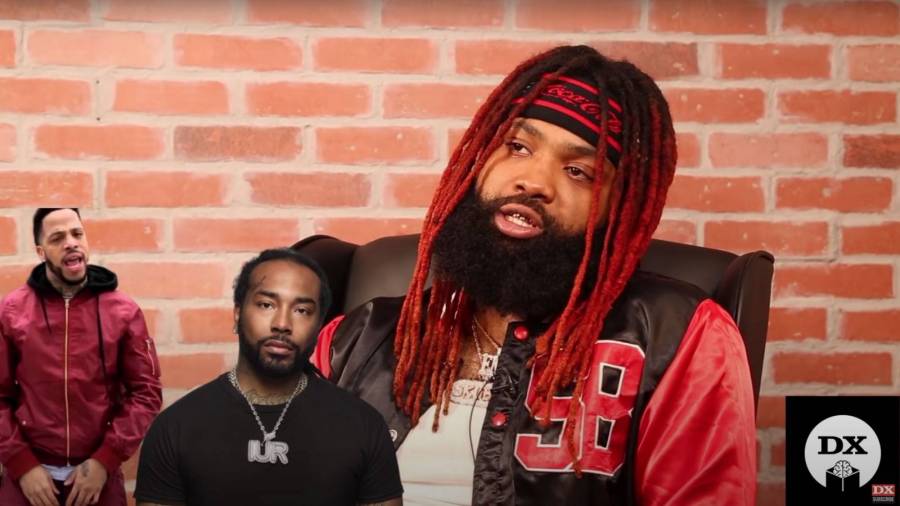 Los Angeles, CA – When debates break out about the top Detroit rappers on a wave right now, of course, people mention artists like Payroll Giovanni, Tee Grizzly, or Big Sean, whose Detroit 2 album just went No. 1 on the Billboard 200 albums chart. But even with superstars already beaconing from the Motor City, few rappers still receive the hype and lore Sada Baby and Icewear Vezzo have established.
In a recent video interview with HipHopDX the "Funky Kong" rapper revealed that he, self-proclaimed, "Big Blood," is in-fact blood-related to, "Big Crip," Vezzo, his cousin, and went into detail about how deep the family connection runs between them and their close associates.
View this post on Instagram

All East 1st team 🦍
"It's like the Mack 10, Dub-C movie, really," he began.
"I can't think of the name of the fucking movie [Thicker Than Water]. But it's literally like that. Hardwork Jig and Icewear Vezzo found out they was brothers when they was almost 30. No bullshit. I was there when it happened. I'm sitting next to Jig, he on the phone with Vez. They kicking the shit about whatever they kicking the shit about. And Vez is like, 'Hold on, my big brother Rick calling me.' And Jig was like, 'Hold on, bitch, I got a brother named Rick too.' He was like, 'This shit crazy.' Vez like, 'Oh yeah, what does he look like?' He like, 'Aw, you don't know him, man. Dark-skinned, ugly ass nigga, that's my big brother, though.' He like, 'Nigga, my big brother dark-skinned and ugly as hell.'"
"He's like, 'Bro, what the fuck is yo daddy's name?' He was like, 'Blasè blah' and Vez was like 'Nigga, that's my daddy's name!' Bro, I was smoking, high as hell. I'm like, 'Get the fuck out of here.' He got in the car. And for the rest of the week, because we the Bloods, everybody's just talking shit, 'Yeah, bitch, your brother a Crip.' It was the whole little week, we was giving a nigga a hard time about that shit. But Vez's solid, man. He's solid. It was little nitpicking bullshit going on between our sides and their sides. And it never really got out of hand because of them two."
Sada says Vezzo has always shown him love and the utmost respect, despite their affiliations, and shared the story of how the "Balance" rapper motivated him to work harder at his craft and how that relates to how he collaborates with other artists.
To this day, I remember, this was before I'm anywhere near sight of Baby, Vez pulling up in the hood, in his Escalade, on my birthday to come tell me, 'Happy Birthday' and show me some love. And he at the time, he the biggest rapper in the city. He's always been real, he always fucked with me. And how I go about doing features with my people is some shit that Vez taught me. I thought he was just going to give me a song because he's my cousin. I'm like, 'Yeah, I'm rapping now, bitch. Come on, let me get a song.' He like, Bitch, no.'"
"He was like, 'Bitch, you not working. Yeah, you might be rapping. You probably been in the studio two, three times, but bitch, go work. Show me something. Turn up with something. It ain't even about you. You know I fuck with you.' I'm like, 'Yeah, you do fuck with me. I can't say you a fake ass nigga.' Because he's not. But he like, 'Bitch, you got to work.' And yeah, I worked. And the moment I was working, he didn't hesitate to reach out. To this day, we always do music all the time. We plug each other with plays. We treat each other's street problems as each other's owns. We got a lot of respect, a lot of love. I was at his wedding. All types of shit."
Sada went on to say that there would never be an issue between his hood and Vezzo's and that he loves, "Explaining that part to people. He is a Crip and I'm a Blood. We from the same city, the same side and we get along."
Watch the full interview clip above.