Sada Baby Talks Snoop Dogg Collab & Unreleased Music With Hit-Boy, ASAP Ferg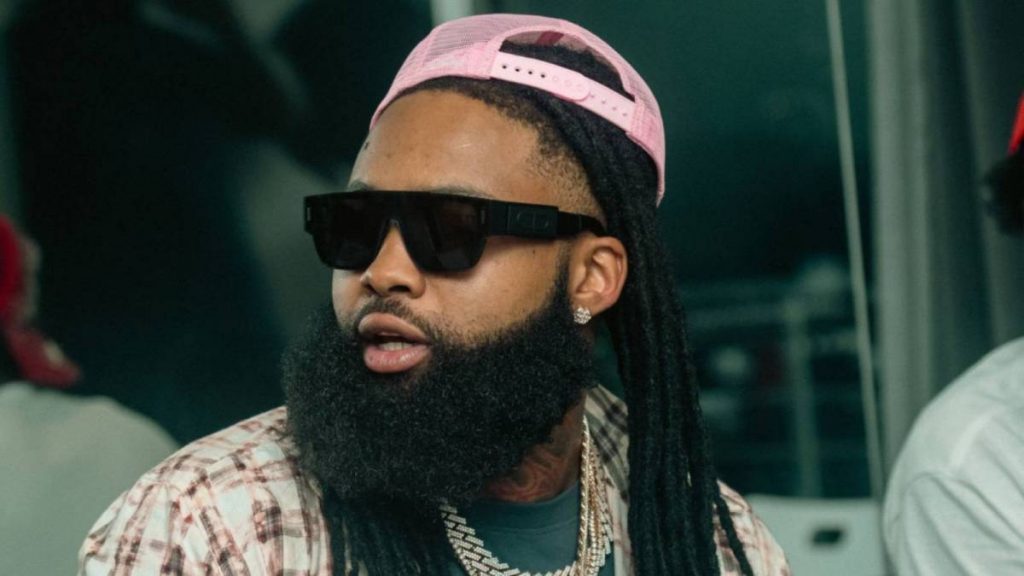 Los Angeles, CA – At first glance, Detroit rapper Sada Baby's connections to the West Coast are a bit obscure.
However, while organizing a stack of Nipsey Hussle's Cure Company-cultivated Marathon OG eighths during an interview with HipHopDX at the release party for his Skuba Sada 2.5 album, he nonchalantly explains how L.A. gangsta rap legend Snoop Dogg laced their recent "2Freaks" single.
"Yeah, first gangster rapper to do a whole motherfucker verse on purpose with no cuss words, n-gga — look it up," he said in part, before revealing he initially connected with Snoop online.
"Really connected off the internet," Sada Baby continued. "The whole world connected off the internet. I met the n-gga [Snoop Dogg] through the internet. I still haven't met him personally in real life. But when we sent the shit out, he was like, 'hell yeah.' I was like, 'hell yeah.' It came back quick as fuck n-gga. We held that bitch for like a year and we put it out because I knew that was some shit that a lot of people would appreciate, including myself, because we made it happen."
Skuba's Snoop Dogg-leaning lead single wasn't just a fluke and, in fact, Sada Baby's affinity for the West Coast is evident when a deep dive is taken into his discography. More specifically, while revisiting the string of 2021 singles he released prior to the rollout of The Lost Tapes LP last August, Skuba's Hit-Boy-helmed "Little While" single featuring Big Sean is an example of his efforts to bridge the gap between Detroit and California.
Sada Baby actually remarked on the creative spark he felt the first time he recorded at Chalice Studios with Hit-Boy and Big Sean, revealing that the Chauncy Hollis rapper-producer was the first to show him real hardware from the Recording Academy.
"Yeah, man, that's my muthafucking brother [Hit-Boy]," he said. "Lil funny looking ass — that my n-gga though. Like that's the first n-gga who showed me real Grammys. You feel me? Like nigga, he walking in that bitch, he got real Grammys sitting out there and he do that shit on purpose, n-gga. Soon as you walk in and you see both them bitches right there, gold as hell. Me and Wild Man like, 'So them your Grammys?' He like, 'They, my Grammys.' We like, 'We can touch them.' He like, 'Pick them bitches up.'" Sada Baby continued, "Them two fucking Grammys is sitting right there on the ledge as soon as you walk in, you feel me and them bitches motivation."
Though "Little While" is barely a year old, the fiery collaboration is evocative of the relationship Sada Baby built with the Grammy Award-winning producer, which he says was initially fueled by his own competitive spirit.
"But like the first time I got in that room, I had the show his ass I'm like, yeah, n-gga, this shit ain't regular put on what you wanna put on," he said. "I'mma walk it n-gga. I was in that bitch for a hour and a half n-gga. And I did fucking two and a half songs."
While Sada Baby was cranking out his first batch of records at the multi-hyphenate producer's personal studio in L.A. he absorbed the same energy of the legendary sessions with Nipsey Hussle that produced hits such as "Racks In The Middle."
As for the material he and the Fontana native created during said session, and thus far, Sada Baby says the pair have likely touched every boundary possible with their brash approach to combining elements of different genres within their creative process.
"Nigga, me, Ferg [A$AP Ferg] and Hit-Boy did some shit that's still unreleased," he started off. "And then I got a whole 'nother verse on some shit for Hit-Boy that he's supposed to put people on that I ain't heard since I did it. Then, I got like on, on top of the 'Little While,' I probably got like fucking like 13 unreleased songs with Hit-Boy — singing shit, all type of shit."
In addition to the cuts he has stashed with Hit-Boy, Sada Baby went on to reveal he has north of 2,000 unreleased songs along with his plans to release five mixtapes this year.
For now, revisit the stream for Sada Baby's 22-track Skuba Sada 2.5  featuring guest appearances from Skooly, Big Sean and Hit-Boy, King Von, Nicki Minaj and more below.