Saweetie Opens Up About Quavo Breakup, Says She Thought He Was 'The One'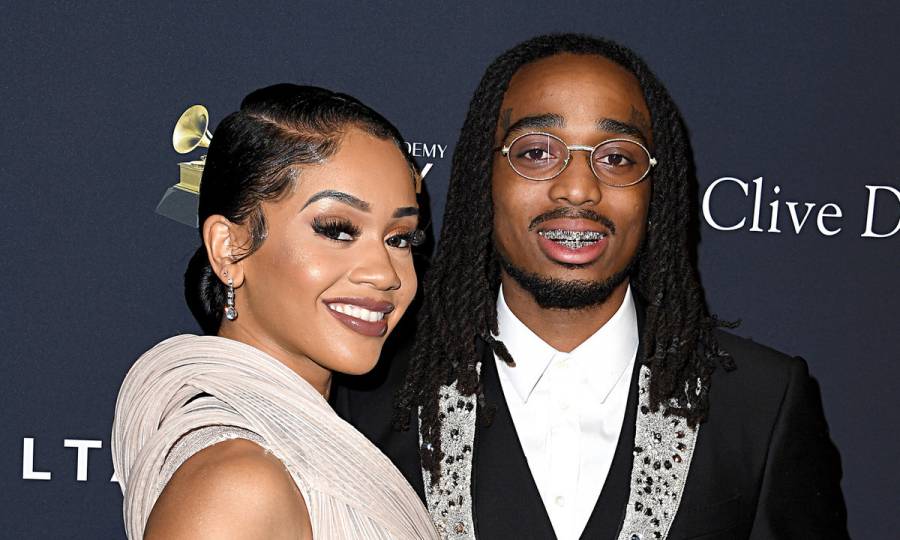 Saweetie has addressed her 2021 breakup from Quavo during an appearance on Yung Miami's Caresha Please podcast.
The City Girls rapper wasted no time getting right to business by asking Saweetie if Quavo ever cheated, which was fueled by a tweet the "My Type" rapper posted last year saying she was betrayed.
Saweetie avoided the question and told Miami she's no longer looking at the past. "I think the past is the past and I've moved on since then," Saweetie said before answering Yung Miami's question if they were toxic. "I think we had a lot of growing pains together."
Yung Miami continued on to say she loved seeing Saweetie and Quavo together. The Bay Area native told the City Girl she felt the same because she thought the relationship would be long-lasting.
"I thought we was gon spend the rest of our lives together," she said. "With him, I knew it was the one. It was different."
Saweetie and Quavo broke up in March 2021 after dating for two years. The Icy Girl took to her Twitter to announce the news, starting with a tweet that said she was single.
"I've endured too much betrayal and hurt behind the scenes for a false narrative to be circulating that degrades my character," she wrote in another tweet. "Presents don't band aid scars and the love isn't real when the intimacy is given to other women."
According to Saweetie, she was "emotionally checked out a long time ago" and has "walked away with a deep sense of peace and freedom."
Quavo seemed to address the split in his own tweet without name-dropping Saweetie.
"I know you want to make this into a show so I'll play my part just this one time," he wrote on. "I don't normally put my business out there, especially my personal life. I feel the need to address this so there are no false narratives."
He added: "I had love for you and disappointed you did all that. You are not the woman I thought you were. I wish you nothing but the best."
A few weeks after their breakup, TMZ leaked elevator surveillance footage of the former couple engaged in an altercation. The video sees the two arguing and wrestling over a bag before Saweetie ends up on the ground.
She made a statement to The Shade Room claiming the incident happened a year prior and was one of the many reasons she decided to end the relationship.
"This unfortunate incident happened a year ago, while we have reconciled since then and moved past this particular disagreement, there were simply too many other hurdles to overcome in our relationship and we have both since moved on," she said. "I kindly ask that everyone respect my privacy during this time."