Shaquille O'Neal Reveals Biggie Had An Unreleased Verse On 'Can't Stop The Reign'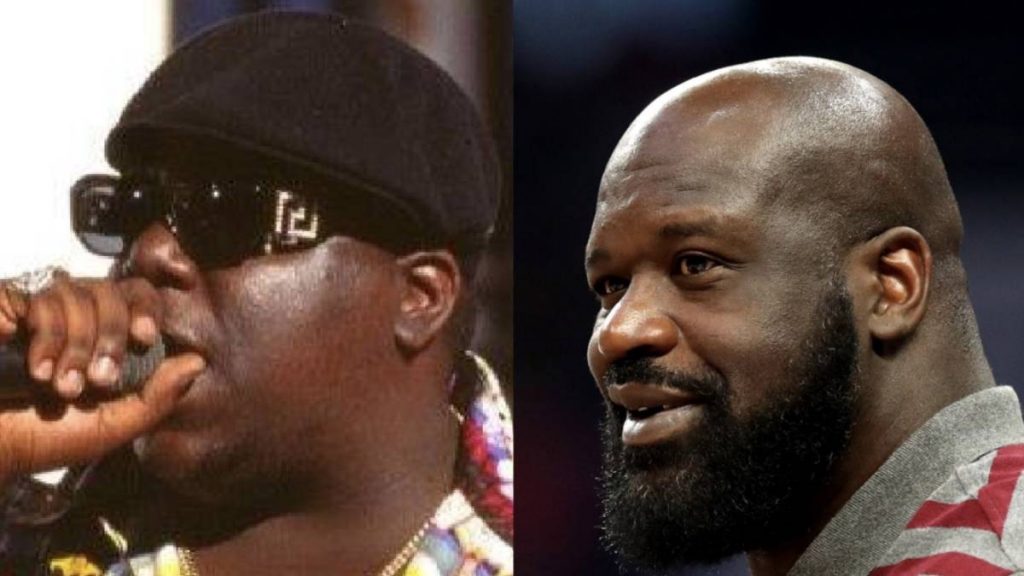 Shaquille O'Neal had a story to tell about the late Notorious B.I.G. and an unreleased verse on their 1996 collaborative single "You Can't Stop the Reign" during his visit to Drink Champs.
The four-time NBA champion reflected on the studio session for the song where Notorious B.I.G. had visited him, and the two laid down some verses. According to Shaq, he didn't want to disappoint his friend and redid his original verse and when it came time for Biggie to do his part, he laced the athlete up with some heat.
"So when I finally got the word that Big was going to do it I did a verse but I didn't like it," Shaq said. "My thing is this is Big coming in. One I gotta impress Big cause if Big say, 'No, this is terrible,' I'm done. I won't get a second shot."
He continued: "So I did it, let my boys hear it, he ain't bop his head but I didn't care. I let my other boy hear it he didn't like it, I let my other boy hear it and he said that one is tight. So Big flew down him and Lil Cease so I'm nervous.
Shaquille O'Neal reveals Biggie had an unreleased verse on "Can't Stop The Reign" 🤯https://t.co/FoC4kyecyo

🎥: @drinkchamps pic.twitter.com/xd9aK4rCng

— HipHopDX (@HipHopDX) October 10, 2022
Shaq explained that Biggie wanted to hear the track, and once he cued the record, the rapper began to nod his head, giving the signal that Shaq caught his attention.
"He's like, 'Ok big dog, that's tight, that's tight.' And then I said, 'Ok, he likes it.' I'm going to let him and Lil Cease do their thing. I said, 'Here you go Big, here's the pad and pen. Hit this button right here, I'm going to be in the house,' and he's like, 'No, I'm ready now,' and I said, 'What you mean ready right now,' and he starts smiling, and he went in there, and he killed it.
He continued: "And the first verse, I'm the only one that got it, and I'll never play it, he went off, and I damn near had a tear in my eye cause I had to press that button and I'm like, 'Umm Big,' and he's like, 'Yeah, yeah, for the kids, for the kids. My bad, Diesel,' and then he did the verse in the song. I got it, but I'm not going to play it."
The version of "You Can't Stop the Reign" that's on Shaq's third studio album of the same name peaked at No. 54 on the Billboard Hot R&B/Hip Hop Single & Tracks chart. The song had three different versions released: a single version with three verses from Shaq, the album version with two verses from Biggie and a third, a remix done by DJ Quick.
Shaq isn't the only person to have unreleased material from Notorious B.I.G. In August, legendary engineer Young Guru dropped a never before heard conversational audio of the late rapper on his Instagram. He prefaced it by explaining the clip was from a conversation Biggie had with Tracey Lee on the night they linked up and recorded the latter's hit "Keep Your Hands High" in a since-deleted Instagram post.
The audio in the clip hears Biggie exhaling before diving into the idea that the rap game can make a person "soft."
"Drama crazy drama, and he just called my crib last night and was like, 'Yo man you think the game make a n-gga soft?'" Biggie can be heard saying. "I was like no doubt. No doubt. The game make a n-gga soft man. The game make a ni-gga soft man.
"They could play you and you can't even punch n-ggas in the face like you could. Back in the days when a n-gga disrespected you'd just straight beat the n-gga down and that'd just be that."
He continues: "I put my hands on a n-gga, I'm going to jail. I'm making the papers and I'm getting sued. That's fucked up. That's fucked up. From a n-gga straight playing me.
"They could have straight played me on some disrespectful shit and I can't even wham out the way I want to because I got mad repercussions behind it and they ain't got no repercussions behind what they do. It's strictly the press, and the media, and the fans and it's just ridiculous man."
"Keep Your Hands High" dropped on Tracey Lee's debut album Many Facez on March 25, 1997, which coincided with the release of Biggie's posthumous record Life After Death.