Sheff G Says NYPD Banning Him From Rolling Loud NYC Was 'Spiteful Shit'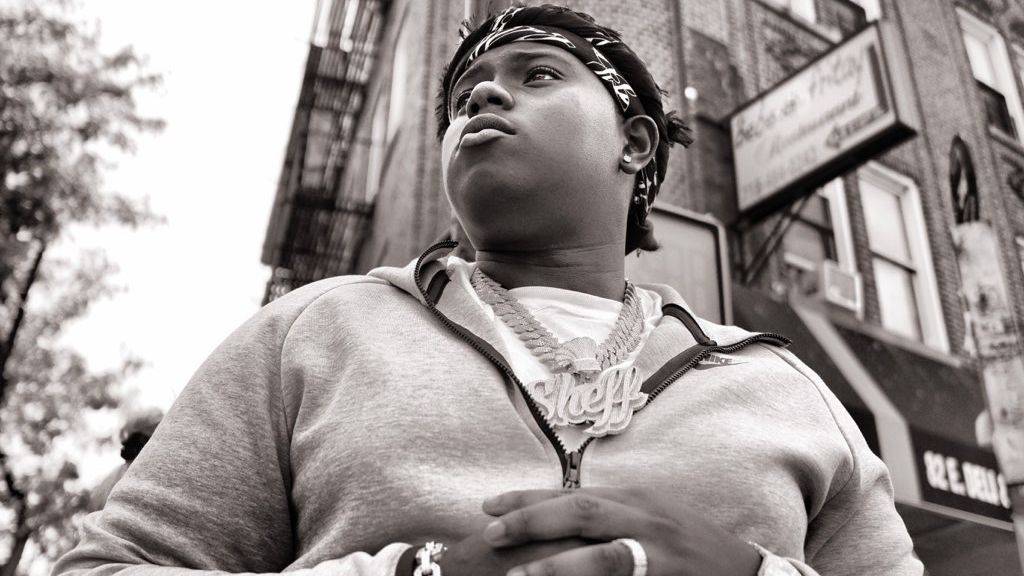 EXCLUSIVE – One of Hip Hop's premier music festivals, Rolling Loud is the ideal concert for the culture's youngest and hottest acts to hit the stage and add to their growing popularity. When Rolling Loud announced it would come to New York City in November 2019, fans were excited to see the buzzing Brooklyn drill scene finally get a major platform to showcase pioneers such as Sheff G and the late Pop Smoke.
Unfortunately, Sheff and five other rappers including Pop didn't get the chance to have their moment and were banned by the New York City Police Department due to public safety concerns. Festivalgoers criticized the move, and those on social media made it loud and clear they felt the NYPD used the rappers as an example.
Performing at Rolling Loud in his hometown would have been a level-up for Sheff, who had been on the rise since his single "No Surburban" dropped in 2016. As his career grew steadily, though, so did people's interest in Sheff's criminal past, and with that curiosity came attention from the NYPD. In tough neighborhoods like Flatbush, there are only so many ways one can survive, and many turn to a life in the streets like Sheff did.
Thankfully, the Brooklyn rapper has started to turn his life around after getting an opportunity through rap to do so. He took his experiences in the streets, laid them over aggressive heavy-hitting production and pioneered a sound that has opened his eyes to what the world has to offer him. Sheff is far from perfect, but he understands the rare opportunity he has to prove his doubters and critics wrong.
"When you first see it, yeah, this kid probably going through shit, he got charges and all that," Sheff told HipHopDX as he crossed the Brooklyn Bridge. "But then again looking at it like, 'Yo, this shit could dead ass change his whole way of life.' My life is all changed now, you know what I'm saying? So why would you not want to do that for somebody? We all eating."
View this post on Instagram
Sadly, the NYPD doesn't see it that way. They've been watching Sheff and many of his peers since their version of drill music popped off in 2016 and even before that when they were running the streets as kids. The aggressive, violent content of Brooklyn drill raised flags and gave police a reason to investigate who these rappers are. To them, Sheff is a public safety concern, and eyes will continuously be on him regardless of the changes he's made so far in his life. In regards to being banned at Rolling Loud NYC, Sheff says it happened out of spite.
"It was sad that they took the opportunity away from us so we could show the world that we bigger than just being in the hood and whatever they think we doing," Sheff said. "That's something that's going to better our life. So why would you want to stop us from doing that? You want to keep us where we was at before, so it is what it is, but it's also spiteful shit."
Sheff continued, "That's something you grow up with in the hood, going through all that already. It's nothing when that happened, it's just like, 'Okay, it's just another day.'"
Brooklyn drill has exploded since then and become the definitive sound of New York Hip Hop. After Pop took the genre to new heights, even Drake wanted a taste of the sound collaborating with another drill pioneer in Fivio Foreign. Sheff and his peers knew eventually people would catch on as their sound is too real and raw.
View this post on Instagram
When law enforcement had worries about The BK Drip concert at King's Theater in Brooklyn turning into a night of violence, the artists on the bill proved them wrong as the show was a night of celebration, unity and culture. Police did have to shut it down due to fans trying to jump on stage, but Sheff says it was all in good fun and explained that night opened the door for more shows.
"It got shut down [because] the fans started jumping on the stage and shit and they had to shut it down," Sheff explained. "But before that, we was there, we performed our sets. Everything was Gucci. It was no problem, you feel me? If anything, we can do four or five, why not? It's good to be in the hometown, doing a show and seeing all the support."
Brooklyn drill continues to grow, and Sheff is happy to see it receive so much love, even if people were making it hard for him and his peers at first.
"It's good to know that now they see what's really going on, and people seeing exactly what's going on," Sheff said. "They slept on the drill for so long. They slept on it, man."
Sheff said he feels misunderstood because of all the negative stigmas around the sound he helped usher in, and the new album he has on the way is going to re-introduce the world to him. The situations at Rolling Loud NYC and King's Theater are fueling Sheff to put his best in the new music he has coming out. There will be drill records on the album, but Sheff told HipHopDX he's incorporating a whole bunch of other genres so that his listeners can see he's much more than a drill rapper.
"When I'm doing different types of songs and music and shit, my fans, everybody that's tuning in, they get to see different pieces of me," Sheff explained. "They hear different stories in it because what I'm saying is real. I be telling my real-life stories in the songs, so they see what's going on. It's deeper than drill."
Check back for more of our conversation with Sheff G. In the meantime head over to his Instagram page @sheff_g.