Snoop Dogg Hosts Massive Turkey Drive At L.A. Rams' Sofi Stadium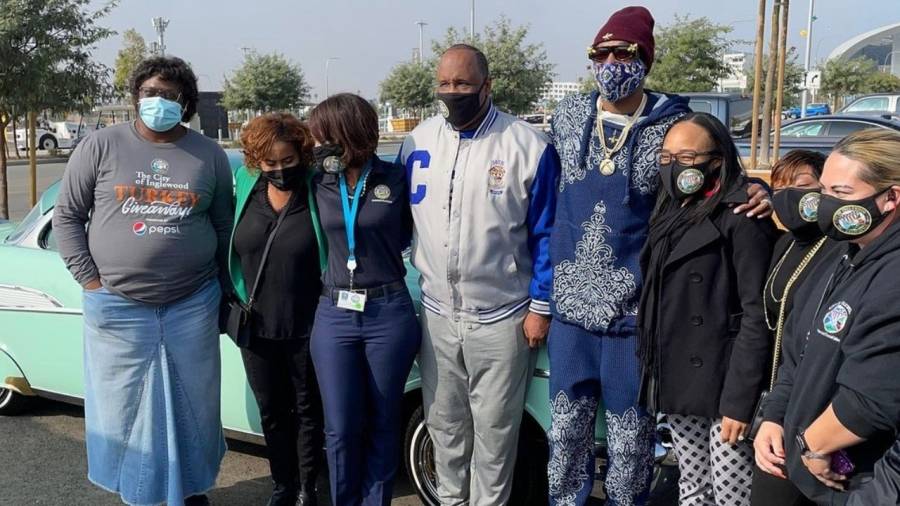 Inglewood, CA – It's almost customary for rappers to give back to their community during the holiday season. This year, it's more important than ever, especially with the COVID-19 pandemic affecting millions of families across the nation.
On Monday (November 23), Snoop Dogg teamed up with Inglewood Mayor James Butts to lighten the stress for families in need in California's Inglewood neighborhood.
The Long Beach-bred legend took up space in the parking lot of SoFi Stadium — the home of the NFL'S Los Angeles Chargers and Rams — to hand out free Thanksgiving meals to hundreds of families. Snoop is no stranger to these events either; he regularly teams up with cities in the South Bay area to host Thanksgiving events like the one he took part in on Monday.
"We look forward to doing this annually," Snoop said to reporters covering the event. "We look forward to making sure the families have something to eat. We want to continue this tradition no matter what we're going through in the world. We just want to always be able to provide for them and know that they can depend on us."
Mayor Butts added, "We want to thank Snoop Dogg because you know what he's like the face of this event now. He's been with us for six years and he brings everybody out."
View this post on Instagram
The event took place from 10 a.m. to 1 p.m. PST and brought out a reported 2,500 Inglewood residents. Families pulled up in their cars to the drive-thru charity event to receive a nice-sized turkey and other Thanksgiving-themed dishes courtesy of Don Lee Farms, the L.A. Regional Food Bank, Pepsi and Frito-Lay.
Snoop has been on a celebratory streak lately. He recently had a virtual party for the 27th anniversary of his debut solo album, Doggystyle. To honor the occasion, he unleashed an exclusive, limited-edition merchandise capsule to honor Doggystyle on top of posting several Instagram posts that referenced his celebratory mood towards the milestone. The Dr. Dre and Daz Dillinger-produced album was released in November 1993 and debuted at No. 1 on the Billboard 200 albums chart.
Revisit Doggystyle below.